The Charsoon Antimatter 300W LiPo charger is a powerhouse and it doesn't lack performance nor functions. This small charger can output a hefty 300W or 20A on 4S and should be perfect for most mini quad charging needs.
Some of the links on this page are affiliate links. I receive a commission (at no extra cost to you) if you make a purchase after clicking on one of these affiliate links. This helps support the free content for the community on this website. Please read our Affiliate Link Policy for more information.
In this review we will take a closer look at the charger, features and see how it performs. With just a small modifications you will also be able to use your old LiPo's as power supply.
Product Page for Charsoon Antimatter: http://bit.ly/2q3TEDW. This review is written by oyvinla, member of IntoFPV, edited by Oscar.
Further Reading: Learn how to choose LiPo Charger and PSU.
Spec of Charsoon Antimatter 300W LiPo Charger
Input Power: 10-28VDC, 4mm male banana connector
Output port: 1S-6S, female banana connector
Charge Current: 0.05-20.0A @4S
Max Charge Power: 300W
Max Discharge Power: 20W
Balance Port supports 2S-6S balance lead
Supported Battery: LiPo / Lilo / LiFe (1-6S) / NiMH / NiCd(1~17S) / Pb(2~24V)
Dimensions: 140 x 95 x 27 mm
Weight: 350g
User manual: Link
What is in the box
The charger
User manual (in understandable English!)
A pair of male banana plug to female XT60 cable
A pair of male banana plug to JST cable
A pair of male banana plug to Deans T-plug cable
A pair of alligator clamps for connecting to a car battery or similar
The charger came with cables for charging batteries with XT60, Deans, JST or servo connectors, alligator clamps for field charging which allows field charging from your car battery or a deep cycle battery.
The Charsoon Antimatter looks similar to a typical 4-button charger, and it is easy to use and provides more than enough power for your mini quad batteries charging needs. Keep in mind that an external power supply is needed and should output more than 300W to take full advantage of the charger. I'm not sure how efficient this charger is so I would probably go with at least a 400W supply. You can use lower power power supply, but it means you will be charging at limited current.
The input requires 10-28V DC power. There is an input for external temperature sensor (for monitoring battery temperature during charging) and an USB port for sending data logs to Logview software. The charger has 16Mb (2MB) flash storage which according to the manual should be enough for 36 hours of data logging.
On the output side there are balance ports for 2S-6S, and 4mm banana plug connectors.
In order to use large LiPo batteries I have as power supply to charge smaller packs in the field, I modified the input connector. I replaced the banana plugs on the input with a female XT60.
You don't have to do it, I just find it more convenient for myself.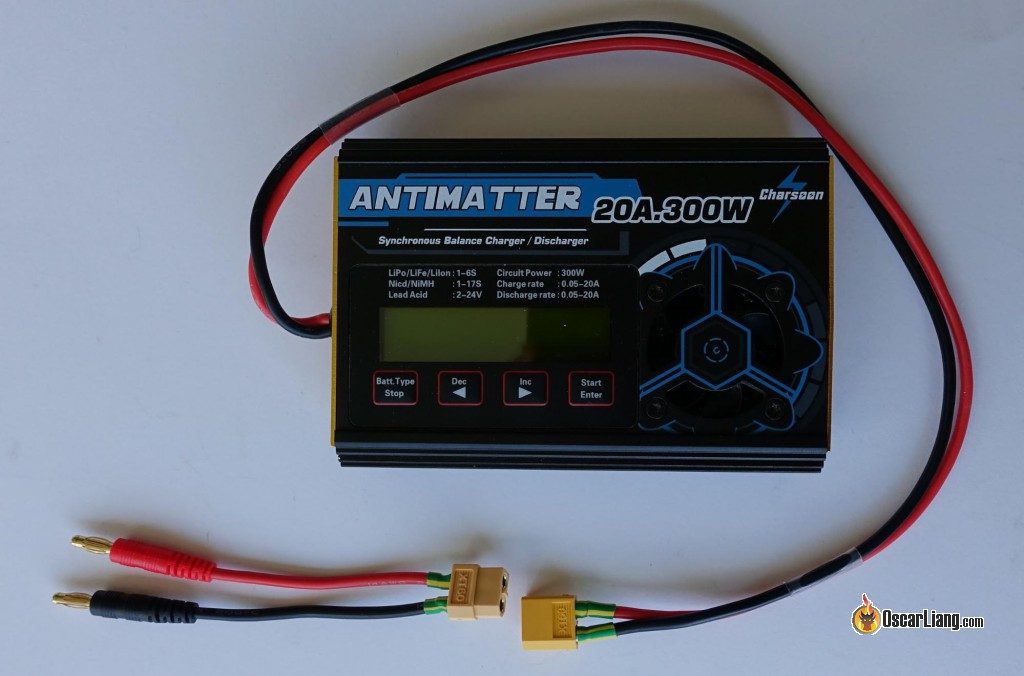 Features
The charger can charge LiPo, Li Ion, LiFe, NiCD, NiMH and Pb batteries.
Unfortunately it is not able to fully charge LiHV batteries to 4.35V per cell, but the LiPo end voltage can be increased to 4.30V in the settings. I would not recommend doing that as it is easy to forget to change it back to 4.2V before you charge a regular LiPo pack and cause over-charge, which is very dangerous. (learn about the basics of LiPo batteries)
I tested the charger with several different 4S LiPo's and all the programs: discharge, charge, balance, and all worked as expected.
Note that it can also be used as a power supply for brushed motors, a foam cutter (the charger controls the current and voltage to heat up a piece of wire to cut foam) and it has a program to measure the internal resistance of a battery.
The fan is temperature controlled and doesn't turn on until the charger reaches a given temperature. The fan hasn't run for me during charging maybe it's just so cool it doesn't need to switch on the fan. But it starts when I use the internal discharge circuit to discharge batteries.
Charging
The flow chart shows all the different settings and programs. The process of charging a battery is pretty much the same on any other 4-button chargers: choose the charge program, select charging current and press "OK".
Available charging modes are (normal) charge, fast charge, balance charge, discharge and cell monitoring.
Here is how accurate the charger is when it comes to measuring the voltage of each cell in a LiPo battery, comparing to a multimeter.
After finished balance charging a battery, the charger stops at 4.20V each cell. I then measured the voltage of each cell with a multimeter, and I got 4.194V, 4.195V, 4.194V and 4.196V. The error is within 0.12% which I would say acceptable.
Discharging
Not only can the charger discharge the battery at a rate of 20W, you can also connect an external resistive load to the battery in series for faster discharging, such as a light bulb.
According to the manual the charger can discharge at up to 500W when using an external load. I tested it with a 12V 10W bulb (my smoke stopper) and it discharged at about 0.9A. Obviously, the discharge power would be much higher if a higher power rated resistor or bulb was used instead.
The charger can also do regenerative discharging which means it will put the discharged power back into the host/supply battery. This is useful if you are using a battery as a power supply because you can discharge the battery at 350W. Keep in mind that the supply battery will be charged and thus shouldn't be charged with a higher current than what the battery is designed for.
Regenerative discharge needs to be activated in the settings and you can set the maximum amperage and voltage to put back into the supply battery. For a 4S battery I would set it to 16.8V (4.20V*4) in order to not overcharge the battery. Keep in mind that if the cells on the supply battery is out of balance, it could result in an overcharged cell as the charger just monitors the total voltage.
I would turn this feature off before switching back to a regular power supply and to make life easier, there are 10 memory slots for saving different settings. I called one preset for regenerative and the other non regenerative in order to easily switch between them.
The supply battery is at 15.23V before starting the regenerative discharge program.
You will need to confirm regenerative discharging. I assume this is a safety feature.
The charger starts discharging the battery while it pushes the charge into the supplying battery.
After 22 minutes the charger had discharged 495mA from the discharging battery and increased the total voltage on the supply battery from 15.23V to 16.10V.
Verdict
What I like about the Charsoon Antimatter 300W LiPo Charger
Automatically detects the number of cells
Lots of adapter cables, also alligator clamps
Good discharge power (20W or 1.3A @4S) and able to connect an external load for up to 500W discharge
Regenerative 350W discharging to supply battery
Good manual in understandable English!
Good build quality
300W charging should suit most charging needs for miniquad batteries (20A@4S)
Adjustable discharge low voltage (very handy when bringing unused packs down to storage voltage)
What I don't like about this charger
Input cables with banana plugs (Personal preference), I would like to have a female XT60 plug
Not able to adjust storage voltage for LiPo (it's fixed at 3.85V by default, however if you wish to put LiPo at a different voltage for storage you can use the discharge function)
No LiHV program (However, you can adjust the LiPo end voltage to 4.30V in the menu and use that to charge LiHV)
Hard and mechanically noisy push buttons (a complaint from my girlfriend), the speaker press sound can be turned off
All in all the Charsoon Antimatter 300W is a nice charger and it has many useful features.
I really like the discharging capabilities where you can connect a light bulb in series or regenerative discharging to bring your unused packs down faster. I didn't notice any voltage deviation from my SKYRC D200 charger and it seems to be working pretty well.