This page is written by a group member who entered our build log contest. We are sharing the info hope it would be useful to someone.
This project was initiated to convince me that everything can fly HAHA And because I never surrender too. This project is a Total Improvisation , this means that I look at ALL the spare , all the stuff I recycle ( from RC or not ) wihch are in my boxes , and let my brain do the job.
Some of the links on this page are affiliate links. I receive a commission (at no extra cost to you) if you make a purchase after clicking on one of these affiliate links. This helps support the free content for the community on this website. Please read our Affiliate Link Policy for more information.
Part List :
Frame Totally DIY
2 x 28cm Pine Wood ( From My DIY Lab )
2 x Carbon Fiber Rods Recycled From broken landing Crab ( http://www.amazon.com/Neewer-Anti-vibration-M…/…/ref=sr_1_2…)
Flight controller : Flip32+ 10 DOF ( From Banggood : http://www.banggood.com/Naze32-Flight-Controller-With-32-bi… )
Motors : Multistar 2209 / 1200Kv x 4 Pack ( From Hobby King http://www.hobbyking.com/…/__54277__Multistar_350QX_Blade_M… )
Esc : unbranded 30A ( From Banggood : http://www.banggood.com/SimonK-30A-2-3S-Procedure-Brushless… )
Propellers : T-Prop Carbon Fiber 10 x 5.5 ( From Hobbiking : http://www.hobbyking.com/…/__51968__1055_Carbon_Fiber_Prope… )
I lost a quad last month ? I built another one before the end of this month! I said it's a total improvisation, I explain the beginning of this crazy thing : I was talking with a friend about multirotor , RC , and while I spoke with him , I show him the pine wood and said "you put motors here , you hold the wires here , you build blablabla" , and after 2 hours , a drafty Quad was assembled like LEGO's would be.
I spent almost 50% of the time thinking about the best places for the components already in my hands , I only drew something in a corner , and held the saw and went for it.
During the build , I begin to learn Naze32 concept with a clone ( or old revision board ): Flip32 + 10DOF , cheap and already used by number of UAV pilots.
CleanFlight is my friend now , we will meet his friends P , I , and D later. Oscar's Blog Helps me in this way.
For the power Distribution , same philosophy : simple , cheap , useful , DIY. I give the first prop's spin this afternoon with. It hover as a maple leave in rate mode , he's very responsive , it's another kind of flight compared to my 450 and APM 2.6. Can't wait a better weather , to test it in real conditions
Multistar 2209 : 1200Kv , was the first motors I bought for my First Version of the GF-X-Q 450 ( Diatone F450 Wheel Frame ), and originally designed to fit the QRX350 from Walkera . I opt for these motors because I didn't want to be disturbed by unbalanced propellers , and T-prop Style propellers are more reliable in this way .
Few days ago I made clearance in my garage , and found this 12 x 12 mm Square Pine Wood , and the DIY project began  I got back the Fiber Carbon Rods from a recycled broken landing gear , make some holes in the wood and Ho it's look like an H … I called him : H-QUAD … and 1200Kv with 10×5.5 props … Means that he will Rox even in 3S , so I add -GT for Grand Turismo  I will use it for FPV "Runs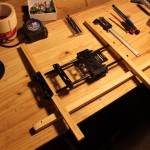 Propeller measurement to calculate all the space the props will take , this could be helpful for the rest of the build
Saving weight is the rule find the best place to save wires / Solder / Plugs to save precious "g""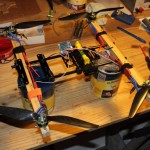 It's peanuts to save 6g on such build but , this PDB reduce the weight as this , while cables and bullet plugs + tin + heatshrink cost 6g
I always keep recycled stuff , when I make changes to a flying object , I get back , wires , plugs , they could be used in another project …
Here is a maiden flight video.