By adding a LED On/Off switch power button to your Fatshark FPV Goggles, you no longer need to unplug your battery to turn if off :) The LED switch looks awesome and you also know immediately if your goggles is powered on to avoid over-discharging your battery.
Some of the links on this page are affiliate links. I receive a commission (at no extra cost to you) if you make a purchase after clicking on one of these affiliate links. This helps support the free content for the community on this website. Please read our Affiliate Link Policy for more information.
Many thanks to FFun FPV for sharing this DIY mod with us!
Warning: By doing this mod you will void the goggles' warranty, do this at your own risk, FFun FPV and OscarLiang.com are not responsible for any damage caused.
Hardware Requirement
It really doesn't matter which type of LED on/off switch or button you use, as long as it fits your purpose and you know what you are doing. We have chosen the 12V 2A button with 5 terminals. The Dominator with True-D module draws about 650mA of current, so 1A or 2A rating should be more than enough. But you should confirm with yours just in case.
I think this mod should work on many different FPV Goggles out there, but difficulty might vary especially when it comes to drilling hole on the goggle. We are doing this mod on a Fatshark dominator Goggles as an example.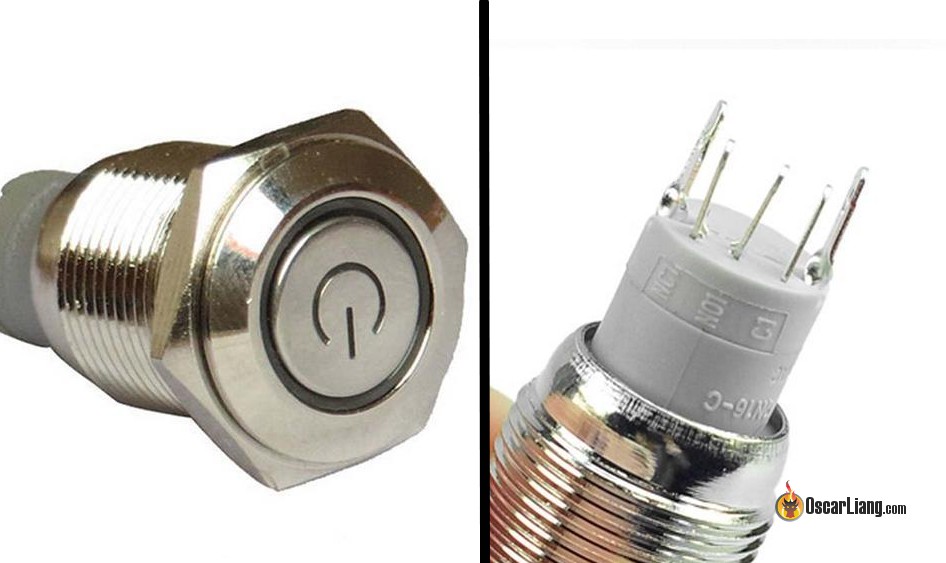 Understanding the Terminals and Connection
The battery connector mount in Fatshark goggles has 3 "tab" terminals (soldering points, marked with green crosses). You will need to cut the tab at the very bottom, marked with yellow line.
The type of LED on/off switch we used here has 5 terminals. Depending on how you want the LED to work, you have 2 options:
LED is always on regardless switch position
LED is only on when switch is turned "ON"
We personally prefer the 2nd option, that's how you can tell if the Goggles is running, right? With the 1st way, it drains the battery when the goggles is off, which means you still need to unplug the battery…
NOTE: The terminals might be different on another LED on/off switch, please make sure you read the manual and understand what these terminals are exactly before connecting.
DIY Process
Once you know how you are going to connect everything up, we can now finally begin the mod! It's relatively straightforward, we only need to get to the battery connector mount in the Goggles. In the case of Fatshark Dominator, it's located in the head-tracking module bay, there are only 2 screws to remove.
Note: With Laforge diversity module installed, you might not be able to do this mod because the head-tracking bay is occupied. We are using True-D in this goggles.
Then you need to drill a hole on the goggle to mount the On/Off switch. We are not going to show/teach you how, there are more than one way to skin a cat. (just a saying, we love cats lol)
Now just connect and solder the switch and battery connector mount together.
And you have it :)
Thanks again to FFun FPV for this great DIY mod… I really think Fatshark should consider this idea in their future FPV Goggles, it's very practical and just looks great.