Winter is coming! And if you are sick of flying FPV simulators, then you should consider building an indoor FPV micro quadcopter!
Some of the links on this page are affiliate links. I receive a commission (at no extra cost to you) if you make a purchase after clicking on one of these affiliate links. This helps support the free content for the community on this website. Please read our Affiliate Link Policy for more information.
Before we start, I have to give Multirotor Superstore a big shout out for supplying some of the parts in this build. Without their help I don't think this build would be this easy!
Previous FPV Micro Quad
My last micro quad build was a great success: running cleanflight on the cheap CJMCU board, and flying acro mode. It was good fun but flight time was some what limited (only around 2-3 mins). And due to the lack of power you can't do flips and rolls with the heavy FPV gear.
So in this new build, I am going for a more powerful setup, that is able to lift a bigger LiPo battery for longer flight time (I am aiming at 8 minutes!), and allows to do basic acrobatics such as flips and rolls.
I will be using 8.5mm brushed motors (more power than previous 7mm brushed motors). I don't think the transistors (FET) on CJMCU board would supply enough current for 8.5mm motors, so I will be using a better flight controller board, with higher current rated FETs.
Index
Videos!
Practicing with micro Air gate :) Second day session!
Parts List
I have to warn you, some of these parts go very quickly. If you see them in stock, go and get it as fast as you can before you regret it and waste weeks waiting.
Micro Quad Flight Controllers – Beef Brushed Board
I looked around for alternative brushed flight controller boards than the CJMCU.
Brushed Boards
MCU
FET
Weight
Price
Receiver
Note
AlienWii
ATmega
4.2A
3.4g
$60
External DSM2/DSMX
Only runs Multiwii
Integrated FTDI Progrommer
Usually out of stock
Beef's Brushed Board
STM32
4.2A
4.0g
$60
External Spektrum/SBUS/SUMD or PPM
Runs Cleanflight/Baseflight
CJMCU
STM32
? (7mm motor)
8.5g
$20
External PWM/PPM
Runs Cleanflight
Flight controller integrated into the frame
Lulfro
STM32
6.3A
?
$60
External Spektrum/SBUS/SUMD or PPM
Doesn't come with any cables/leads
Micro MWC
ATmega
2A
1.8g
$35
Integrated 6ch DSM2
Apparently is a pain to program, sometimes come with dead FETs
Micro Scisky
STM32
5A
2.5g
$33
Integrated 7ch DSM2
New board, not sure…
Beef Brushed Board and Lulfro seem to be the way to go from the spec, being able to run Cleanflight, even the latest Betaflight is a big bonus! The large FET rating allows you to run 8.5mm motors.
I got my Beef flight controller board from Multirotor Superstore, they also sell Lulfro, but it's been out of stock for a while now.
However to connect the board to the computer, you will need a FTDI converter (USB to Serial adapter), get one from banggood for $3, it's a very useful tool in this hobby!
The instructions and setup video were a great help.
Connect to Computer, Cleanflight
To connect the board to Cleanflight configurator, only 4 wires are required between USB-Serial Adapter and Beef board, VCC (3.3V or 5V), GND, TX and RX.
The board came pre-flashed with Baseflight, first thing I did was to flash the latest Cleanflight on it.
This board runs the same firmware as the Naze32 board, so when you flash firmware, you just need to load the latest firmware for Naze32 (online), and flash the same way as a Naze32 board.
I also want to try flash Betaflight on it just to see if it makes any difference :) Will come back and update when I have a chance to test that out.
Frame
Unlike the CJMCU, the Beef board is a standalone flight controller, and is not integrated into a frame. But that's a good thing actually, motor vibration is worse on those FC integrated frames. Vibration can be isolated/reduced when you mount the FC on the frame with double sided tape.
The micro quadcopter frame was printed by my good friend Dan, so a HUGE thank you to him! He's also an expert in building/flying micro quads and 3D printing. There are some awesome micro quad videos on his Youtube channel you should go check out and subscribe to.
Originally I sent him a design I found on thingiverse (UMQ – The Ultimate Micro Quad), but he also kindly offered his own design for me to choose from. Although the UMQ frame looks larger (nearly 120mm motor to motor) and more crash resistant, in the end I chose to use Dan's frame, because it's much more rigid, and nearly 25% lighter (the UMQ design weights 10g, Dan's design weigths only 7.6g). Motor to motor distance is 110mm. I am sure there are many designs on the internet would work just fine, you just need to get it printed.
If you are also interested in Dan's frame, please drop him or me a message. With enough interest I think he might consider selling them :)
Update (21/05/2016) – Good news! I am now making/selling my own micro quad frame here: https://oscarliang.com/oskie-micro-frame-v1/
Another clever thing about Dan's frame is that the coloured plate is removable, so when the frame is broken, you can just transfer the plate on to a new frame, without the need to remove any thing that is already mounted on it, such as FPV gear and flight controller.
Radio Receiver – Micro FrX
The Beef Brushed Board doesn't accept PWM but only PPM or Spektrum/SBUS/SUMD, so we cannot use Frsky VD5M. That's why I went for this micro size Frsky Receiver that outputs 8 channel PPM.
The Micro FrX receiver is made by the same guy who designed the Beef Brushed Board. It weights only 0.8 gram, and it's really tiny.
The Micro FrX Receiver has been tested with the Frsky Taranis TX and DJT JR. It accepts only 3.3V, 5V will destroy this RX. There are only 3 connections on the RX, 3.3V, GND and Signal. It's extremely simple to connect this RX with the Beef board as the pins are in the same order. Check out the manual here.
The RX comes with some 32 AWG light weight wires. I just needed a short bit as I will be mounting the RX on top of the FC with some double sided tape.
Binding is also easy: Enter "Bind" mode on your Transmitter, short the two pins labled "BIND" on the RX , then power the board up with the Lipo.
Update (19/10/2015) – default stick Mid points at 1540! This seems to be a common problem for many people using this RX. You can fix this by putting trim on your TX to make it 1500. You can do this while watching the Receiver tab on Cleanflight.
Motors and Propellers
The 8.5mm 0820-17 Motors I got were also from Multirotor Superstore, they work perfectly for me! Banggood also sells similar size motors, but not sure how they perform. I will be testing them in a couple of weeks time and report back.
0820 is the indicator of dimension of the motor, which is 8.5mm in diameter, and 20mm in length.
Be very careful about motor rotations, make sure you know which motor is CW and which is CCW. I followed the official instructions, and only realized the motors rotate opposite direction. Maybe solder just one motor first and test it before soldering the rest.
Also make sure you connect the motors with correct polarity: White and Red are positive (+), Black and Blue are negative (-).
With the motors from Multirotor Superstore, black/white motors are CCW, and red/blue motors are CW.
After all the motors are installed, I tested the quad and make sure it's flying fine :) So far so good!
Propellers Contest
As for propellers, there are 3 main choices for the 8.5mm motors.
These props are all tested under the same condition and battery (1S 300mah 45C), with FPV gear on (AUW 60g).
Props
Thrust/Punch
Flight Time
Price of 4 props
Comment
LadyBird
8/10
3:10
$2
Good balance between thrust and flight time
Cheap and durable
Hubsan
7/10
3:20
$3
Just Vibrations and buzzing sound
Props get loosed every crash, and break easy
Parrot
10/10
3:25
$10
Has great lift, and very efficient
The quad feels more stable
Battery does get very warm
The Parrot props are truly amazing propellers, great thrust and gives surprisingly good flight time (probably because of better efficiency). The quad feels so much more powerful and responsive with them, almost too powerful for indoor flying. Maybe more suited for outdoor, or a big sports hall.
They are also quite pricey, and only seem to be available on eBay or Amazon.
A great choice for bedroom or living room indoor FPV would be the Ladybird props, dirt cheap and seems to be indestructible, good power but yet still controllable.
I don't recommend the Hubsan props, at all! Just not good.
Batteries
The best 1S LiPo batteries I found are all Turnigy Nano-tech from Hobbyking.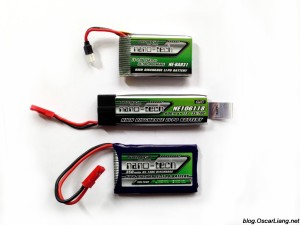 The tests were carried out all in the same condition with Ladybird props. "Flight Time" is the time from Full charged take off, until the quad is unable to stay in the air anymore. "Actual mA used" is taken from the LiPo charger, how many mA are pumped back into the battery to bring it back to full charge.
They all perform very well, and as expected, more capacity gives more flight time, the result is kind of linear.
I probably prefer the 300mAh 45C for some fast flying, acrobatic flights, the quad feels so punchy and responsive.
For long flight time, 750mAh 35C absolutely killed it! I would never expect such good durability from a micro quad. It's not as agile as the smaller LiPo, but it's not bad at all. With the Parrot props it stays in the air for over 8 minutes! However the motors do get hot after at landing.
Be aware that the 750mAh 35C battery (as well as the 300mAh 30C) has a reverse polarity, you need to swap the pins first before connecting it to your flight controller or charging!!! Remember to check polarity first before you do anything!
The 600mAh 35C is in an odd, long shape, it's harder to get a good CoG when mounting this battery on the quad. I would probably avoid those.
Also note that the 350mAh 65C and 600mAh 35C come with long discharge leads with JST connectors. Depends on what connector you plan to use on your micro quad, you might want to replace it (and buy extra connectors). Just something to bear in mind.
FPV Gear
I am using the same FPV setup as my last build (DIY Light Weight Micro FPV Setup). I love it because it just works flawlessly, simple to put together, and cheaper than the Spectrum SPMVA1100 FPV combo.
The camera is from SurveilZone, but you can also get a cheaper one from Banggood. The wide angle is really important to FPV. These cameras come with a mini microphone, and a audio output. No need for those  so I just unsolder them.
VTX is the AltitudeRC 25mW 5.8Ghz VTX. It's compatible with Fatshark RX and Goggles, takes 3.3V (1S) input, and only weights 3g.
Cut the wires short, and solder them together.
I hot-glued the camera on the VTX.
And here we have it! :D
The micro quad AUW is 45.4g, with batteries weights around 64g – 74g.
Cleanflight Configuration
For the latest Cleanflight (1.10), I used the following settings on mine micro quad.
First of all, calibrate your ACC.
Essential Settings
feature MOTOR_STOP feature RX_PPM set min_throttle = 1000 set motor_pwm_rate = 32000
Basic Performance Settings
set looptime = 2000 set acc_lpf_factor = 100 set deadband = 6 set yaw_deadband = 6
Extreme Acro Settings (100% flying in rate mode)
set looptime = 1000 set emf_avoidance = 1 set acc_hardware = 1 set gyro_lpf = 188
And here is my PID and Rates. They works pretty well with all the battery (of different weights) and propellers I have. If you are not planning to do flips and roll, I would recommend bring the rates down and reduce expo to get more precise control.
Building Tips and Updates
Landing Gear
I added landing gear as well to protect the LiPo mounted underneath the frame. They are just package foams,
Making Micro Air Gates
As soon as I know Hoverspeed is developing micro air gates for micro quads, I couldn't resist to make my own!
I used some copper wire (the one I used to make cloverleaf antenna), paper, cello-tape, foam, and blue tack.
The wire I used are too thin (0.8mm) they don't hold the shape well enough, and they wobbles as you touch them. I would have used 1.2mm or larger wire.
I put tape on both sides of the paper, so it doesn't get tore up by propellers. I guess you could also use cloth, or laminated paper.
Finally I put foam and blue tack on the legs to make it stand up to crashes a bit better. I probably made it too small, it's extremely difficult to get through it :D Maybe I just need to practice!.
Extra LED
There are a few places you can solder more LEDs to if you want. For example you can connect standard LEDs to the 3v and GND used by the RX or the pads on the bottom. If you want even brighter LED's you could hook it up directly to the spot where your Lipo connects for a higher voltage 3.8 – 4.2v.