Our branded LiPo battery straps are back in stock! This time we added some durable designs for my website and our IntoFPV forum, you can buy them here and show us your support. The new straps are designed to be the perfect straps for a racing drone or freestyle mini quads.
Some of the links on this page are affiliate links. I receive a commission (at no extra cost to you) if you make a purchase after clicking on one of these affiliate links. This helps support the free content for the community on this website. Please read our Affiliate Link Policy for more information.
Purchase here via Paypal:
Each order contains all 3 types of straps. With "No Tracking", there is nothing I can do when parcel is lost (though it rarely happens). Please make sure your address is correct in Paypal.
Availability: No Longer In Stock
Product Description
We have 3 different straps, each one with different features.
First off, we have the "hook and loop" battery strap with embedded rubberized Kevlar threads which significantly improve the strength of the strap, while your battery will be held securely in place with minimal slipping.
The design is probably the closest to unbreakable I have seen in battery straps. However due to the stronger material, they are thicker than normal straps, so make sure the strap slots in your frame are wide enough.
Logo: IntoFPV
Size: 2cm x 22cm (including buckle)
Buckle material: Stainless Steel
Slot requirement: 3mm
The size of the strap is suitable for a quadcopter using 1000-2200mah battery, with no excess strap flapping around.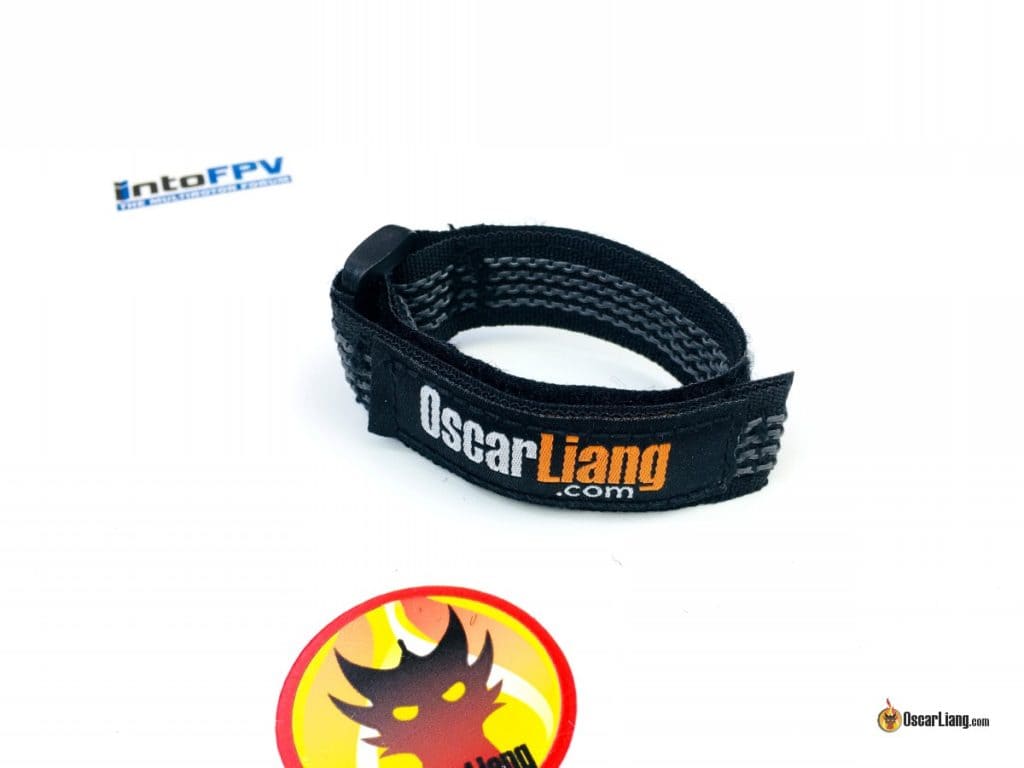 Next, we have the same battery strap but with my blog's URL as the logo, and slightly different design.
Logo: OscarLiang.com
Size: 2cm x 23cm (including buckle)
Buckle material: Durable plastic
Slot requirement: 3mm
The advantage of the plastic buckle is the light weight, yet they are generally strong enough against moderate crashes on a quadcopter. I have yet broken one of these buckles in 2 years of flying.
Finally, we have the original IntoFPV straps. These have been popular and we sold over 1000 of these. This is the lightest design in the three, and also the thinnest therefore is compatible with more frames.
They come in black and have a sticky underside to help hold your battery in place securely. They fit all the mini quads I've flown, for both 3S and 4S LiPo batteries.
Logo: IntoFPV
Size: 2cm x 23cm (including buckle)
Buckle material: Durable plastic
Another cool thing about this design is the white space under the logo for you to fill in your contact information if you wish (name, email or phone number). In case you lose your model and somebody finds it, they can contact you. It's also handy in meet-ups, people can quickly identify the owner of the quad by looking at the tag. :)