So many people asked me why their FPV drones are randomly twitching when flying or just hovering, and they almost always turned out to be caused by the same issues, I thought I should make a post so I can easily refer to in the future.
Some of the links on this page are affiliate links. I receive a commission (at no extra cost to you) if you make a purchase after clicking on one of these affiliate links. This helps support the free content for the community on this website. Please read our Affiliate Link Policy for more information.
If your quad is twitching for no apparent reasons during flight or just hovering (doesn't matter at throttle position), then it could be one of the following reasons.
Use the Correct RC_Link Preset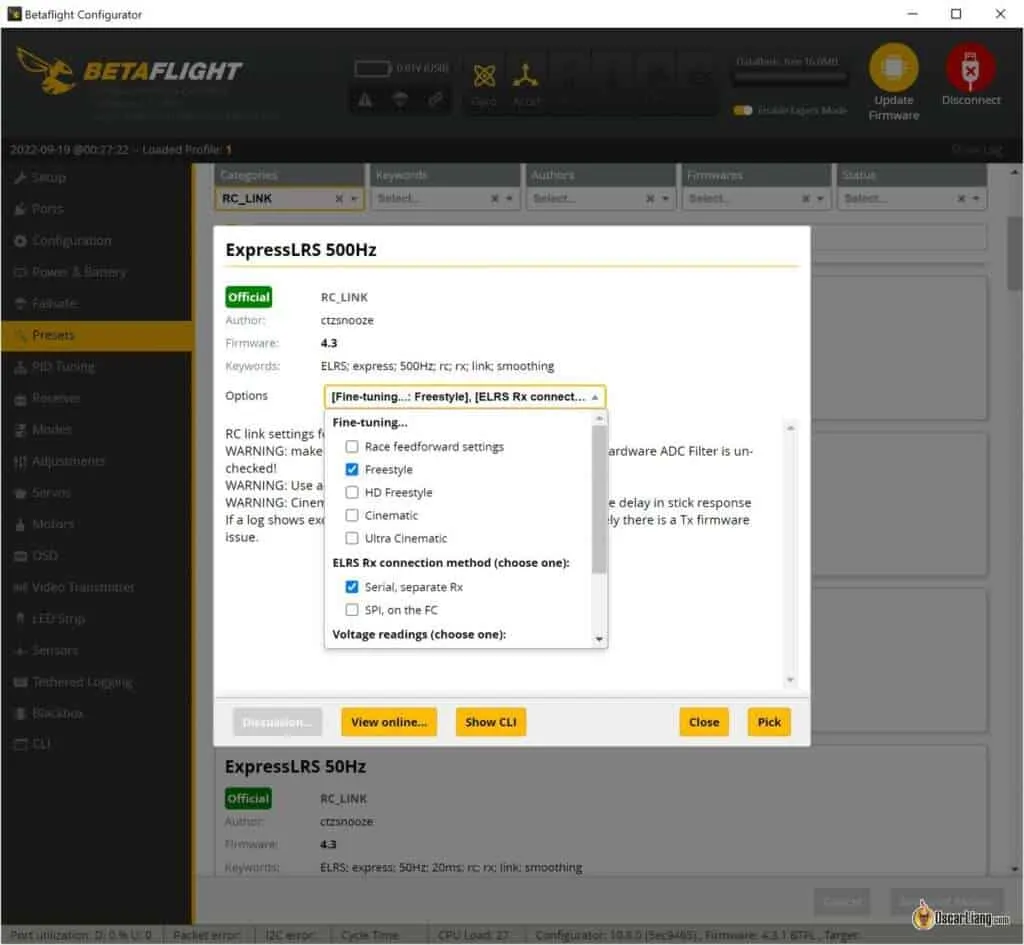 If you use one of the low latency RC links such as Ghost or ExpressLRS, you should apply the appropriate RC links to smooth out any jitter in the controls. Here's why (Go to step 5).
In the Presets tab, search for your particular RC link and packet rate and apply it to your flight controller. That's it.
Even if you are using slow 50Hz link you should still apply the preset to avoid potential issues.
In Betaflight 4.4 there's no preset for 1000Hz yet, but 500Hz should be enough for now. 1000Hz preset will come in BF4.5.
Turn off your ADC filter!
This is the probably the most common and overlooked cause of the twitching issue so far. I explained here why ADC filter can cause jitters to your quad.
To fix it, go to your OpenTX/EdgeTX radio's system settings (hold down the SYS key), scroll over to "Hardware", scroll down and find "ADC Filter". Make sure it's TURNED OFF!
ExpressLRS Dynamic Power
If you are using ExpressLRS and you have Dynamic Power enabled, I have found it could also cause random oscillation issues to some users.
Just turn it off and set a fixed output power, it's in the ExpressLRS LUA script, "TX Power" option.
Now go try to fly again see if the problem goes away.
Try Default Settings
Maybe your settings are messed up?
A properly built FPV drone as I showed here, there shouldn't be any twitching even using the Betaflight default settings. In case it's caused by software, I'd suggest backing up your Betaflight settings first, then reflash your FC firmware with "Full Chip Erase" turned on (flash the same firmware version). If this doesn't solve your issue you can restore the old settings. Remember to apply the appropriate RC_Preset before test flight.
Also try to update your ESC firmware and use the default settings (do not apply existing settings). If you wish to remember the old settings just take a screenshot before flashing. Here're my BLHeli settings.
Now try flying again.
Mechanical Issues
If it's not caused by software, then check the hardware.
Perhaps a mechanical issue? Is the FC mounted securely? Try some new props?
Make sure the frame is all good, no broken arms/bottom plates, and all the screws are tightened properly, no movements when you try to bend the arms
ESC/motors wires are soldered properly? Make sure there's no cold joints
If you're using potentiometer gimbals in your radio, and they are old (e.g. over a few years old), they can get seriously noisy when worn out. You can try switching to Hall effect sensor gimbals to eliminate this issue
Still got issues?
Post your problem on https://intofpv.com, describe what troubleshooting you have done so far. Some DVR footage would be really helpful, also upload some blackbox logs (that shows your issue) on google drive and share the link there so we can take a more in-depth look.