The ES120 electric screw driver is from the same company that makes the ever popular TS100 soldering iron. In this review we will take a close look at the ES120 and discover how it works.
Some of the links on this page are affiliate links. I receive a commission (at no extra cost to you) if you make a purchase after clicking on one of these affiliate links. This helps support the free content for the community on this website. Please read our Affiliate Link Policy for more information.
Update (Nov 2019): After trying the Wowstick Screwdriver, I think I'd recommend it over the ES120 due to price.
You can buy the ES120 screw driver from Banggood or Amazon.
Take a look at the list of tools that are useful for building quadcopters.
The TS100 soldering iron has been one of my favourite and most trusted products, it has extremely high quality, with an innovative and user-friendly design, so I was super excited about the ES120.
Take a look at our review of the TS100 soldering iron.
What's Special about the ES120?
Traditional electric screw drivers have two buttons for both turning directions, and the turning speed and torque are constant. They can also be very bulky sometimes.
Introducing the compact ES120 Electric Screw Driver from Minidso, powered by a built-in accelerometer that detects your hand movement, you can change rotation speed and direction very easily by turning your hand slightly. It also has adjustable torque so you can work more efficiently and effectively with the ES120.
It has a built-in battery so there is no wire hanging around. One full charge is enough for a whole day of usage.
ES120 vs ES121
There is a "new version" of the ES120, they call it the upgraded version, but if you look carefully at the spec it's not really a better screw driver.
The only difference I can see is the lower gearbox, which has been reduced from 1:144 to 1:64. You can a faster no load RPM in the expense of lower torque. That means you can remove a loose screw faster but you might have trouble working with tighter screws.
All other specs are the same, battery, motor, processor, product appearance… And I am quite happy with the speed of the screw driver so I actually prefer the ES120 because of larger torque.
How does it work? And does it work?
Press the screw driver firmly against the screw, hold down the button and turn your hand slowly as if you are turning the screw, the screw driver bit will begin to rotate in the same direction.
The more you turn your hand, the faster it spins. You can adjust the speed by turning your hand forth and back. Once you get used to how it works, it's very intuitive and simple to use.
Is it worth it though?
This is a $90 screw driver!! It won't make sense if you ever only use it a few times. But if you are like me who build a lot of quads, and do many DIY projects that involves fasteners, this is a must-have tool!
It's not going to replace my manual screw drivers, but it's a good tool to have around when you need to handle dozens of screws at one time without getting a sore wrist.
The ES120 is my first electric screw driver so I don't have anything else to compare to, but I do love it, it makes life so much easier. It's probably one of the most magical and addictive tools I have ever used :D Highly recommended!
Closer Look at the ES120 Electric Screw Driver
Accessories that come with the ES120 include:
A travel pouch
Two screw driver bits – slot and Philips
Cleaning cloth
Instruction manual
Appearance, Handling and Feel
It has a silver stainless steel body, very modern and slick, looks a lot better than my ordinary screw drivers. But it's pretty heavy and weighs 114g versus 35g of an ordinary screw driver.
I wish it had rubber surface which should provide a better grip. This is not a big deal, but given the heavy weight, this thing can be slightly "slippery" to hold some times.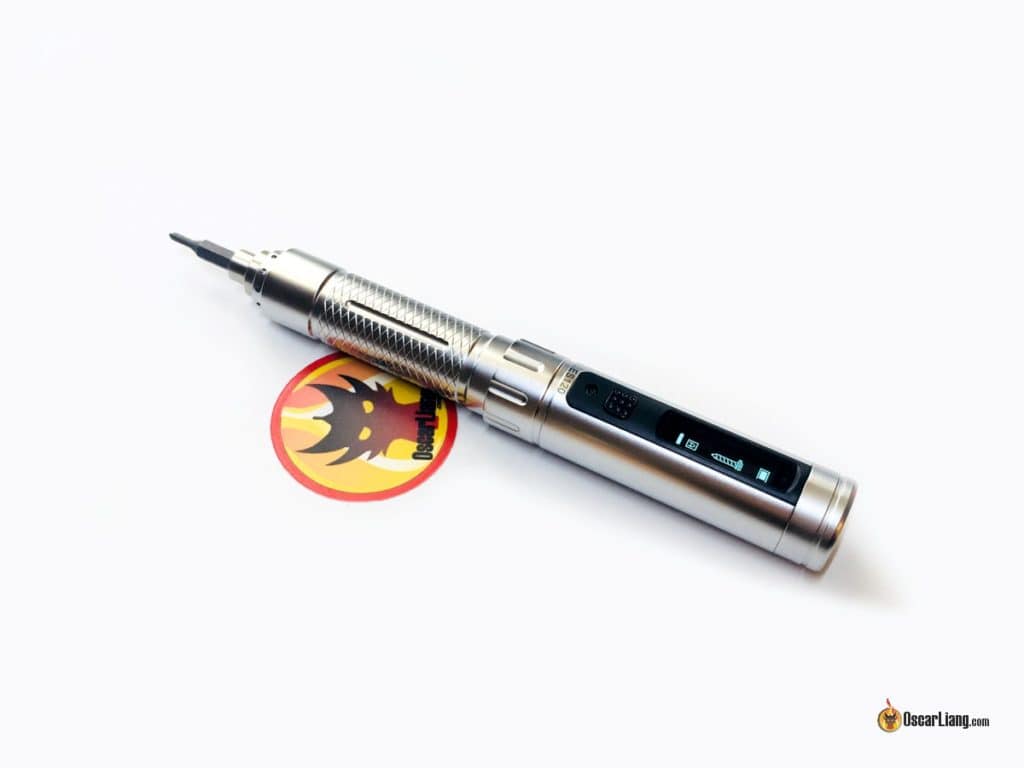 Driver Bits
The screw driver bits have 4mm (1/8″) hex shanks and are removable, there is magnet inside the ES120 to hold the bit firmly in place.
The 2 screwdriver bits that come with the ES120 are clearly not enough for us drone builders. You can get some extra such as this:
ES-A7 Screwdriver Bit Set: https://goo.gl/h8niNT
But… I have a better recommendation and I will show you later in this review :)
Screen
Similar to the TS100, the ES120 has a nice little OLED screen. User interface is very simple and easy to understand.
Change Torque Level and Speed
The only settings you can change on the screw driver is the level of torque.
There are 4 levels, but I personally prefer using "Automatic"! When selecting a specific torque level, the rotation speed also becomes constant. When selecting "Automatic", you can control the rotation speed by turning your hand.
To enter the menu, simply press the button 3 times rapidly, you can scroll down the menu by pressing the button once. To quit the menu, simply hold down the button for 3 seconds.
Other Settings you can change
Plug in the mini USB cable, and power up the ES120, a flash drive will appear in your computer, and there is a text file in the drive. This is the file for additional settings.
There are two settings you can change here, "Start Angle" and "Gear".
"Gear" just just the level of torque, which we just mentioned.
"Start Angle" is the angle in degree you need to rotate the screw driver for it to start turning. It's the same concept as "deadband" if you are familiar with Betaflight :) Basically the smaller the number, the more sensitive it's going to be. I think 2 is the default it works well if you have a steady hand. A higher value requires more hand movement, but more suitable for those with a shaky hand.
My Best Practice using the ES120
When removing a screw, it's best to loosen the screw first (start manually for half of a turn) to avoid putting too much stress on the motor and gear.
If you are tightening a screw, slow down and stop before it gets to the end, and finish the rest manually with your hand to avoid over-tightening.
If a screw is too tight to spin, the ES120 will increase the torque until it reaches maximum and should automatically stop. This protects the screw driver as well as letting the user know that the screw is impossible to turn, and requires manual attention.
The Best Screwdriver Bit Set for ES120
I bought this 33-in-1 screwdriver set a couple of years ago, but I only just realized the bit set has 4mm hex shank and is actually perfectly compatible with the ES120. What a pleasant surprise :)
The collection includes nearly all the screwdriver bits you will ever need for building a quadcopter.
And it's only $5.5 !! How can you miss such an excellent and affordable tool? :D
Purchase link: http://bit.ly/2D6cKle
I also designed some 3D-printed M3 and M2 nut driver bits, which are perfect for installing or removing nylon nuts on your FC stacks :D
The STL files are here.
ES120 Firmware Update
To update the firmware on the ES120:
Connect the micro USB cable
Hold down the button for 5 seconds, the ES120 should enter bootloader mode and a flash drive should appear on your computer
Download the latest firmware from here
Unzip the downloaded file, and you should find a HEX file (file name ends with ".hex")
Copy this file to the ES120 flash drive, and the update should start automatically and it will take only a few seconds