The Piko BLX flight controller is basically a F3 flight controller that is integrated in a PDB, yet it's tiny and light weight. The FC is developed by FuriousFPV.
Some of the links on this page are affiliate links. I receive a commission (at no extra cost to you) if you make a purchase after clicking on one of these affiliate links. This helps support the free content for the community on this website. Please read our Affiliate Link Policy for more information.
Thanks to HeliDirect for sending us the Piko BLX FC for testing.
Piko BLX Small form factor
First thing I noticed was the small form factor of only 27x27mm, takes up less than half the area than a Naze32 board (36x36mm). It's probably one of the smallest F3 flight controller to date. It weights only 2.5g! Mounting holes are 20x20mm.
It's packed with components, yet you get access to many important pins we normally need on a F3 FC board, with header pin holes (not flaky JST connectors thank god!).
The form factor is so small, it won't fit on most current frames directly with screws. There are many options to fit this FC in a frame, you could use double sided tape perhaps, or 3D print a 20 to 30.5mm adapter (many printing files on thingiverse). Or you could use the PDB we introduce later in this review.
See this size comparison between a KK2 board (50x50mm), the Piko, and the Naze32.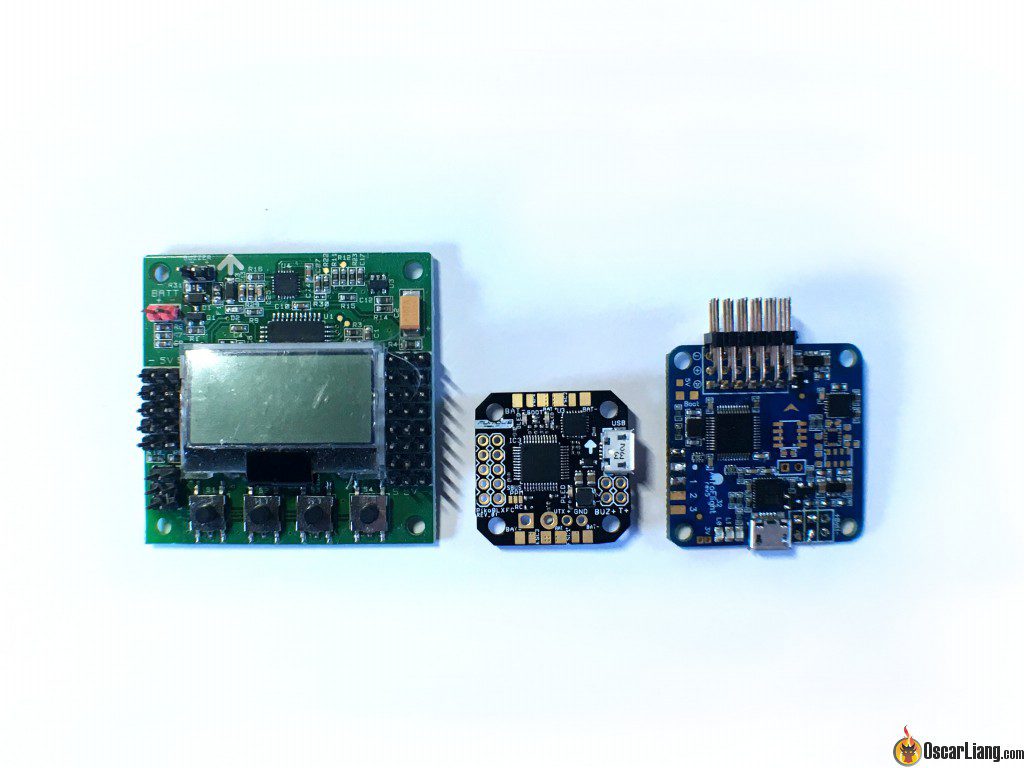 Features of the Piko FC
The Piko BLX is packed with great features, such as support for transponder, use of high performance MCU6000 with SPI Bus, 5V 2A BEC.
By connecting *EVERYTHING* to the FC, including your ESC, VTX, OSD, wiring is going to be so much cleaner and makes building easier.
The FC can be powered directly by 2S up to 6S Lipo battery. However because the FC is only rated for 50A of continuous current, I think it's probably best for 3″ micro brushless tight builds. (6S?! I doubt anyone would be running 6S on a micro quad lol).
However if you want to run the Piko on a more powerful racing quad, like a 5″ with quad-blades props :) then you can consider pairing the Piko with this power distribution board.  It weights 3.8g.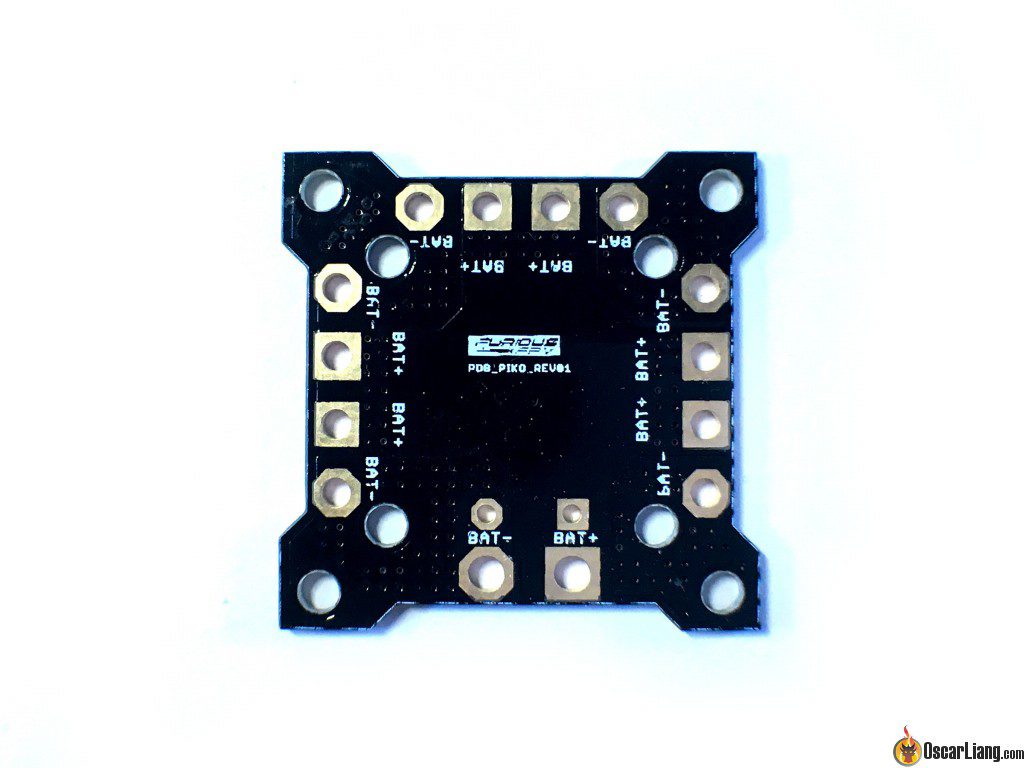 This optional separate PDB is designed to go with the Piko, and it's rated for 150A. But I feel like using a separate PDB defeats the purpose of being tiny, and the integrated PDB functionality.
There is a power pins for VTX that actually connects to Battery+ with filtered voltage.
There is no current sensor on the board. But I think that would mostly concern those who run OSD (maybe you use that for telemetry).
BLHeli ESC Pass through works fine on this board also.
The PIKO flight controller is also compatible with OSD+GPS+LED+Sonar+Battery Monitoring devices – all can be used at the same time.
Firmware
The Piko BLX is currently in pre-release and will be added to Betaflight, Raceflight and Cleanflight as a target soon. For now I think there is an edited betaflight hex you can download directly from FuriousFPV product page.
Conclusion
Good things
F3 processor with MPU6000 SPI (supports 8K/8K and low gyro noise)
Built-in PDB / BEC makes wiring cleaner, building easier
Super tiny and light weight, 27x27mm, 2.5g
Because it can be powered directly from LiPo, it eliminates the need for VBAT pin
Single RX input for SBUS and PPM, signal type is selected by bridging the right pads, less confusion
If you are a Spektrum satellite user, you will be happy to see there is a dedicated port for it
Built-in LC filter for the 5V and VTX power out
Things to be aware of
Only 50A rated current, mostly useful for 3″ mini quad, could be risky running larger motors/props without using separate PDB
Most frames don't yet support 27mm form factor, additional adapter/PDB might be required (or drill extra holes on your frame)
Only 5V voltage regulators, no 12V output, thus you are limited to what VTX and FPV Camera you can use (that either supports 5V or battery voltage)
It doesn't have ESC signal ground (if you prefer to use signal ground you could solder it to the power ground), see this discussion why you should run a ESC signal ground
I wish they replace the boot pins with a button
High current running on the same board as the gyro and other chips, not sure if that would cause any noise problems, we will find out in our flight testing
The spec says it has built-in Buzzer, the fact is it doesn't – I guess they mean the buzzer port
One weird problem I have been having with the unit I am testing – in Cleanflight GUI, every time I go to another tab, it freezes and I have to re-connect (stuck and says rebooting fail)
Plan of testing this board
I have already had some experience with this board on a Torretto 130 RTF Micro Quad. But I am planning to build a new micro quad with this board the next few days, see how easy and clean the build would be.
Stay tuned :)
Lastly as we speak, FuriousFPV is developing 2-in-1 ESC that is the same size of the Piko, which can stack under the FC. It's an interesting and convenient idea :) (following images are from FuriousFPV Facebook page)