The Shuriken 180 is a medium priced racing/freestyle ARF (almost ready to fly) quadcopter, that would be great for indoor/outdoor flight. In this review we will take a look at the quality, how it flies, and how it's setup.
Some of the links on this page are affiliate links. I receive a commission (at no extra cost to you) if you make a purchase after clicking on one of these affiliate links. This helps support the free content for the community on this website. Please read our Affiliate Link Policy for more information.
Many thanks to NewBeeDrone for providing the Shuriken 180 for review, this article is written by George Hanes.
What do I get in the kit?
The Shuriken 180
A RX of your choice – FrSky SBUS, Spektrum DSMX, or Futaba receiver
A Molded Softshell carrying case
Right-hand polarized antenna
Two Sets of 4×4 Tri-blade Props (8 pairs)
Reasonable but somewhat confusing Instruction Manual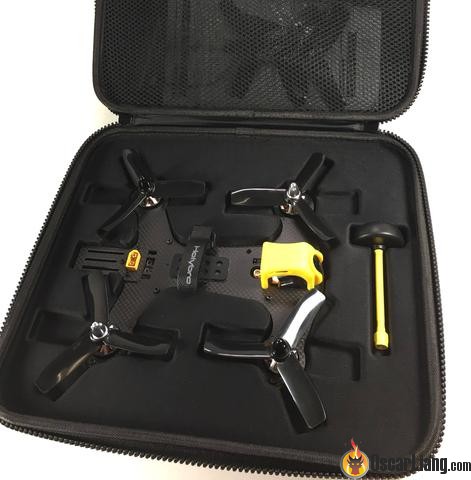 What Do I Still Need to Fly?
3S or 4S Lipo batteries, somewhere between 900mAh-1400mAh (I am using Tattu 1080mAh 4S 70C and would recommend it)
A radio; If yours isn't compatible with Frsky, Spektrum or Futaba, then you will also need a receiver
FPV goggles or screen with a 5.8GHz receiver (I used the Headplay goggles)
What Upgrades/Accessories can you get for this kit?
30A ESC's (stock ESC's are 20A)
MinimOSD (see video)
Shuriken 180 unboxing – Build Quality?
After opening the quad up and checking it over, I noticed that the solder generally looked pretty good. However I did notice a couple of dry solder joints on the SMA connector where the pad was whetted but the pin did not get soldered properly. As the other two ground pins were soldered good, this did not cause any problem. But you may check this whenever you are installing your receiver. Everything else looked and felt great, however the props were a little flimsier than my DAL props.
I'd also like to mention that I generally crash a lot, and did crash head on and with glancing blows into some 2'' metal pipes more than once (flying through a steel framed tent about 60' long). The frame has held up impressively well, and does not show much more than nicks and scrapes from my multitude of crashes.
Initial Setup
This is just a brief overview for those who are experienced in setting up models on their radio and in cleanflight. HolyBro has a more detailed RX setup video.
Install receiver

Upon opening the carrying case I noticed that they had a mount for the receiver in a plastic bag with some screws and double sided tape and a FrSky receiver in it's own plastic packaging. For mounting the receiver you have the option to mount internally or externally
Method 1: Add a little extension to the frame and just plug it in then tape it on (really fast)
Method 2: You have the option to open the frame up and mount the receiver inside to be more protected.
As it only takes 10 minutes to open it up and mount it and it will be more protected method 2 is what I'd suggest

Setup Radio

Create a new model in your TX
After creating a new model I'd suggest you setup 3 auxiliary channels on whichever switches you want. I used AUX 1 for arming state and Airmode (3 position switch), AUX 2 for horizon mode, and AUX 3 for the beeper

Bind Receiver

Bind your receiver and set it up as the receiver for this model

Setup quadcopter in Cleanflight

You need to connect to Cleanflight and setup your receiver mode for FrSky it is RX_Serial with a serial receiver provider setting of SBUS. You now need to make sure no channels need to be reversed, and that your AUX channels are working with the switches you chose
On AUX one I had position 1 empty, position 2 and 3 under armed, and then position 3 set up for Airmode. This means that position 2 is armed, and position 3 was armed and in air mode. AUX 2 I set with position 1 empty, and position 2&3 setup as horizon mode. To make it easier to find the quadcopter after a crash I set AUX 3 as the beeper so that I can flip a switch and activate the beeper
Modification suggestions
Antenna Side Mount
If you get this product I'd suggest one small modification to prevent ripping the SMA connector and solder pads out of the main board.
Being as the antenna is pretty rugged and sticks up more than anything else it takes the brunt of a roll and can damage the SMA connector and solder pads after a few hard crashes to the point of making your antenna loose or completely broken off. If you'd like to avoid this I'd suggest that you get a flexible mount and mount the antenna to the side of the quadcopter.
Here are some quick instructions for that:
Get an SMA extension cable and either use a prop or print the mount
If you're using the prop make sure there is only one blade left, then drill out the hub big enough for your SMA connector. Slide your connector into the prop and if needed solder the wires to the appropriate pins on the connector.
Take off the bottom plate and insert the prop or mount, no holes needed if you're just clamping it in like I did, position it and then tighten the bottom plate down.
Either screw the female end of the connector into the male on the quadcopter or solder your wires to the exposed pads on the bottom if you don't want the extra weight of the connectors.
Attach your antenna and verify that it is safe from the props, if it is you should be ready to fly.
After installed the flex mount should take the brunt of the impact away from the antenna and the repairs less costly/frustrating. So far with around 3+ hours of flight I have ruined 3 props, cracked the, broken the antenna connector out of the board, and broken 3 flex mounts with 2 made out of Diatone props and one out of a DAL prop. (these were the DIY side mounts).
Diagram View From Bottom
Note on using different props
I did try some DAL tri-blade 4045 BN props, and it caused the motors to get a lot hotter than the flimsier 4030 tri-blade props that they supplied. I'd suggest that you not get the BN versions of the DAL props if you do decide to try some as an upgrade unless you are willing to risk it for better performance.
Cost of flying (and crashing)
I did a lot of flying and crashing, and did not go through any antennas (though I did have to shorten the supplied antenna to repair it). I ruined two of the supplied props, and a DAL prop after several crashes. So it does not really cost much in props however this is of course subjective to where and how you fly.
I nearly killed my battery several times, but always re-positioned it after a crash to avoid it getting cut on the edge. I used the smaller supplied battery strap that goes through the frame, and a bigger strap that came with it to strap all the way around the frame and battery. It really helped to keep the battery centered.
This quadcopter breaks a lot less than my other quadcopters with DIY frames made from aluminium or wood, and so it is probably the cheapest thing that I fly. The frame protects about everything really well, and the props don't cost much. So I was really not afraid to try things with this mini-quad that I would never even consider with my other quadcopters, like flying through gaps in a tree or trying flips and smaller gaps.
Flying Characteristics and experience.
When you take it out of the case and set it up, it feels like a really doctile quadcopter compared to most in the sub 250 category. However even with that said I did notice just how easy it was to do tight flips in any direction, while still being very easy to control in horizon mode. I felt comfortable enough with the quadcopter out of the box to try some flips and gates on my first battery.
There was one problem that I did notice when flying and attempting a flip or punch out in horizon mode on the last bit of a battery. And that was that the voltage would sag just enough to (I assume) enable some LVC feature on one or more ESCs, that would mess up stabilization to the point that the quadcopter would be uncontrollable.
I did recreate the problem and record some blackbox data from it. I will upload my blackbox data file here, if anyone wants to take a look at it. This problem was hard to recreate so I assume it could be a loose battery connector (which I did get from a crash and attempting to spread the pins), or voltage sag in the battery.
Indoor Flight
With default settings, it was a little too 'high spirited' for indoor flight. Alhough I did do some laps in a smaller basketball gym (60'x40' room) with no problems. After adjusting curves on my Taranis I found it really easy to control and fly indoor. Even did some rounds around the building, and through hallways with little trouble except some snow in my FPV feed.
Outdoor Flight
It handles wind really good. Not sure whether this is due to the thinner design or the thrust to weight ratio. But whatever the reason is, it handled 8Mph wind as if there were none. I have also flown it just fine in out average 17mph winds without much problem. It was very fun to zip around through trees, makeshift pool noodle gates, under volleyball nets, and through a 20'x60' tent while flying in a pretty much wide open field.
Final Thoughts
I think this would be the perfect quadcopter for someone looking to buy a fast and fun multirotor. It will give them the maximum time in the air, without all of the downtime associated with crashing and repairing.
The simple yet strong frame design protects about everything inside. I've ran it head on into a metal pole with no internal damage, and just a cracked camera mount from the shock. The price is better than about any build of similar quality and it is almost bind and fly.
Pros:
Pre-tuned
Minimal setup to get into the air
All in one PDB, VTX, FCB and BEC (replacement is quick)
Rugged
General build quality is good
700TVL camera
Built in VTX that does 25mW or 700mW
Comes with Cleanflight and will run Betaflight
Looks great
25Mw and 600mW variable VTx output for racing or fun flying
4 separate and upgrade-able ESCs
Cons:
All in one PDB, VTx, FC and BEC (replacement is costly)
Antenna placement and rigidity makes breaking the solder pads of the SMA connector likely
Cheaper TX and RX bundles are less likely to be compatible out of the box, as there are no PWM inputs
What would I like to see improved?
Option to mount the antenna on the side
More modular design on the 'all in one' circuit board (not as important but it helps for repairs)
Something to keep the antenna wires safer perhaps some sort of tiny flex straw? (again not as important as they are easy to replace and have not yet been clipped despite some close calls)
I would like the ability to buy the main PCB
,Other than these few and smaller things I really did not see anything else I'd personally like to see changed. The overall design and construction were great and did not really leave much to be desired. The flight characteristics, cost, parts availability and rugged design were better than most products I've seen. The Holybro Shuriken 180 is definitely near the top in affordable BNF racers.
Author : George Hanes