The F7 V3 is Speedybee's premium FC stack offering, at US$119.99 for the whole stack, or US$62.99 for the FC. Let's compare the F7 V3 stack to the F405 V3 which I believe to be the best value stack in 2022, and see what benefits it gives you from spending the extra $50.
Some of the links on this page are affiliate links. I receive a commission (at no extra cost to you) if you make a purchase after clicking on one of these affiliate links. This helps support the free content for the community on this website. Please read our Affiliate Link Policy for more information.
New to FPV? Check out my flight controller buyer's guide.
Where To Buy?
Stack: Speedybee F7 V3 FC + 50A BLHeli_32 4in1 ESC
Just the FC: Speedybee F7 V3 FC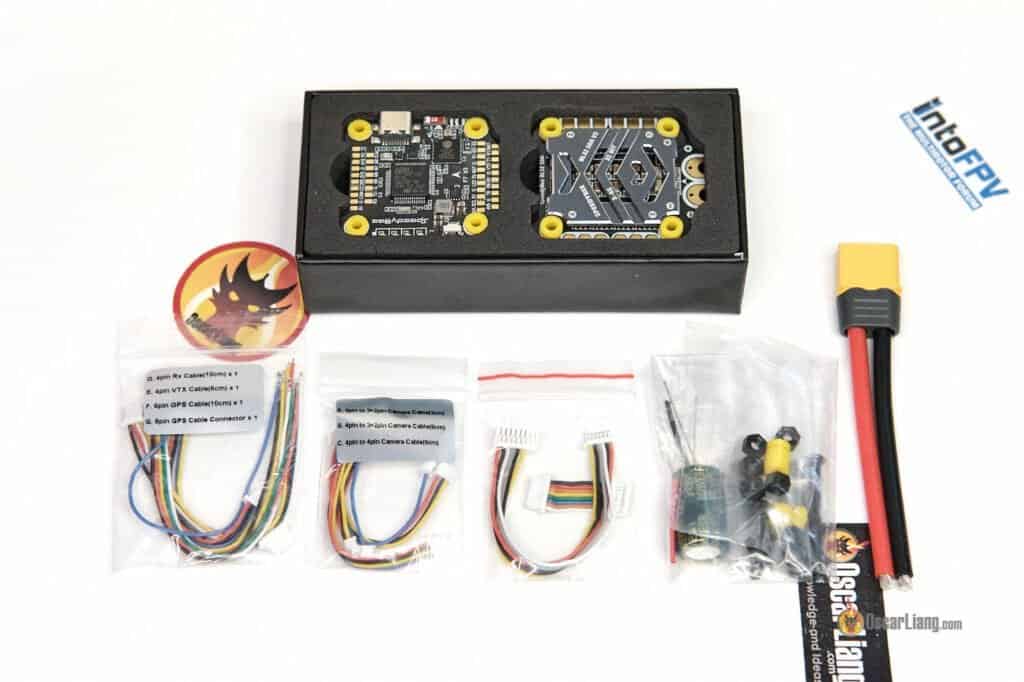 It comes with a pretty comprehensive selection of accessories:
1 4-Pin SH1.0 to SH1.0 Analog VTX Cable 60mm – Yellow and Blue
1x 6-Pin SH1.0 GPS module Cable without connector – 100mm
1 4-Pin SH1.0 to 3+ 2-Pin JST1.25 FPV Camera Cable – 30mm
1 4-Pin SH1.0 to 3+ 2-Pin JST1.25 FPV Camera Cable – 60mm
1 4-Pin SH1.0 to 4-Pin JST1.25 FPV Camera Cable – 60mm
1x 6-Pin SH1.0 GPS module Cable with connector
1 4-Pin SH1.0 Radio Receiver Cable – 100mm
1x SH 1.0mm 8-Pin Cable -30mm
5x M3 8mm Silicone Grommets
1x DJI 6-Pin Cable – 80mm
1x 35V 1500uF Low ESR Capacitor
1x SH 1.0mm 8-Pin Cable -30mm
5x M3 8.1mm Silicone Grommets
5x M3 Silicone O-Ring
5x M3 30mm hex screws for stack
1x XT60 Power Cable
Specifications
SPEEDYBEE F7 V3 FLIGHT CONTROLLER
Betaflight Firmware Target: SPEEDYBEEF7V3
MCU: STM32F722
IMU (Gyro): BMI270
Supports BetaFlight OSD in Analogue FPV system thanks to the AT7456E chip
Onboard BMP280 barometer
500MB onboard flash memory for Blackbox
Power Input: 3S – 6S Lipo
USB Port: Type-C
BEC: 5V@2A, 2x9V@2A, 3.3V@500mA
Built-in Bluetooth and WiFi for firmware configuration and flashing wirelessly via Speedybee APP
I2C Supported. SDA & SCL pads on the front side. Used for magnetometer, sonar, etc.
Supported Firmware: BetaFlight, EMUFlight, INAV
8 Motor outputs (ESC signals)
4 full UART's + a half UART (RX4, dedicated for ESC telemetry)
Mounting: 30.5×30.5mm, 4mm hole size
Dimensions: 41(L) x 38(W) x 8.1(H)mm
Weight: 9g
SPEEDYBEE 50A BLHELI_32 128K ESC
Runs BLHeli_32 Firmware
Onboard Current Sensor (Scale=490 Offset=0)
Current Rating: Continuous 50Ax4 (Burst 55A 5 seconds)
Power input: 3S – 6S LiPo
Mounting: 30.5×0.5mm, 4mm hole size
Dimension: 45.6(L)x40(W)x8.8mm(H)
Weight: 19.2g with heatsink
Closer Look at the Speedybee F7 V3 FC/ESC Stack
Compared to the Speedybee F405 V3 FC, the F7 V3 is powered by a faster processor (F722's 216MHz vs F405's 168MHz), but it has less memory (F722's 512kb vs F405's 1Mb) which affects the longevity of the F7 V3 (how long it may be supported by Betaflight if the code size gets too large). But as for now both of these processors are great for the current version of Betaflight.
The F722 is fast enough to allow 8KHz PID Loop Frequency while the F405 can normally only run 4KHz. However, due to the BMI270 Gyro used in the Speedybee F7 V3 FC, the PID Loop Frequency is limited to 3.2KHz, so the speed advantage of the F722 processor isn't as meaningful on this board.
There are 4 full UART available (plus a half UART – RX4 dedicated for ESC telemetry), these UART can be used for connecting your receiver, VTX (SmartAudio), camera (UART control), GPS etc. And it uses USB-C connector which is more robust and easier to plug in than Micro USB.
Just like the F403 version, there is a 22mm wide cutout in the front of the FC, which is to leave room for the FPV camera in certain tight frames which is a thoughtful feature. The F7 V3 also has great layout and easy to solder pads. All the pads are clearly labelled.
On the bottom of the FC, there are many JST connectors for almost all the components you are likely to use: analog camera/VTX, DJI Vista, GPS, LED, Receiver etc. You can basically go "solderless" with this FC. For racers, this is priceless as you can swap out FC in the field easily and quickly without soldering.
There are 8 motor outputs (M1-M8) which allow you to use this FC on an hexacopter or octocopter.
There's an OSD chip onboard, so it supports digital as well as analog FPV system. There is a barometer onboard, not often used in Betaflight but need it or not, it's good that it's there.
Something I have not seen before on an FC is the battery indicator (4 LED's), which shows the voltage level of the LiPo plugged in.
However, there are several features in the F7 V3 FC, that the F405 V3 FC does not have:
Double 9V BEC providing a total 4A output on the F7 vs 2A on the F405
An insane 500MB Onboard flash memory for Blackbox logs! (typically FC only comes with 16MB flash) That's enough storage for over 3 hours of flight logs! You don't need to worry about running out of memory probably for a whole day of flying
Apart from having Bluetooth, it also has WiFi which means it supports firmware flashing wirelessly. It basically has the Speedybee Adapter 3 built into the FC! Adds $30 value to the stack if you don't already have this adapter
Although BLHeli_S ESC are cheaper and have almost the same capability as the more expensive BLHeli_32 counterpart, there's something BLHeli_S can't do.
BLHeli_32 allows you to set a much wider range of PWM frequency (between 16KHz to 128KHz, "byRPM" as well), the BLHeli_S version can only run fixed a fixed value between 24KHz and 48KHz. Therefore, BLHeli_32 can arguably offer more balanced performance – higher torque at low throttle while running smoother in higher RPM thanks to the variable PWM Frequency.
There's a heatsink on the ESC to keep it cool and potentially shield some of the interference from the FET's.
How to Use
Here are the wiring diagram using the connectors, or direct soldering.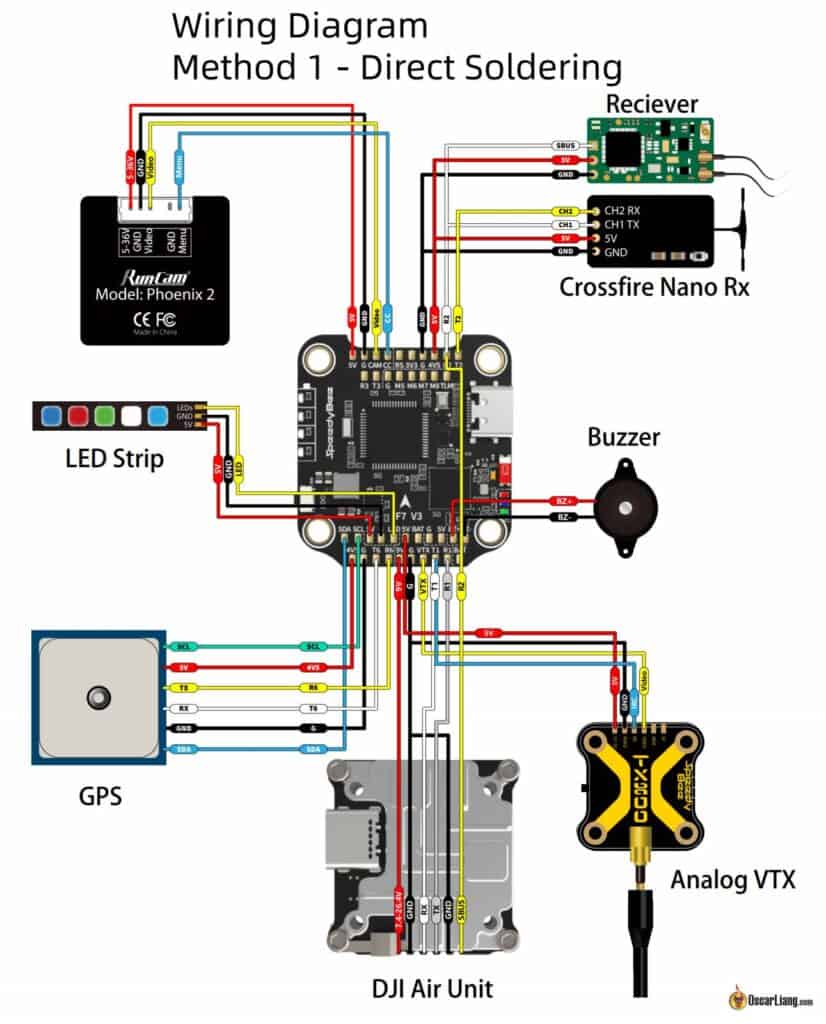 To power receiver and GPS, I'd recommend using the 4V5 pad instead of the 5V pad. The 4V5 pads gets power from both USB port and LiPo battery. This allows you to configure/test your receiver by connecting the USB cable only without plugging in the LiPo. And it helps to get a GPS satellite lock before powering up the quad. The 5V pads only have power when you connect the LiPo battery.
The plug for the analog VTX only supply 5V, which seems to be designed for Speedybee's own TX800 VTX. I wish there's a solder bridge you can select between 5V and 9V or even VBAT.
If you are pairing the F7 V3 FC with the SpeedyBee BLHeli_32 50A ESC, make sure to set the current sensor scale to 490 and Offset 0.
Unlike most other FC, the onboard 500MB memory chip for blackbox on the SpeedyBee F7 V3 is configured as an SD Card, which means you won't get the option to erase its content like a data flash chip. Your only option to erase it is to activate mass storage, then either manually delete the files under the LOGS folder or format the drive as FAT32.
Official manual provided by Speedybee: https://store-fhxxhuiq8q.mybigcommerce.com/product_images/img_SpeedyBee%20F7V3_STACK/20220926F7_V3_Stack_Manua_EN.pdf
Build Log
This stack is going into my next build. I will be sharing the build log in the next week or two along with some PID/filter tuning guide.