To get Crossfire support on the latest Taranis X9D+ 2019 radio, you need to flash OpenTX 2.3 Nightly firmware – a beta unstable release. The firmware update process is non-standard so I am writing this post to explain how to do it.
Some of the links on this page are affiliate links. I receive a commission (at no extra cost to you) if you make a purchase after clicking on one of these affiliate links. This helps support the free content for the community on this website. Please read our Affiliate Link Policy for more information.
---
Update Feb 2020 – OpenTX 2.3 stable release is now out, so you can disregard this post, and flash your Taranis the normal way through OpenTX Companion as shown here. Make sure you select X9D PLUS 2019 in the Radio Type though!
---
As usual, Frsky has no documentation on their new products, I have to spend a whole day trying to figure things out myself.
For some reason you cannot flash the Taranis X9D+ 2019 radio in the OpenTX Companion out of the box. You will get a warning saying "firmware does not support radio". You have to flash inside the radio. Here I will show you how.
Download OpenTX Firmware
Download 2.3 Nightlies here: https://downloads.open-tx.org/2.3/nightlies/companion/windows/
This is the Companion installer that you will use to download the firmware. If the installer doesn't respond, try to run it as administrator. Still nothing? Try right clicking and select "Troubleshoot compatibility".
Download Firmware
Once the OpenTX Companion 2.3 is installed, run it. Click on the Setting button.
In the pop up window, go to Radio Profile tab, under Radio Type, select "Frsky Taranis X9D+ 2019". Do not select "Taranis X9D+" without "2019", you will brick your new Taranis. That's because they have different hardware. Though you can unbrick it if it happens.
And then check the options you want to have. All these options are explained in my OpenTX Flashing tutorial. (There was a check box for Crossfire too which they recently removed. Crossfire is now integrated into the firmware you don't need to select it anymore)
In Application settings, change Release Control to Nightly builds (unstable) in order to download the beta firmware.
Click OK to close the pop up, and click the download button
In the new pop up, download both firmware and SD card contents (sdcard-taranis-x9-2.3).
Erase your SD card and put the SD card contents on it.
Then put the firmware file you just downloaded in the "FIRMMWARE" folder on the SD card.
Firmware Flashing
You can't use Companion to flash your radio, you have to flash the radio with the firmware on the SD card.
Enter bootloader mode on radio: push both trim buttons inwards then press the power button.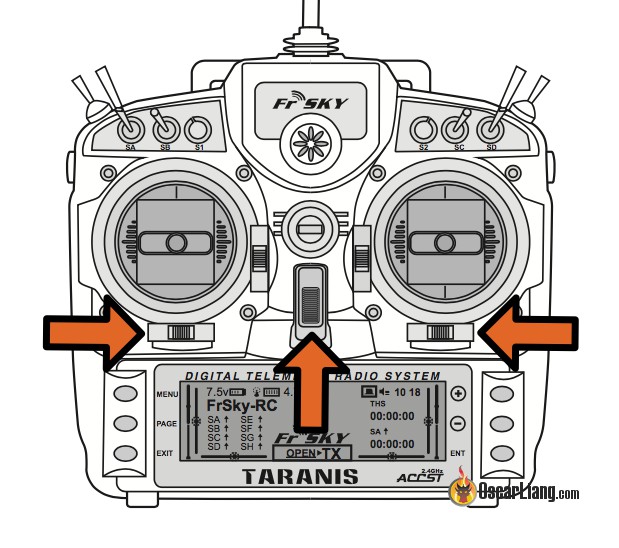 You will get to a screen that looks like this.
Select "Write Firmware", in the next screen, you should see the firmware that you just downloaded and placed in the "FIRMWARE" folder. Select it and the flashing process will begin.
Use Companion to Flash OpenTX After
After you flashed the OpenTX 2.3 firmware for the first time, you should be able to use the Companion for any future firmware updating. (seems to work in my case)
Nightly Builds Startup Warning
Problem with running Nightly built firmware is that you always get a warning at startup saying "version not safe to fly". I don't think there is a way to remove it until you flash a stable release firmware. So you just have to live with that for now.