This tutorial explains how to change PID, rates and VTX settings from a Taranis transmitter using LUA script, in KISS flight controller.
Some of the links on this page are affiliate links. I receive a commission (at no extra cost to you) if you make a purchase after clicking on one of these affiliate links. This helps support the free content for the community on this website. Please read our Affiliate Link Policy for more information.
This Tutorial is written by Artur Banach, edited by Oscar.
How convenient it is to be able to tune your PID and rates right from your TX? You can even adjust VTX settings with particular video transmitters. This guide is written for KISS FC specifically.
You can also achieve the same thing with Betaflight and Raceflight:
Hardware Requirement
Taranis Q X7 or X9D radio transmitter
X4R-SB or XSR radio receiver (Smart Port required)
If you want to change VTX settings, you also need a VTX that is capable of tramp telemetry or Smart Audio such as the ImmersionRC Tramp VTX or TBS Unify Pro
Connection – FC, SmartPort and VTX
To enable communication between KISS FC, Taranis and VTX, we need to solder S.PORT telemetry wire from X4R or XSR to AUX1 pad on the KISS Flight controller.
Telemetry wire from Tramp (and Smart Audio wire from TBS Unify) needs to be soldered to the TX pad on the FC as shown in the picture.
Update Your Taranis Firmware
FrSky Taranis has to be updated to the latest OpenTX firmware (we tested V2.2 RC14). The process is covered in this tutorial: https://oscarliang.com/flash-opentx-firmware-taranis/.
Download KISS Firmware, Chrome App and LUA Scripts
The LUA script for KISS FC and firmware is available to download here (link). Flyduino made a single ZIP file that contains all the necessary files:
Firmware V1.2 for KISS FC, CC and AIO
Chrome App GUI V1.15.6
LUA scripts for Taranis QX7 and X9D (plus)
Manual for the LUA scripts
Firmware for ESC's – 24A, 8A (AIO), 16A (CC) – Not necessary
The script KissFC.lua is for Taranis X9D and script KissX7.lua is for Taranis Q7X. Because the two transmitters have different screen resolutions and that's the main reason for two different scripts.
Copy the LUA file onto your Taranis SD card, in the SCRIPTS/TELEMETRY folder.
Flash New Firmware on KISS FC
This new feature is only made supported in the latest KISS FC firmware (V1.2). To update KISS firmware we first need to install the latest KISS Chrome App GUI (version 1.15.6).
Remember to make note of your FC settings before flashing new firmware. The new GUI cannot import settings you exported in 1.14, so it's best to take screenshots of your PID's, rates and whatever else you might need.
NOTE: Older KISS firmware is not supported by this new GUI and can only be opened with older GUI app (1.14 or older). If your FC firmware is too old you will get this message in the 1.15 Chrome App.
Installing KISS Chrome App
The new chrome app is included in the zip folder we downloaded. You can install it in Google Chrome browser by enabling Developer Mode in extension, and select the package file called kissfc-chrome-gui-v1.15.6.
Once installed you can now connect KISS FC to the computer.
Update KISS FC Firmware
Your flight controller must be in bootloader mode. To do that, hold down bootloader button on the FC board while plugging in USB cable. When it's in bootloader mode, there should be only one solid green light on the board. You can now let go of the button.
KISS GUI will take you straight into FC firmware flashing. Browse and select KISSFC-1.2.hex from the ZIP file we downloaded. Now keep pressing the bootloader again and click "flash", the process will start and should finish within a minute. Don't let go until the flashing process is finished.
FC Config For VTX
If you have a Tramp or TBS Unify Pro VTX, you can follow these steps to configure KISS FC in order to change VTX settings from your Taranis. If you don't have these VTX, you can ignore it and you will still be able to change PID and rates using your Taranis.
With the new FC firmware, you are now allowed to enable communication between VTX and KISS FC. In the GUI, Advanced tab, option Serial config, choose "VTX" from the drop down menu.
And below that, there is VTX config where you need to choose which VTX you are using (TBS Unify Pro or IRC Tramp). Notice you can also set channel, band right there in the GUI.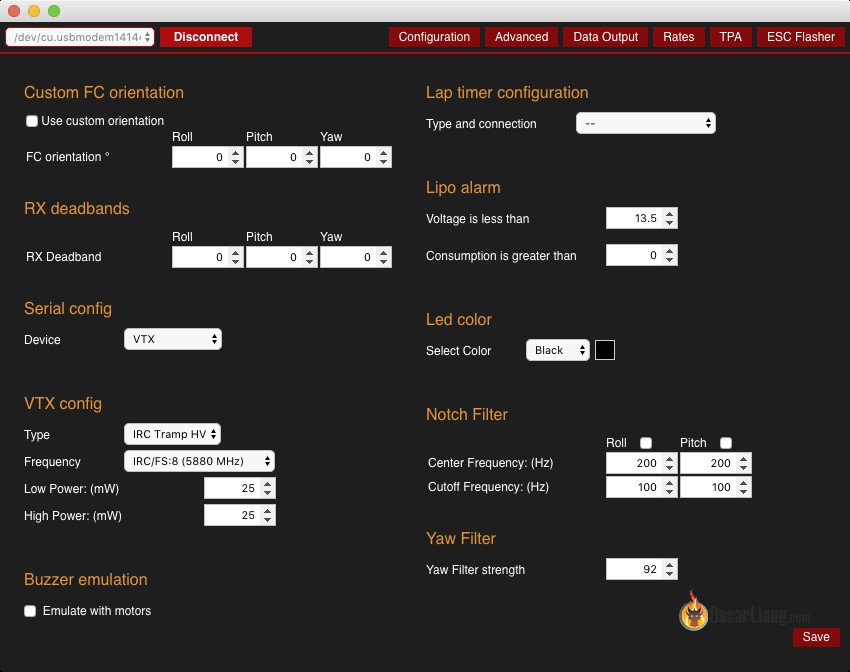 Setting up LUA script on telemetry page
Assuming your FrSky SmartPort (S.Port) telemetry is already working, and you have copied the KISS LUA script to the SCRIPTS/TELEMETRY folder on the Taranis SD card, we can now proceed to set up Telemetry screen on Taranis.
In your current model, go to page 13, DISPLAY. In there you can configure which telemetry screen to execute the KISS LUA script when pressing the PAGE button.
In Screen 1, select Script from the list and then select the KISS LUA script.
After this you can go into KISS LUA script by long press PAGE button. Let me show you what it looks like.
Page 1 of the script is for PID.
Page 2 is for rates and curve.
Page 3 is for filters.
Page 4 is for alarms
Page 5 is for VTX settings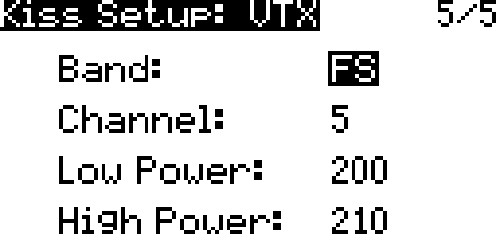 After making PID or VTX settings changes on your Taranis, you can save the settings by long press MENU button. Otherwise your changes will not be saved.
That should be all! Have fun tuning PID and changing VTX channels from your Taranis in the field! :)