I wanted to review this Eachine TX01 VTX/Camera combination, because it can potentially be used on brushed micro quads such as the Tiny Whoop, and only half the price as a FX797/FX798.
Some of the links on this page are affiliate links. I receive a commission (at no extra cost to you) if you make a purchase after clicking on one of these affiliate links. This helps support the free content for the community on this website. Please read our Affiliate Link Policy for more information.
Get your Eachine TX01 25mW VTX Camera from Banggood.com.
In order to understand some of the specifications, please learn about the basics of
Specification of Eachine TX01
The official specs are a little different than my measurement. I have highlighted my measurement in green for your reference.
Width: 20mm (

18.5mm

)
Length: 6mm

(7mm, 10mm including LCD display

)
Height: 13mm (

13mm, 34mm including antenna

)
Weight:4.48g (

4.7g

)
Current: 200mA (

300-330mA

)
Input Voltage: 3.3V-5V
Supports 40ch covering 5 bands including Raceband
Format: NTSC
FOV: 120 degree
It comes with a skew-planar (4-lobe) antenna, equipped with an 1-digit blue LED Display. It has good power filtering and works great even when powering directly from main 1S LiPo battery.
The power cables in the unit I received actually go out from the side, not from the bottom like it's shown on the product page. The power connector is a Pico blade (same one used by the Inductrix Blade).
In the package it comes with the camera/VTX unit, a manual and a connector converter (2 pin Pico blade male to LOSI female – see connector diagrams)
Comparing TX01 to the FX797/FX798
Width: 20mm
Length: 7.5mm
Height: 14mm, 36mm including antenna
Weight: 4.1g
Current: 280-290ma
So first of all, the TX01 is slightly smaller in nearly all dimensions. That means the VTX mounts for the FX797 might need a bit of redesign (in fact it fits, but it doesn't sit snugly and wobbles a bit, I had to hold it in place with rubber bands). See here for the difference of FX797 and FX798.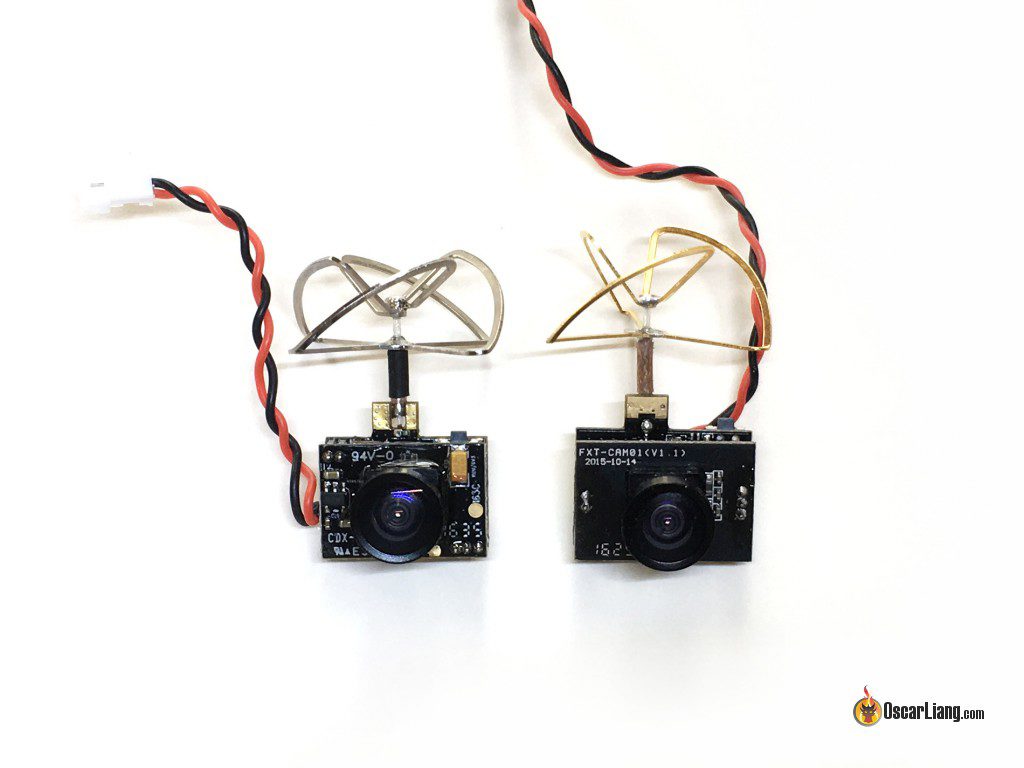 As you can see, the TX01 has stronger antenna with Nickel-plated metal. They have 4 lobes instead of 3 which means extra weight? Not that much, but still, it is :)
However, in my testing I found they have slightly better range than the cloverleaf FX797, so the 4-leaf design could be an advantage (roughly tested flying around the house will update with numbers later).
Personally I would replace the circular polarized antenna with a whip antenna for better durability, lower profile and weight saving.
LCD display is really handy, but unnecessary IMO. I barely change channels, maybe once a year. For me, it's just dead weight and drawing extra current (probably 20mA).
Another great feature of the Eachine TX01 is the much better power cable protection. The wires are protected by a thick layer of glue, and you won't have to worry about getting them pulled off. However they are soldered inside the unit, fixing them would be extremely difficult.
The AIO camera also gets hot just about the same as the FX797.
Image Quality Testing
I was flying 2 Tiny Whoops and comparing the DVR footage, on the left is the FX797, on the right is the TX01.
https://youtu.be/jICLD5OFCD0
During the test I didn't notice any noise in the footage, so power filtering must be working great.
Image quality are surprisingly similar. FOV are about the same too. I wouldn't be able to tell which I am flying in a blind test. If I have to be extremely picky, I would say the FX797 has just a little bit better WDR than the TX01, and less contrast, but it's hard to tell.
Big Brother Version – TX02 200mW
TX01 has a big brother, TX02. The main difference of TX02 being the higher transmission power of 200mW instead of 25mW. In theory, 200mW should give you more than twice the range compared to the 25mW. Given that they are priced the same, you might wonder why not just pick the one with higher power, right? Think again.
First of all, 25mW is the limit of flying FPV legally without a license in many countries.
Secondly, the 200mW consumes twice as much current, it would decrease your flight time and punch considerably on a micro quad.
Lastly, it will be slightly heavier which again is a disadvantage to a brushed micro quad.
Nevertheless, 25mW is enough for me to fly around the house, and gives me around 250m of LOS range. 200mW is just a bit overkill for quads like the tiny whoop :)
But if you are using it for longer range on bigger aircraft this would be the one to go to.
Do I Recommend It?
Hell yes, I really like this VTX/Cam :) It's cheaper and gives better range. If you don't mind the smaller size and slightly heavier weight (0.5g).
I only hope they can make a new version in the future, removing the LED display, and use Whip antenna. That would drop the weight down to 3.5g at least for sure :)