The Babyhawk 85mm from Emax is a micro brushless quadcopter. It's an ARTF kit that comes with almost everything you need to get flying. It's easy to setup and performs great, perfect for beginners and FPV racers alike.
Some of the links on this page are affiliate links. I receive a commission (at no extra cost to you) if you make a purchase after clicking on one of these affiliate links. This helps support the free content for the community on this website. Please read our Affiliate Link Policy for more information.
The price of Babyhawk is really attractive compared to other micro quads on the market, such as the Moskito 70. ($99 VS $249) In this review we are checking out the Babyhawk components and how it flies. The unit we reviewed here is a pre-release version, so there might be changes in the production version.
The EMAX Babyhawk 85mm is available here: http://bit.ly/2n1Hv0W
In case you haven't seen the Furious Moskito70, here is the review: Moskito 70 Brushless Whoop from FuriousFPV
How small and light weight is the Babyhawk?
Size matters for a micro quad, a lot! And the smaller the better :( But the Babyhawk is considerably larger comparing to the Tiny Whoop or even the Moskito due to larger frame and larger props.
It has a motor to motor distance (diagonal) of 87mm, height including antenna is 65mm. The width and length of the quad measure at 133mm (from prop guard to prop to guard).
The weight of the quad is:
Babyhawk + 2.3″ Propellers = 63.9g
2 Motor Guards = 7.1g
2S 300mah lipo = 15.2g
XM+ RX = 1.6g
AUW without prop guards = 80.7g
AUW with prop guards = 87.8g
If might not be the smallest micro brushless quad, but if you remove the prop guards it looks much smaller somehow. :)
Micro USB port on the back for easy access.
The camera holder supports are one of my concerns regarding crash-resistance.
Frame and Hardware
The frame is made of durable PC plastic, the same sort of material we see on durable propellers (according to Emax). First batch is white, later on more colour options will be available.
Camera lens is exposed without protection.
Prop guards are removeable by taking out the motor screws. They are flexible and not brittle like on some other micro quad frames. But when you hit a wall by the prop guards with enough speed, it might touch the spinning props.
The Babyhawk uses 2 different sets of screws: M2 hex and M1.4 hex. Make sure you have screw drivers for these if you plan to take it apart.
Flight Controller
The Babyhawk utilizes the new Emax Femto F3 flight controller, which is pre-loaded with Betaflight 3.0.1 firmware. The F3 FC has PDB capability (80A current) and features an on-board 5V 3A BEC.
It's a clever design: the FC and ESC are removable thanks to the header pins. This allows easy and quick repair.
Here is a connection diagram for the FC.
Since the FC is only mounted on the ESC's with header pins, and there is no screws to hold it in place, I found the FC is possible to pop loose in crashes (not as bad as popping out completely). As you can see in the following photo, the FC tilts to one side which might happen after a crash. If I took off like this, It might not affect rate mode, but if you found it drifting in angle/horizon mode this might be why. I could see they used double sided tape but I guess it's not sticky enough :)
ESC's
Babyhawk 85 uses EMAX 6A Bullet ESC's, these are tiny and fit inside the arms. They are flashed with BLHeli-S 16.5 firmware, supports DShot, Multishot and Oneshot out of the box. They are rated for 1S-2S.
Motors and Propellers
These are Emax RS1104 5250KV motors (or 5000KV? Confirm later) with 2.3 inch T2345 triblade propellers. Together they can generate up to 120g of thrust on a 2S pack according to Emax.
Support for 3S? How about 4S? :)
For what it is right now, the bottle neck is with the ESC's, which has a rating up to 2S. The motors actually support up to 4S! The FC is even rated up to 6S!!
Emax mentioned that the 6A ESC might handle 3S, but it's untested and therefore not recommended. If you want to run higher voltage without any issues, you can replace them with 12A bullet ESC's. That would allow you to run 3S even 4S :) They are small enough to fit inside the frame. But another consideration is the propellers, make sure they don't draw too much current.
Spare and upgrade parts will be available shortly for the Babyhawk 85mm, including motors, ESC's, FC's and different colour propellers, frames so you can mix them.
Camera/VTX AIO combo
The included FPV setup is an AIO combo, which the camera is a 520TVL CMOS, while the VTX is a 25mW 40ch transmitter. The VTX has a dipole antenna that might be more durable and lighter than circular polarized antenna. I have not noticed any worse multi-path or signal reflection problems when flying indoor, compared to the CP setup on a Tiny Whoop (such as FX797).
However I do believe Emax will change out the dipole for a CP antenna in the production version. But then I would worry about protecting that poor antenna in crashes :)
The camera has a PAL/NTSC switch behind the lens PCB.
Looks like there is a video-out and video-in pins on the FPV setup (notice the yellow cable on the JST connector), so I think it might be possible to add an OSD in there. (I will confirm later)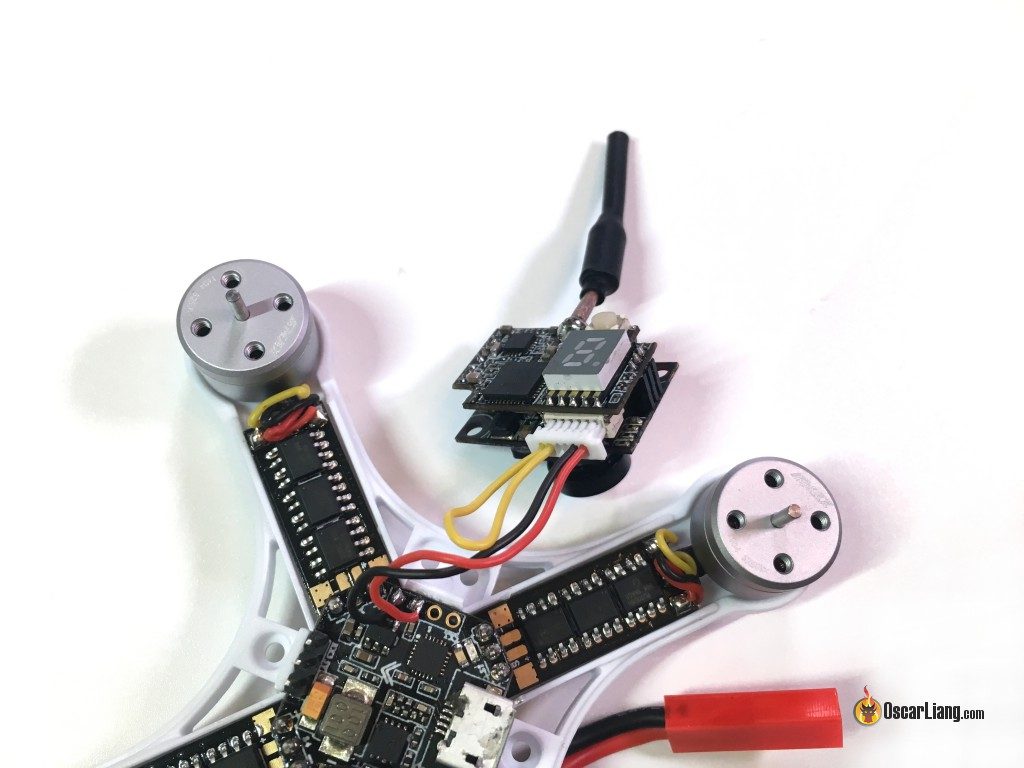 Installing Radio Receiver
I've been recommended to use Frsky XM+ RX with the Taranis. There are 3 header pins already soldered on the FC, all I  needed to do was to stack and solder the RX on the FC board.
However I couldn't find anywhere to safely attach the antennas to, so I decided to hide them inside the frame since it's just plastic and I don't intend to fly it long range anyway.
For Spektrum users, you can use satellite receiver, and there is 3.3V on the FC you can use with this RX. (Check FC connection diagram shown earlier)
Battery
With Turnigy 2S 300mah 35C I get about 3 to 4 mins flying around. The Babyhawk seems to be more forgiving to batteries than the Moskito. It has more punch even on lower C rating packs.
The lighter the battery, the better. More capacity gives more flight time but then it doesn't handle well. 300mah to 450mah might be a good range.
How does the Babyhawk fly?
I am very pleased with the performance!
Although I wish the babyhawk could be made smaller in size, it flies absolutely beautiful even on stock PID's and settings. It has a lot more punch than the Moskito yet runs much quieter.
I took it out on a windy day (15mph), and it handled it like a champ. While the moskito was struggling to even stay level, I was doing flips and rolls with the Babyhawk without any problems.
The best way to describe it is, if the moskito was a 4″ quad, the Babyhawk would be a 5″ quad. After all, the Babyhawk is running much lower KV motors with bigger props which makes it more efficient and powerful. I could only imagine what kind of fun it would be to run 4S on this beast :)
Things that can improve
It's a really good value deal for what it costs. It has some pretty high quality components and the performance is just great! However I felt like the build is not as well thought out as the Moskito70. There are still quite a lot EMAX can do to improve user experience. If they could address these issues the Babyhawk could definitely make it to the top of my list.
The most obvious and important problem – No buzzer for lost model and voltage alarm. There is buzzer pads on the FC, I guess this is DIY for now adding a buzzer (we need some form of monitoring voltage! either OSD, telemetry or simply buzzer)
Camera lens is not fixed in place. It can be twisted easily, a hard crash could knock it out of focus. It needs a bit of glue to fix this focus issue
Motor screws are too short with the prop guards on. Only about 1mm of screws reach the motor. I stripped 2 motor screw sockets during the take-apart
RX antenna could interfere with props
Battery straps that came with the quad are too long for 300mah batteries
When battery is mounted on the bottom of the quad, the quad won't lay flat on the ground
No battery protection. maybe add some landing gears on the arms, it could solve the last problem as well
Camera lens is exposed, it needs protection
Camera holder might need some reinforcement
FC might pop loose and tilt at an angle after crash because it's only held in place by header pins
Update (16/Apr/2017)
BabyHawk Down….. The short motor screws concerned me, and I was right. A minor crash knocked the motor off, and it ripped the motor wires. That's the end of the motor :( If you are buying the babyhawk, make sure yours have longer screws (M1.4). Very disappointed.
I recommed M1.4×5 (5mm) for motors without prop guard, and M1.4×6 (6mm) if you want to use prop guard.