Today, we're diving into the world of MOSFETs and how to use them in your electronics projects. As a non-academic hobbyist myself, I'll break down the concept into simpler terms and focus on the practical applications that matter to you.
Some of the links on this page are affiliate links. I receive a commission (at no extra cost to you) if you make a purchase after clicking on one of these affiliate links. This helps support the free content for the community on this website. Please read our Affiliate Link Policy for more information.
But don't worry, if you're curious about the nitty-gritty details of how MOSFETs work, I'll share some valuable academic articles and resources at the end of this post. Keep in mind that MOSFETs have their own set of pros and cons when compared to BJTs, so choose wisely based on your specific needs.
For your electronics projects, you can grab some MOSFETs here:
What is MOSFET?
MOSFET, short for metal-oxide-semiconductor field-effect transistor, is a unique type of field-effect transistor (FET). Unlike a bipolar junction transistor (BJT) that operates based on current control, MOSFETs are voltage-controlled devices.
The MOSFET has 3 terminals, "gate", "drain" and "source", differs from BJT which has "base", "collector", and "emitter" terminals. By applying voltage to the gate, you create an electrical field that controls the current flow through the channel between the drain and source, without any current flowing from the gate into the MOSFET itself.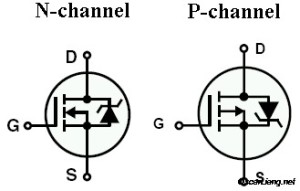 Think of a MOSFET as a variable resistor, where the voltage difference between the gate and source determines the resistance between the drain and source. When no voltage is applied between the gate and source, the drain-source resistance is incredibly high—almost like an open circuit—preventing current from flowing. However, when you apply voltage to the gate-source, the drain-source resistance decreases, allowing current to flow through the now-closed circuit.
In essence, the gate-source voltage applied to a FET controls the electrical field across a channel, similar to pinching or opening a straw to stop or permit current flow. This property makes FETs ideal for handling large current flows, and MOSFETs are commonly employed as switches.
To sum up the distinctions between BJTs and MOSFETs:
MOSFETs are voltage-controlled, while BJTs are current-controlled. When using a BJT, the base resistor must be carefully calculated based on the current being switched. However, with a MOSFET, simply apply enough voltage to the gate, and the switch operates.
MOSFETs have very high input impedance, which means almost anything can drive them.
MOSFETs exhibit high input impedance, making them versatile and adaptable to various applications.
How to Use MOSFET as a Switch
To use a MOSFET as a switch, you need to ensure that the gate-source voltage (Vgs) is higher than the source voltage. When the gate is connected to the source (Vgs=0), the MOSFET remains off.
Take the IRFZ44N, a "standard" MOSFET, as an example. This MOSFET only turns on when Vgs ranges between 10V and 20V. However, it's common practice not to push it to the limit, so Vgs values of 10V-15V are typically used for this type of MOSFET.
If you're planning to drive the MOSFET using an Arduino operating at 5V, you'll need a "logic-level" MOSFET capable of turning on at 5V (Vgs = 5V), such as the ST STP55NF06L. You can find it here:
Additionally, you should include a resistor in series with the Arduino output to limit the current. The gate's high capacitance can draw a significant instantaneous current when attempting to turn it on. A 220-ohm resistor is a suitable value for this purpose.
For a more technical explanation of how a MOSFET functions as a switch, consult this page. If you're interested in more advanced MOSFET applications, visit this page. Remember to always choose the right MOSFET and configuration based on your specific project requirements.
Understanding Different Types of MOSFETs
MOSFETs come in various types, each with unique characteristics. To understand them better, we can categorize them into three main groups:
N-Channel (NMOS) or P-Channel (PMOS)
Enhancement or Depletion mode
Logic-Level or Normal MOSFET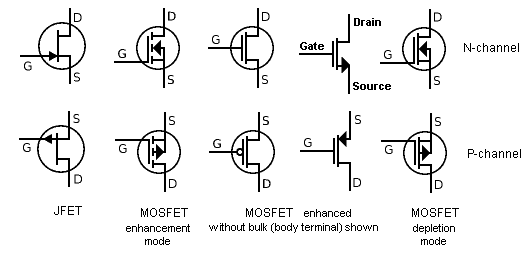 N-Channel (NMOS) – In an N-Channel MOSFET, the source is connected to ground. To turn the MOSFET on, the gate voltage must be raised. To turn it off, the gate should be connected to ground.
P-Channel (PMOS) – For a P-Channel MOSFET, the source is connected to the power rail (Vcc). To allow current to flow, the gate needs to be pulled to ground. To turn it off, the gate should be pulled to Vcc.
Depletion Mode – This type of MOSFET requires a gate-source voltage (Vgs) to be applied to switch the device "OFF."
Enhancement Mode – In contrast, enhancement mode MOSFETs need a gate-source voltage (Vgs) applied to switch the device "ON."
Out of all these types, the most commonly used is the N-channel enhancement mode MOSFET.
As for Logic-Level and Normal MOSFETs, the primary distinction lies in the gate-source potential level required to drive the MOSFET. Logic-Level MOSFETs can be driven with lower Vgs values, making them suitable for microcontroller applications, whereas Normal MOSFETs typically require higher Vgs values for operation.
A Simplified Explanation of How MOSFETs Work
In this section, I'll provide a straightforward explanation of how MOSFETs work, without delving too deep into technical details. For more in-depth information or if you have any doubts, please refer to the references and links provided at the end of this post.
MOSFETs are voltage-controlled field-effect transistors that are different from JFETs. The gate electrode in a MOSFET is electrically insulated from the main semiconductor by a thin layer of insulating material (typically silicon dioxide, which is similar to glass). This insulated metal gate functions like a capacitor plate and results in an extremely high input resistance (almost infinite). Since the gate is insulated, no current flows into the MOSFET from the gate.
Applying voltage at the gate alters the width of the drain-source channel, which is the path along which charge carriers (electrons or holes) flow. The wider the channel, the better the device conducts.
MOSFETs are used differently compared to conventional junction FETs:
Their incredibly high input impedance makes them useful for power amplifiers. Additionally, MOSFETs are well-suited for high-speed switching applications. Some integrated circuits contain tiny MOSFETs and are used in computers.
However, the thin oxide layer also makes MOSFETs susceptible to damage from built-up electrostatic charges. In weak-signal radio-frequency work, MOSFET devices generally don't perform as well as other types of FETs.
Frequently Asked Questions
Where should the load be connected to a MOSFET, Source or Drain?
For an N-channel MOSFET, it's common to connect the load to the Drain side, as the Source is usually connected to ground. If the load is connected to the Source side, a higher Vgs will be required to switch the MOSFET, resulting in less current flow between the Source and Drain than expected.
Is the heat sink connected to the Drain?
Typically, the heat sink on the back of a MOSFET is connected to the Drain. If you mount multiple MOSFETs on a heat sink, they must be electrically isolated from the heat sink! Regardless, it's good practice to isolate the MOSFETs to prevent any issues if the heat sink is bolted to a grounding frame.
What is the purpose of the Body Diode?
MOSFETs have an internal diode, known as the body diode, which can sometimes allow unintentional current flow. The body diode can also limit the switching speed of the MOSFET. However, if you're operating under 1MHz, you generally don't need to worry about the body diode.
Resources
Edit History
Oct 2013 – article created
Mar 2023 – revised