A very frequently asked question is: Do you mount your ESCs on your quadcopter amrs or body? Personally I like to put the ESCs on the arms for various reasons, some people might disagree. Anyway I think it's more or less a personal preference, here I will list the arguments for both sides.
Some of the links on this page are affiliate links. I receive a commission (at no extra cost to you) if you make a purchase after clicking on one of these affiliate links. This helps support the free content for the community on this website. Please read our Affiliate Link Policy for more information.
Why Mounting ESC on Quad copter Arms
When putting the ESCs under the arm or on the arm, it's easier to manage and replace.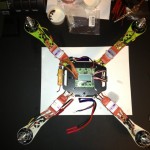 Spinning propellers help cool the ESCs down.
Sometimes ESC signal wire has ferrite rings, and it's just easier to leave it on the arm.
Shorter wires from ESC to motors, less weight. Because you might have 2 shorter power wires and 1 signal wire to ESC, but you will have 3 long phase wires between motors and ESCs. Anyway the difference is trivial.
There are also concerns about Electro-magnetic field Interference created by the ESCs and power wires when they are mounted in the body, and having it so close to the flight controller. Some even start adding capacitors, twisting power wires and so on to tackle this "problem". But since most of our systems only runs on 7V to 16V (2S to 4S), I think the effect is really minimal. I have not seen any problem caused by EMI because of mounting ESCs underneath the FC. Sometimes I think people think too much. :D
Why Mounting ESC on the body
Mounting the ESCs on the body is safer, when they are on the arm, they are more vulnerable to crashes.
Some people arguie cooling should not be a problem when mounted within the quadcopter body. If your ESCs do get too hot, it's an indication that you should use bigger ESCs.
Finally, It looks cleaner and tidier.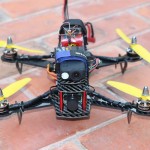 Let me know if there is any other advantages and disadvantages where to mount your ESCs.
Further reading: 250 Mini Quad Parts List