I wrote a very brief post on some of the popular flight controllers not long ago. In this post I will focus on comparing the differences between Naze32 and CC3D flight controllers, hopefully can help you to decide which you should get.
Some of the links on this page are affiliate links. I receive a commission (at no extra cost to you) if you make a purchase after clicking on one of these affiliate links. This helps support the free content for the community on this website. Please read our Affiliate Link Policy for more information.
What are Naze32 and CC3D?
Naze32 and CC3D are both modern 32-bit Flight Controllers, compared to other 8-bit FC such as the KK2.1 or APM2. This gives them advantages in precision and computation speed. Both FC are also popular in acro flying especially with mini quadcopter FPV racing. CC3D has been around for years, and Naze32 came later.
In this comparison, I am referring Naze32 to the "Acro" version, not the "Full" version which has built-in compass and baro. There is also another FC in this class called "Flip32+", it's very similar to the Naze32 (allegedly a clone of Naze32) and we won't go into detail about it.
Hardware Comparison: Naze32 vs CC3D
They are very similar to each other: both are 36x36mm in size and use 32-bit STM processor. But Naze32 uses a MPU6050 sensor chip (gyro + accelerometer) and CC3D uses the MPU6000. The MPU6050 is a better sensor in theory, but whether the firmware developer is taking advantage of that is another matter.
 Naze32 has 3 colours, black, white and red
PC Connection: The Naze32 has Micro USB and the CC3D has Mini USB.
As for component connection, the Naze32 uses standard servo lead pins, while the OpenPilot CC3D uses JST type plug. I guess the reason is to save space, but I find it truly not convenient.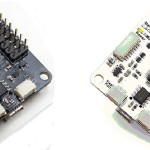 CC3D has 2 colours, black and white
The CC3D board has a USB port that is directly connected to the processor. Other boards like the Naze32 and Flip32 have an on-board USB to UART adapter which connect to the processor's serial port instead. That means when you flash firmware like Cleanflight on the CC3D board, additional USB-Serial converter is required.
Software Comparison: OpenPilot GCS VS Baseflight & Cleanflight
So with the similarity in hardware, you will find software to be the complete opposite.
Naze32 and Baseflight
Naze32 uses Baseflight configurator. The firmware is originated from Multiwii, which has a lot of parameters you can play around with to fine tune the performance of your quadcopter.
Baseflight configurator is a Google Chrome App, the design is very simple and straight forward. Apart from the graphics interface, there is also a command line style interface "CLI", where you can find all the setting variables.
CC3D and OpenPilot GCS
On the other hand, the CC3D was somewhat limited in terms of tuning, and since the appearance of Naze32 people was complaining about the lack of "locked in" feeling with this FC compared to the Naze32. After that the developers improved it, and offered users more freedom to fine tune their quadcopters especially for Acro flying.
The OpenPilot GCS is very well design GUI with user friendly interface. However I somehow find it a bit complicated especially for beginners.
Cleanflight
With the success of Naze32 and Baseflight, the firmware and configurator were forked and Cleanflight was born. It does not only support Naze32, but some other flight controller boards as well such as CC3D, Sparky and so on.
What's even better is, you can have both firmwares OpenPilot and Cleanflight installed on the CC3D board if you want.
Currently, this firmware doesn't support Hexacopter and Octocopter configuration on the CC3D.
You can find more information about Cleanflight and Baseflight here.
Which One Should I Get?
They are both good Flight controllers, it's hard to decide. You might find people debating which is better in terms of performance. But I think each board has their own audience and they both get the job done. You probably can't tell until you try both out.
I personally find the Naze32 is easier to plug in my radio and other components, because of the standard servo plug pins. Extra soldering might be required with the mini JST cables on the CC3D. Also I found the Baseflight / Cleanflight configurator is easier to use as well.
But price wise, CC3D is about 40% cheaper than the Naze32 currently. If you want to run Cleanflight, and don't mind the micro JST connectors, CC3D might be a good option. It's interesting to know that just over 6 months ago, the CC3D used to be priced at $65 for some reason. :)
Flash Cleanflight on CC3D
From the Cleanflight documentation, it seems there are two flashing modes, one, you can completely remove OpenPilot and install Cleanflight, two, you can run both firmware on the board. For more detail check out the Cleanflight documentation.
Do it in Cleanflight

with

USB UART Adapter
Connecting the CC3D flight controller with the USB to UART adapter: 5V, GND, TX and RX to the MainPort on the CC3D. Now follow the instructions here to flash the firmware just like how you do it with the Naze32.
After flashing your CC3D is now literally a Naze32, all the settings can be done through the Cleanflight configurator.
Do it in GCS

without

USB UART adapter
Aternatively, you can follow this video (Jan 2015) and this video (Feb 2015) to flash it without an usb/uart adapter. Basically you load up GCS, go to firmware, hit "HALT" to put the board in bootloader mode, download the Cleanflight FW, flash it. If you want to go BACK to OpenPilot from Cleanflight. Just load up GCS, go to Firmware, hit "Rescue" and follow the prompts. You'll need to download a FW image of OpenPilot, and then load it back.