Onboard DVR allows you to record FPV video directly from the camera without video signal breakup and gives you the best possible footage.
Some of the links on this page are affiliate links. I receive a commission (at no extra cost to you) if you make a purchase after clicking on one of these affiliate links. This helps support the free content for the community on this website. Please read our Affiliate Link Policy for more information.
I reviewed some DVR modules recently and was frustrated by the lack of options. So I talked to some manufacturers about creating a dedicated DVR you can install inside a quad, and here is what Runcam came up with, the Mini DVR board!
Buy the Runcam Mini DVR module from
Runcam Mini FPV DVR Spec & Features
Unlike other popular DVR on the market, the Runcam Mini FPV DVR is designed specifically for mini quad and micro quad FPV flying.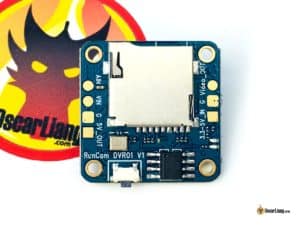 It's a 25x25mm PCB board with 20x20mm mounting holes, you can easily install it in the FC stack. Check for 20mm to 30mm 3D printed adapters on thingiverse if you want to install this in a 30mm stack.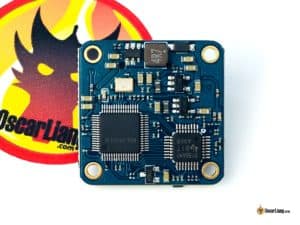 It has separate video in and video out solder pads, so you don't have to cram multiple wires in the same tiny soldering pad. It makes wiring and soldering much more convenient.
Here is the basic spec:
Voltage Input: DC 3.3V – 5.5V
Current Consumption: 250mA @ 5V
Weight: 3.5g
Video Resolution: 640 x 480 30fps for NTSC or 25fps for PAL
Supports Micro SD cards up to 32GB
Allows audio in
Another cool design is the SD card protector which is a safety feature they introduced in the Runcam Split V2. With all other onboard DVR, the SD card slot is just wide open and the card can pop out easily in a crash.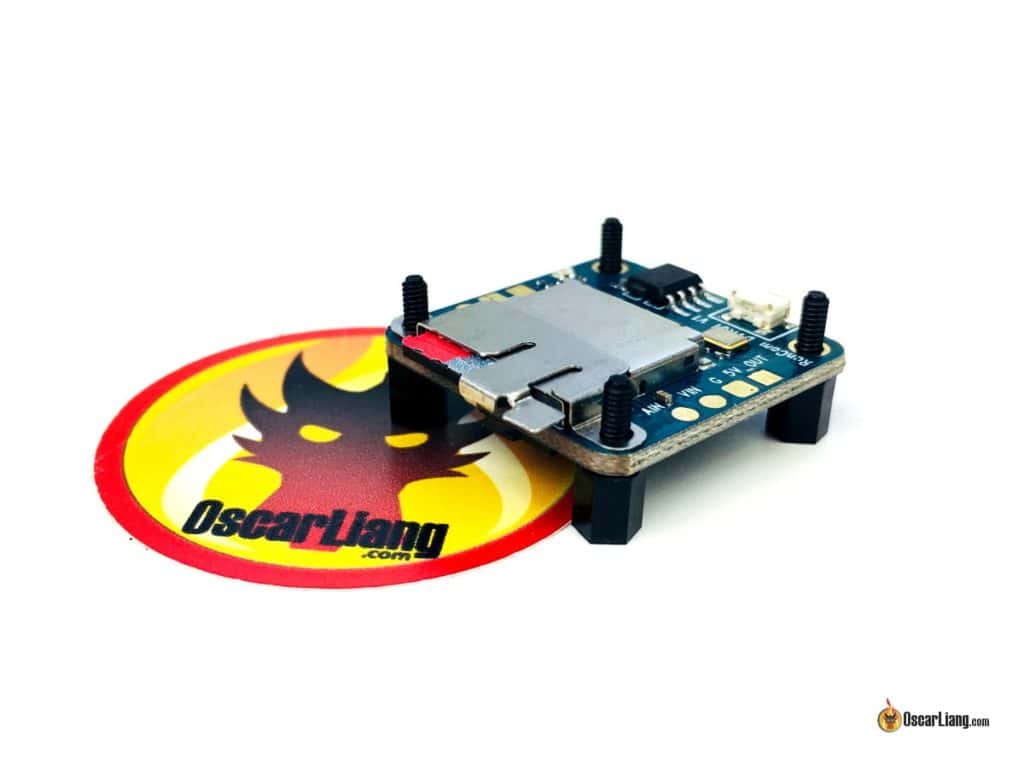 Performance Testing
I am glad to find out that the Runcam Mini DVR doesn't have the same image cropping issue as the HMDVR!
However the resulted image file has lower resolution and bit rate.
Runcam DVR:
bit rate – 8Mbps
resolution – 640×480 pixels
HMDVR-S:
bit rate – 16Mbps
resolution – 1280×720 pixels
It's really not that big of a deal when you compare the footage side by side, the image quality difference is hardly noticeable. But if you look really close, you can tell the footage from HMDVR-S is a tiny bit sharper and has more detail to it.
You might also wonder if the Runcam DVR introduces latency to the video output? The answer is no. The Video input and output on the Runcam DVR are actually connected, so the video signal is in fact split from the camera to the output and DVR.
Still, Not Quite the Perfect DVR.
I will replace the HMDVR-S with the Runcam Mini DVR, simply because it doesn't have the annoying cropping issue, as well as the nice features that make it so easy to use.
It's definitely another good option, but there are still things that can be done better.
First of all, I wish it had higher bit rate and resolution. Though the differences are hardly noticeable and not a deal breaker IMO.
The Runcam Mini FPV DVR creates a separate video file every 5 minutes, and between files you lose a few frames just like the HMDVR-S. Perhaps the Runcam is still slightly better because of the longer recording duration (5 mins vs. 3 mins), considering most micro quads and mini quads have a flight time shorter than 5 mins. It would definitely be nice if it was longer, like 10 mins.
A 2GB SD card can store approximately 1 hour of recording. If you fly and record all day long, an 8GB or even 16GB should be a good option.
Same as other DVR I have tested, it loses the video file if you disconnect power without pressing the "stop recording" button! It's an annoying issue and  I wish they could have come up with a fix for that.
You can format your SD card by holding down the button for 5 seconds, which is a convenient feature. But be careful as you can also accidentally delete all your videos.
Here is the manual that comes with the DVR board.