Because of the lack of suitable radio receiver (always out of stock), my brushed micro quadcopter build with the Lulfro FC was left unfinished in my spare box. But finally I found a good RX alternative that fits perfectly in a micro quad, and here I share how it was completed.
Some of the links on this page are affiliate links. I receive a commission (at no extra cost to you) if you make a purchase after clicking on one of these affiliate links. This helps support the free content for the community on this website. Please read our Affiliate Link Policy for more information.
Parts List
FC – Lulfro board
RX – Superior Hobby SPR8
Frame – Oskie V1
Motor – MMW Dark Edition
Props – Ladybird
FPV Setup – Hyperion Mini 600TVL Combo
Check out the brushed micro quad parts list for more options.
Here is a fun video showing some of my micro quad footage in the past few months. By the way I only fly rate mode :)
Flight Controller and Motor
For the Lulfro brushed board, and MMW Dark edition motors, check out my previous review to see why they are good, and how they work.
Radio Receiver
Superior Hobby SRP8 is a micro size RX that is compatible with Taranis, as well as many Frsky TX modules (DHT, DFT, DJT, XJT, X9D plus, X9E). It's light weight (out of the box 2g, shortened wires 1.5g) and supports PPM (all signals go through 1 wire).
You can get the SPR8 RX from here.
Excitingly this RX also supports telemetry, so if you are running Taranis, you would be able to get RSSI and whenever you are about to run out of range, you will hear that familiar lady voice shouting at you, "signal critical".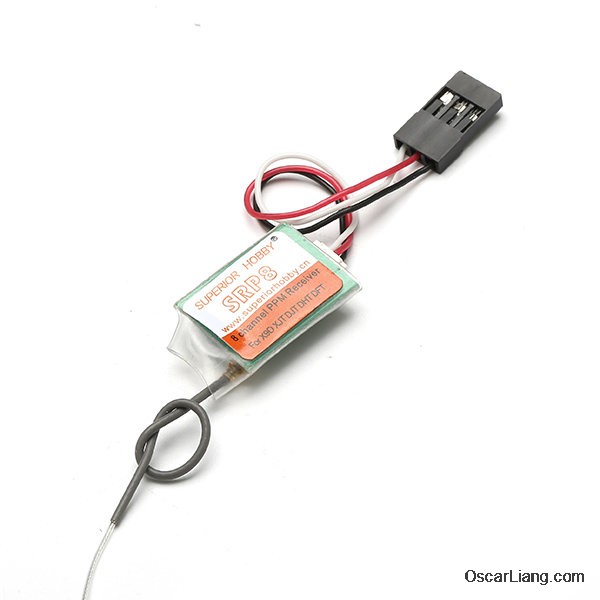 Only drawback of this RX is that it only takes 5V input voltage. For many brushed micro FC that doesn't have a built-in step up voltage regulator, you might have trouble using it.
FPV Setup – Hyperion 25mW Mini
For camera and video transmitter, I am using the HYPERION Mini FPV combo. It is a 5.8Ghz 40-channel VTX (supports 5 bands including raceband). The camera is 600TVL NTSC CMOS.
You can can the FPV combo from here.
Channel and band can be conveniently changed by pressing a button. The unit can be powered by 2.5V to 5V so that's perfect for 1S LiPo. The built-in voltage regulator seems to do a good of filtering out noise, I get very clean video even with punch out.
Only thing I don't like is the saturation of the camera, the colour is a liitle over-saturated to my taste.
Brushed Micro Quad Frame
I am using the Oskie V1 3D printed frame for this build. Good thing about this frame is the decent stiffness and crash-resistance. It's got enough space to mount your electronics, and works very well for nearly all sorts of setups.
Get your Oskie V1 frame from here.
Micro Quad Build Log
Flight controller (Lulfro) is mounted on the frame with double sided foam tape. Motors can slide right into the motor mounts easily. It has just enough resistance to keep them in place, so installation or removal is a breeze.
If your FC has a selectable voltage output for the RX, make sure you choose 5V for the SPR8 RX. Here is how it's done on the Lulfro board.
The SRP8 can be soldered directly on the FC just like this. I shortened the cables and antenna, also removed heatshrink to make it as light as possible.
The Oskie V1 frames comes with 2 C-blocks of different height (3mm/4mm), they are used to help holding the mini camera in place (if you use this sort of camera). I recommend putting double sided foam tape under the C block and camera/VTX to prevent it from sliding around.
Total weight excluding battery is only 38.6g with this build.