How about some ESC that isn't BLHeli or KISS? Castle Creations developed the Quadpack ESC's for multirotors that use their own custom firmware, with some very interesting features.
Some of the links on this page are affiliate links. I receive a commission (at no extra cost to you) if you make a purchase after clicking on one of these affiliate links. This helps support the free content for the community on this website. Please read our Affiliate Link Policy for more information.
The Quadpack 25 ESC's are available at Castle Creations. They have been making ESC and motors for RC cars, planes and Helicopters for a long time, and they have now started making ESC for multirotors as well.
In the Quadpack 25, one ESC comes with BEC and the other 3 don't. But you can also buy them individually on their store.
Specification of Quadpack 25
Supports 2S-6S LiPo
Current: 25A Continuous, 45A with good air flow (40mph)
Weight without wires: 6.5g (No Bec) 6.7 (with BEC)
Weight with wires: 18.9g (No BEC) 19.1g (with BEC)
Dimension: 18.2mm x 43.7mm x 8.1mm
BEC: 5.5V @ 3A (8A peak)
Processor: Silabs F802 (25A version), Silabs F541 (35A version)
BEC
It's worth mentioning that the BEC outputs 5.5V not 5V. I am still a bit concerned although Castle Creations reassured me that most 5V devices have some degree of tolerance, and 5.5V should be safe. The 5.5V was chosen because it's better for vehicles running servos off of the BEC rail. I am confused why they would design an ESC for multirotors and keep thinking about supporting servos. Maybe for tricopters, but I have seen 5V runs just fine on them.
Non-BEC version – need separate power (What?!)
I was surprised in a bad way when I found out that the non-BEC ESC requires separate power source while they are connected to LiPo. Which means you need to feed the ESC 4.5-8V through the servo lead to run them, that's reason why they have provided an ESC that comes with BEC. Low voltage circuit is separated from high voltage circuit, probably to keep out the noise? But since we have been fine combining them in majority of the ESC we use maybe this is not needed after all. Besides more and more FC start to get rid of the 5V rail in the ESC signals, this might become a problem these ESC in the future.
Weight
The wires that have been soldered on the ESC are heavy. Those are 16AWG silicon wires, they chose thicker wires to reduce resistance in the multirotor. They explained it's a trade off between weight and resistance.
But I really think that's unnecessary given that most of the mini quad motors I have seen use 18AWG wires. Also, many users prefer to solder the motors on the ESCs directly to keep wires as short as possible anyway.
If you decide to de-solder those ESC wires, pay extra care as there are some tiny SMD components right next to the solder joints.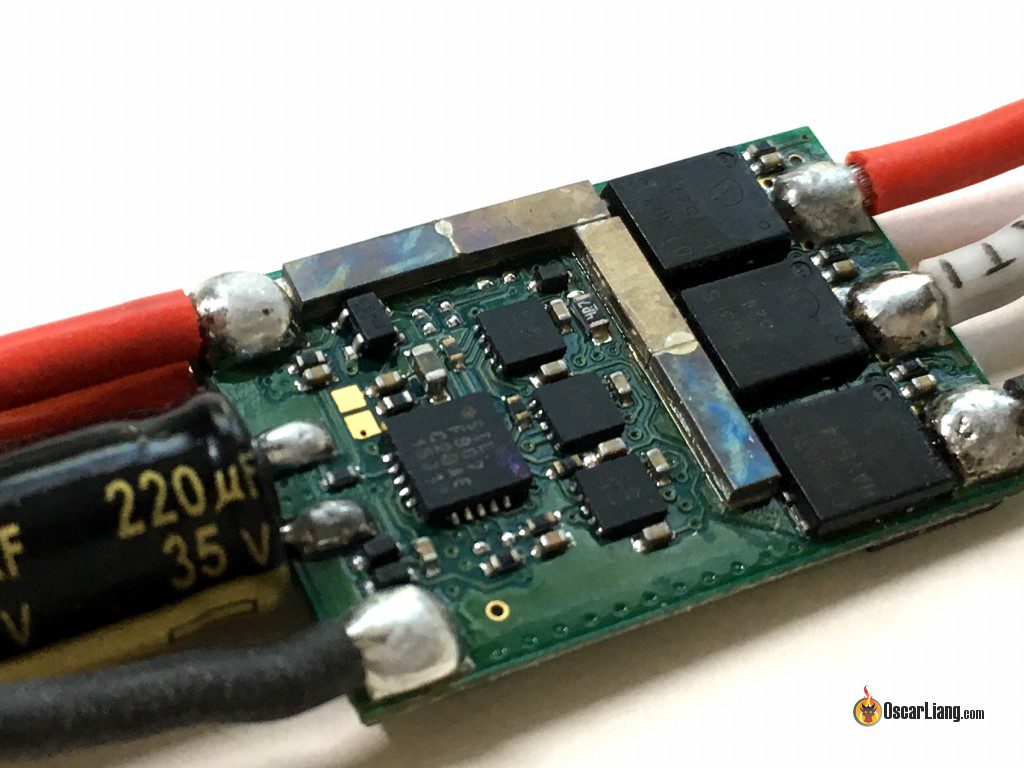 Bus Bars
The metal bars on the ESC PCB are bus-bars. They are made of pure copper and they are used to reduce the circuit board resistance. Resistance is one of the primary losses of efficiency (and causes of heat) in an ESC. Bus-bars have a dramatic effect on controller performance.
Electrolytic Capacitor
There is a 220uF electrolytic capacitor at the Input, to reduce voltage spikes created by the ESC. But having a large capacitor hanging around, it's possible that it gets beaten up and fall out in crashes (happens many times to me with the Blue Series ESC). The latest ESCs normally use SMD capacitors to prevent this from happening. They explained:
In the past we have done a lot of experimenting with using ceramic SMD input capacitors. The problem with ceramic capacitors is that their ESR (Equivalent Series Resistance) is too low for this application.

Almost all ESCs could use more capacitance than is feasible to put in applications with limited space and weight. With the lower ESR of ceramics the capacitors can cause input voltage ringing that is worse than if no capacitance was used at all.  We have seen and measured this on some competitive products. We are still looking for a better solution but for right now electrolytic capacitors are the best solution we have found.
On the BEC version ESC, there is also an additional ferrite ring on the signal servo wire.
Here are some close-up pictures of the PCB after I removed the heatshrink and heatsink.
What's special about the Firmware?
Castle Creations explained how their custom firmware is different compared to BLHeli and KISS:
Our firmware is one of the big things that has set us apart from the competition in other RC hobby markets.

With our latest firmware release we believe that we have made some significant improvements over both the BLHeli and KISS firmware. I think the feature that will make the biggest difference is our new Adaptive Timing System.

We are using some custom hardware to monitor the motor and automatically adjust motor timing for peak performance. This leads to longer flight times, faster motor response, and more thrust overall. We have seen some very impressive test numbers and the difference is pretty noticeable in flight. We have also done a lot of work to make the throttle response very linear. This makes the motor behave more predictably and in my experience has made my quads easier to tune and more stable in flight.
No Hardware PWM
Hardware PWM has been proven to work well and it's a big contributor to the smoothness of KISS and BLHeli_S ESC. Castle Creations's Quadpack doesn't use hardware PWM but software generated. I was going to put that as a "Con", but I am not certain just yet as they explained:
The PWM signal is generated in software. We are using a unique PWM scheme that is quite a bit more complicated than standard PWM. Our PWM scheme was implemented to increase the controller efficiency, input to RPM linearity, and motor tracking.

There is quite a bit of communication between the PWM generation routines and the motor tracking routines that wouldn't be possible using the processor's PWM hardware. Our software PWM scheme is structured in a way that keeps the throttle resolution just as high as you would get with hardware PWM. We have seen very good results from this algorithm in the lab.
I guess I can only find out if this is actually as good as Hardware PWM when I fly them.
Support for Oneshot42 and Multishot?
I noticed the Quadpack ESC's currently only support Oneshot125, but not the newer Oneshot42 and Multishot. So I asked if they have any plan to support these ESC protocol in the future:
We are considering it. Both are possible and Oneshot42 is likely in the future. We have done a number of things to improve the throttle smoothness on our controllers that we believe solves some of the same problems that Oneshot42 and Multishot were trying to solve.
ESC Programming / Flashing
To flash the Quadpack ESC, a programming adapter is required. Connect the adapter into your computer with a mini USB cable, plug the ESC servo lead into the adapter, the software will automatically establish connection with the ESC.
The software interface (Castle Link Download) is very user friendly to use. There are only 3 tabs, and gives you the option to set end points, change rotation direction, enabling Active Braking and updating firmware.
They are also consider to add support for FC passthrough in the future, which is similar to how BLHeli does it.
Bench Test
Before the test, I upgraded to the latest firmware V5.00 beta, apparently this gives much more power and thrust. It also added support for active braking in the latest version.
DYS SE2205 2300KV
Tested Propellers:
Gemfan 5030
DAL 5040×3
Kingkong 6040
EMAX RS2205 2300KV
Tested Propellers:
So purely looking at the data, the Castle's quadpack seems to perform pretty well, especially when it was with the RS2205 motors, the thrust numbers are very impressive.
https://www.youtube.com/watch?v=yweQ3_0LS50
During the test, I noticed the Quadpack ESC's didn't sound as "smooth" as the BLHeli_S nor KISS ESC. It sounds nosier than the other too especially at lower throttle. Quoting James, Software Developer at Castle Creation's comment about this noise:
I believe you are talking about the static/hissing noise. This is an artefact of our PWM technique. It was implemented to increase throttle linearity which translates to more stability and easier PID tuning.

I personally like the noise because it gives my quad a unique sound, but I can understand that not everyone will feel that way. The ESC is running smoothly, it just sounds a bit different. In our testing we have seen that plots of input signal to output RPM are more linear for our ESCs than the competition.
Braking is great, however there are 2 separate braking settings: Active Braking and Idle Braking. I thought the maximum Idle braking value was 75% and I didn't realize there is also a "Custom value" where I can set it to 100%. So in the video you are seeing the 75% idle braking power when I cut throttle. I can't redo this test yet as I currently don't have the time. But braking above zero throttle is excellent as you can see in the video.
Conclusion
Pros
Offer BEC and no-BEC versions
The BEC is rated at 3A which is pretty powerful
ESC stays cool on bench test, while the Aikon and KISS ESCs got noticeably hotter
Seems to deliver similar amount of thrust if not more, compared to Aikon SEFM 30A (BLHeli_S) and KiSS 24A ESC
Cons
Only support Standard PWM and Oneshot125, but not Oneshot42 and Multishot
ESC programming requires adapter, cannot be configured/flashed via FC like BLHeli
Has a huge capacitor
heavy – even heatshrink weights nearly a gram
BEC output 5.5V, some device might not like
Non-BEC version ESC must be powered by separate power source, as well as connecting to LiPo battery
Doesn't sound as "smooth" as BLHeli_S and KISS
The ESC isn't designed the way I would have expected for the use of a mini quad, the Quadpack ESC does deliver some impressive numbers from my bench test. It would be interesting to see how they perform in the air and what products they can come up with in the future.
The special technique they used to generated PWM signal isn't being considered yet in the Pros and Cons. I will come back and update once I have tried them on a quad.