In this tutorial I'll explain how to flash and update BLHeli_S firmware to your ESC using FC Pass-through.
There are two ways to flash / connect BLHeli_S ESC: "one-wire" or pass-through. Pass-through is probably the more common method as it's more convenient. Here I demonstrate how to update BLHeli_S firmware on the Aikon SEFM 30A ESC with FC pass-through.
Download Software
There are two options,
You can use either software to flash firmware and configure your ESC. Personally, I prefer BLHeli Configurator because the interface is more user friendly.
Note that there are two different BLHeliSuite depending on the type of ESC you have:
You should find out which firmware your ESC supports before proceeding, they are NOT cross-compatible. This guide explains the difference in these two firmware.
If your ESC's are BLHeli_32, see this guide instead.
Note that if you are trying to enable RPM filter, you will have to download a different configurator. I have a whole tutorial in showing you how to do this.
Hardware Connection
First of all, make sure your FC is flashed with Betaflight in order to use the FC pass through feature
Have your ESC connected to the FC (signals and ground)
Connect the FC to computer via USB cable, but do NOT connect to Betaflight configurator
Power the ESC with LiPo battery
How to use BLHeli Configurator
Select the COM port of your FC, and press the Connect button.
Once connected, you will get a blank screen. You should now plug in the battery to the quad to power the ESC. And press the button "Read Setup" (bottom right).
You are now connected to the ESC, and you can configure your ESC settings. To save changes, click the "Write Setup" button (bottom right) when you finish before disconnecting.
If you want to update BLHeli firmware, simply press the button "Flash All" (bottom right). You will be prompted to choose a firmware version. The type of ESC should be selected automatically, if not you can look it up in the previous screen (the name is in the title of each ESC)
How to use BLHeliSuite
Here's how to use the alternative configurator, BLHeliSuite.
1. Under "Select Ateml / Silabs Interface" in the menu, choose "SILABS BLHeli Bootloader (Cleanflight)" to use FC Passthrough to program/flash your ESC's
2. Select the COM port of your FC, and press "Read Setup" (bottom left). If nothing shows up, try pressing "Check" (bottom right).
3. To update BLHeli_S firmware, press "Flash BLHeli" and you will see a pop up window to choose firmware version you can flash.
4. Select the latest firmware, and click OK to flash.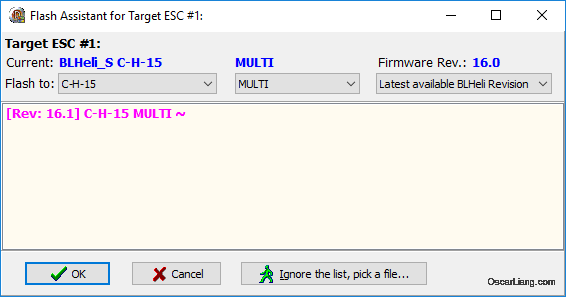 After it's done, you should see the BLHeli_S revision number updated.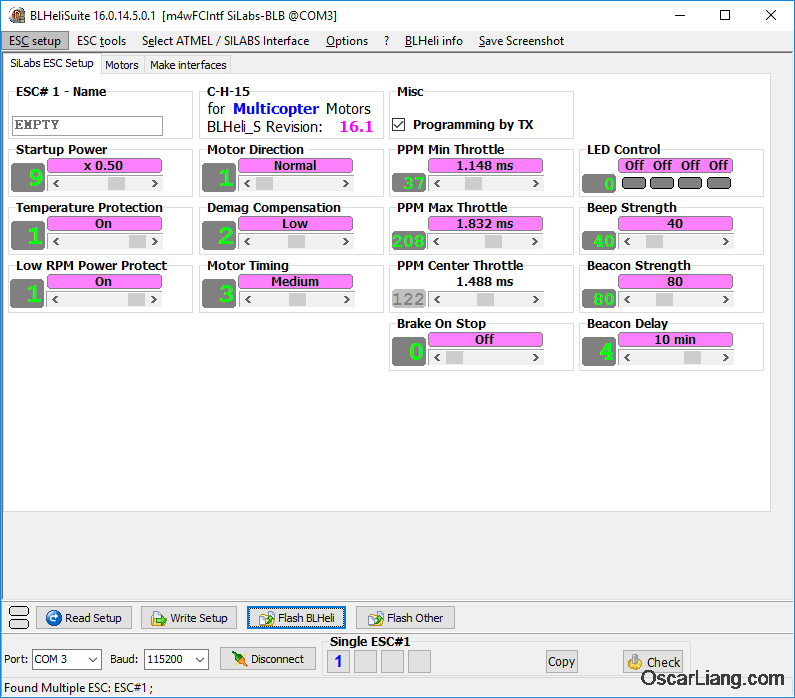 Edit History
2016 Jun – Article created
2020 Jan – Added instructions for BLHeli Configurator