In this beginner-friendly tutorial, I'll guide you through the process of connecting, flashing and configuring BLHeli_S firmware on your ESC.
Some of the links on this page are affiliate links. I receive a commission (at no extra cost to you) if you make a purchase after clicking on one of these affiliate links. This helps support the free content for the community on this website. Please read our Affiliate Link Policy for more information.
BLHeli_S vs BLHeli_32
Keep in mind that there are two distinct BLHeliSuite versions, depending on your ESC type:
Before proceeding, it's crucial to determine which firmware your ESC supports, as they are not cross-compatible. This comprehensive guide explains the differences between these two firmware types: https://oscarliang.com/esc/#Firmware
If you're working with BLHeli_32 ESCs, refer to this guide instead: https://oscarliang.com/connect-flash-blheli-32-esc/
To enable RPM filtering, you'll need to flash the Bluejay firmware. Check out my separate tutorial on how to accomplish this:  https://oscarliang.com/bluejay-blheli-s/
Online Tool: ESC Configurator for Hassle-Free ESC Configuration
For a user-friendly and convenient option, try the online ESC Configurator: https://esc-configurator.com/
This fantastic tool allows you to flash and configure your BLHeli_S ESC without the need to download any software.
Download Software
However if you can't access the online tool, you can download the software and install it on your PC.
There are two options,
Both programs allow you to flash firmware and configure your ESCs. Personally, I recommend BLHeli Configurator for its user-friendly interface.
Hardware Connection
To begin, make sure your FC is updated with the latest version of Betaflight
Connect your ESC to the FC (signals and ground), then connect the FC to your computer via a USB cable.
Close Betaflight configurator if it's open.
Finally, power your ESC with a LiPo battery.
Using ESC-Configurator
Assuming your ESC is already connected to the flight controller in your drone, follow these simple steps to configure and update your ESC.
Connect the USB cable to the flight controller (FC) and plug in the LiPo battery to power the ESC.
In the ESC Configurator, click on "Select Serial Port" and choose the appropriate COM port for your FC. If you're doing this for the first time, your browser might ask for permission to access the COM port.
Click "Connect" to display all the available ESCs.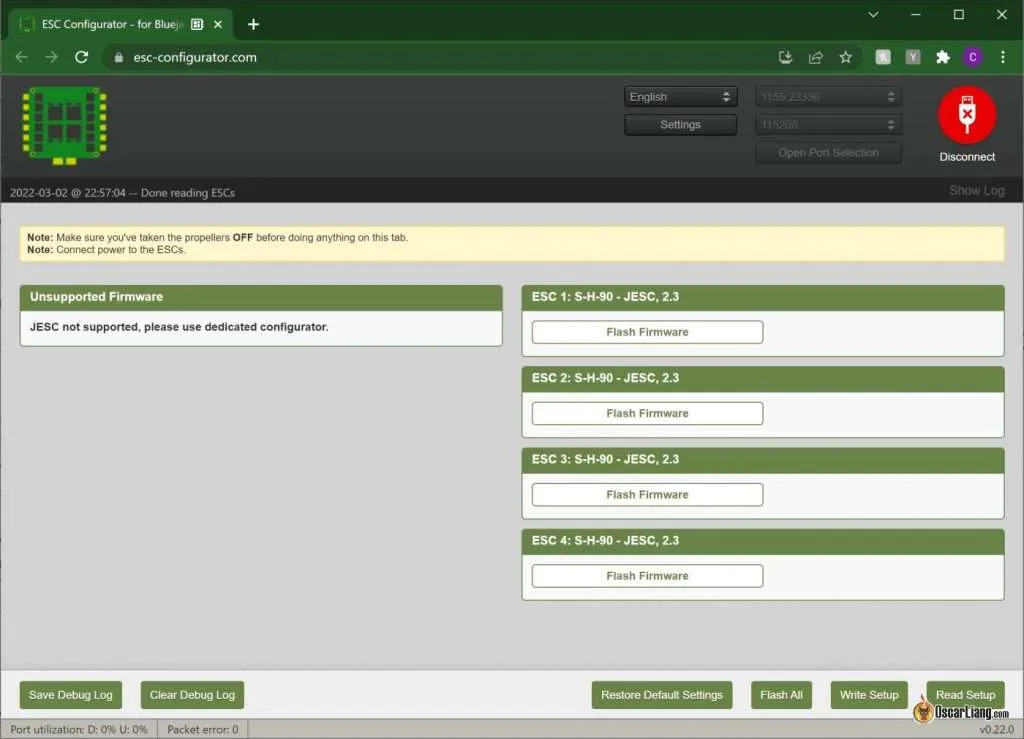 To update the ESC, select "BLHeli_S" in the Firmware section. There's no need to change the ESC selection. Choose the latest version from the Version dropdown menu, and then click "Flash All".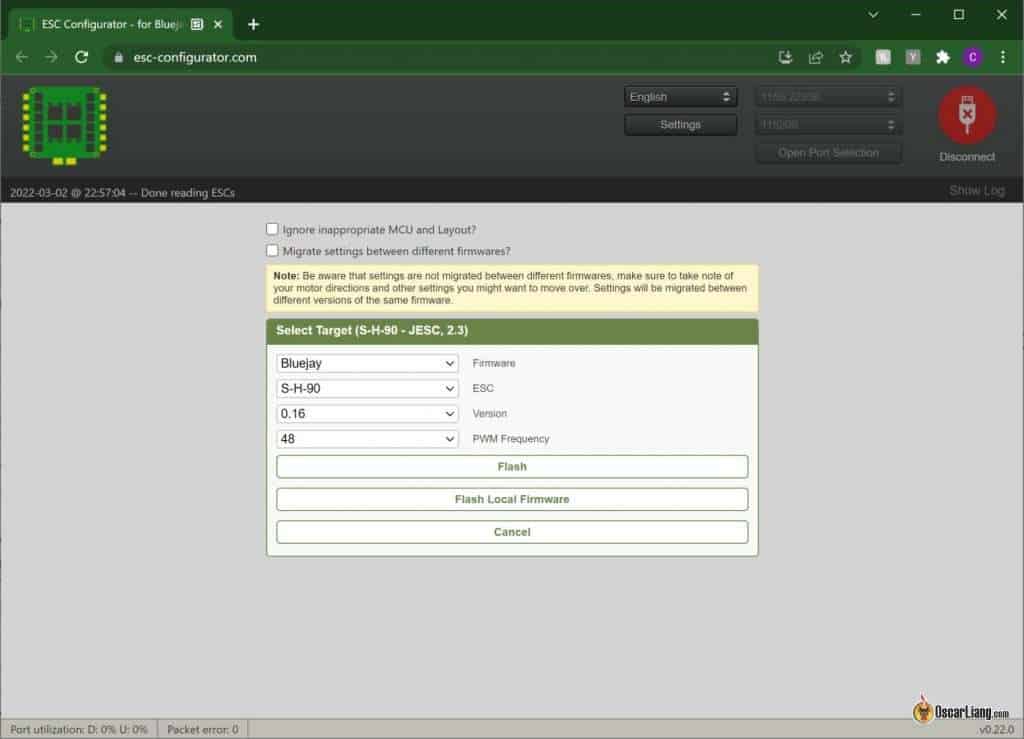 Using BLHeli Configurator
Select your FC's COM port and click the Connect button.
Once connected, you'll see a blank screen. Now, plug in the battery to power the ESC and click "Read Setup" (bottom right).
You're now connected to the ESC and can configure its settings. Click "Write Setup" (bottom right) to save changes before disconnecting.
To update BLHeli firmware, click "Flash All" (bottom right). You'll be prompted to choose a firmware version. The ESC type should be selected automatically, but if not, you can find it in the previous screen (the name is in the title of each ESC).
Using BLHeliSuite
For those who prefer the alternative configurator, BLHeliSuite, follow these steps:
In the menu, choose "SILABS BLHeli Bootloader (Cleanflight)" under "Select Ateml / Silabs Interface" to use FC Passthrough for programming or flashing your ESCs.
Select your FC's COM port and click "Read Setup" (bottom left). If nothing appears, try clicking "Check" (bottom right).
To update BLHeli_S firmware, click "Flash BLHeli" and a pop-up window will appear, allowing you to choose the firmware version.
Choose the latest firmware and click OK to flash.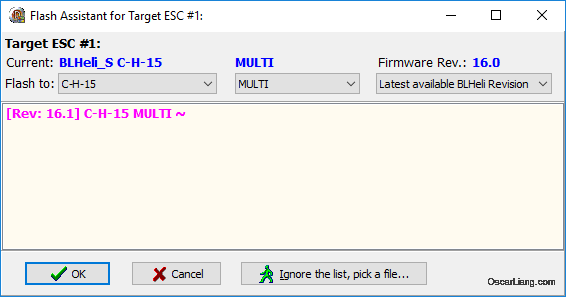 After completing these steps, you should see the updated BLHeli_S revision number.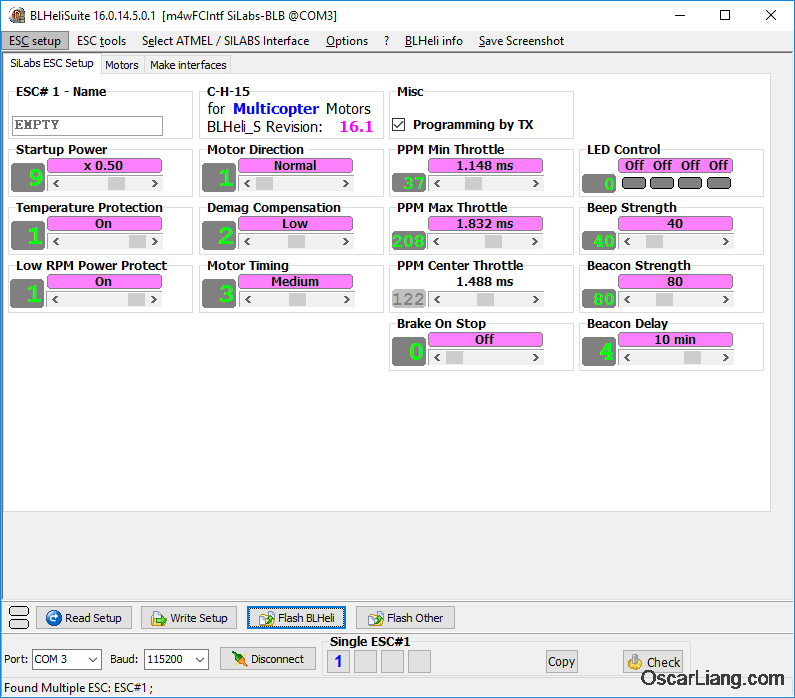 Edit History
Jun 2016 – Article created
Jan 2020 – Added instructions for BLHeli Configurator
Feb 2023 – Updated Instructions