More than a year ago, I made an attempt to build a DIY light weight FPV combo, consists of a FPV camera, video transmitter and antenna. I had comments saying it could have been lighter if there weren't so many extra components. They were right, and as part of the FPV micro quadcopter project, I decided to re-build this mini video transmitter camera combo, and really try hard to keep the weight and size down.
Some of the links on this page are affiliate links. I receive a commission (at no extra cost to you) if you make a purchase after clicking on one of these affiliate links. This helps support the free content for the community on this website. Please read our Affiliate Link Policy for more information.
Parts for DIY Micro FPV 5.8GHz combo
Let's get straight into this build. Here are the bits I will using.
Video Transmitter 5.8Ghz 200mW TX5823
Recycled Dipole Antenna
Capacitor
Power Connector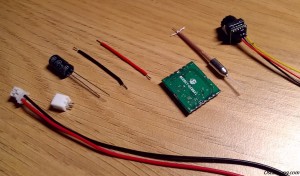 TX5823
In this light weight micro FPV combo, I will be using the same video transmitter TX5823, along with the nano FPV camera. This small 5.8Ghz video transmitter only weights 2.3g, but with amazing 200mW power. With circular polarized antenna, I was able to achieve 300+ meters in range in the last build. The TX5823 has the same number as TS5823 I reviewed a while ago, not sure if they uses the same components or something.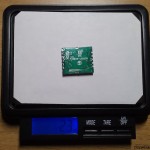 1g FPV Camera
This CMOS camera is also known as the 1g camera, as it only weights about 1g. (in fact 2.1g including the original lead and connector). It's worth to mention that this camera only has 55 degree FOV. It should be flyable in FPV, but I would definitely get a wide angle lens if I can for this camera. Here is a guide on how to choose a good FPV camera.
I am not 100% happy with this camera, because of the narrow FOV. I am currently testing out a couple of other options. I will recommend the best one I can find in the next week or two. Stay tuned! :D But this is where I got this one from if you are interested.
NOTE: I found a better alternative camera on Banggood. It's slightly heavier (2.7g), probably because of the Mic, long cable and 170 degree wide angle lens it comes with. I used it in my second build.
Recycled Whip Antenna
This cable is taken out from a 5.8Ghz whip antenna., and this is what's inside the antenna. (I bet many people don't actually know how it looks like :) )
It's basically just a RG316 Coaxial Cable. The cable needs to be cut to certain length and let the centre wire exposed (without the shielding). I think the length should be fine around 0.47 inch to 0.51 inch (11.9mm – 12.9mm), this post show you the calculation and how to make whip antenna. This length affects the signal frequency it receives, so It has to be very precise otherwise you will have weaker signal. This is the measurement I took off my antenna, it's a bit shorter than I expected.
You can easily DIY a light weight whip antenna using RG316 Coaxial Cable (widely available on eBay), or simply just using a wire without connecting the ground.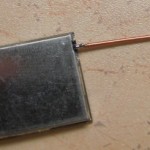 Building and Assembling
The fun starts here. First off I simplified the circuit diagram schematic from the previous version, by removing a capacitor and a diode. Also there is no need of an audio connection.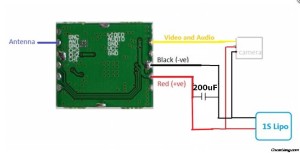 Here are the available channel on this video transmitter. I could just solder a 3 way dip switch on it, so I can use whatever channel I want. But as I wanted to save weight, I decided to pick one channel and stick with it. I chose channel 1 as it's the closest to 5.8Ghz. By following this chart, I had to ground all three channel pins by connecting them to the heatsink shield.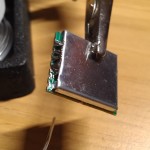 Then soldering the camera and power connector to the TX5823 video transmitter. As I will be powering this FPV combo from the main battery, the power supply will be noisy. To filter out noise you usually need something like LC filter, but they can be quite chunky and heavy.
So I only added a 200uF capacitor which smooth out voltage power supply, and jumping white lines and static snow in the picture (voltage fluctuation noise caused by motor drawing lots of current). Might not be as effective as a proper power filter, but it should help. You could totally build it without the capacitor, this is just my precaution.
And finally soldered the antenna on it (the centre wire goes to ANT pin and the shielding bits goes to the two GND pins next to ANT). And hot glue all the components, so they don't move about.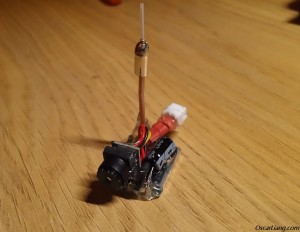 Comparing to my 3S battery, this FPV combo is tiny!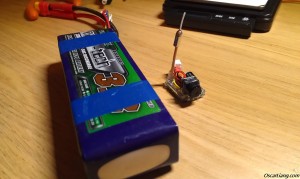 And it only weights amazing 5.6g!
I tested it which works great. Although the vtx gets quite warm after a while.
By the way this is my simple ground station with the cheap LCD screen :D.
I will put using this small video transmitter and fpv camera combo on my micro quadcopter. Stay tuned :D
Current draw – Power rating
1g Camera: 75mA @ 5V (~65mA @ 3.3V)
TX5823: 170mA @ 5V (~150mA @ 3.3V)
Total: around 220mA.
New Version!
This build is affected so bad by noise when sharing the main battery with the motors on my micro quad, the picture basically just goes away when throttle is up. Tried building a micro LC filter without much success (detail in my micro build log). So I decided to get a dedicated separate Lipo for this FPV setup.
The battery I went with is the TURNIGY NANO-TECH 160mah 1S 25C, it only weights 4g (5g with connector I soldered on)
However the whole setup is now almost 12g! Although it works beautifully now, I am not happy with the weight and having 2 lipos running on the quad is not ideal. As I often forget to replace the FPV battery, when it runs low I just suddenly lost video without warning.
So here I started a second build, aiming to fix the noise issue, and be able to share the main LiPo with the Motors.