DYS has finally released their very first BLHeli_32 ESC. If you are still running their good old trusted XM30A this could be a very good upgrade for the BLHeli_32 goodness.
Some of the links on this page are affiliate links. I receive a commission (at no extra cost to you) if you make a purchase after clicking on one of these affiliate links. This helps support the free content for the community on this website. Please read our Affiliate Link Policy for more information.
Shop: Banggood, GetFPV, Amazon, FPVModel
To learn more about how to choose ESC for Quadcopters.
Specification of the DYS Aria 35A ESC
Pretty similar features and price to other BLHeli_32 ESC:
Current Rating: 35A (40A burst)
Voltage Rating: 3S to 6S
Dimension: 32mm x 16mm x 5mm
Weight: 4.5g bare PCB, 8.1g with wires
Current sensing and limiting
Price: $16 each
Supports DShot1200 and older ESC protocols
If you haven't learned the benefits of BLHeli_32 compared to the previous BLHeli firmwares, please check out this article.
The ESC I received are apparently test samples, they are missing some features which will be available in the production version.
Close Look
As usual, like DYS's FC and 4-in-1 ESC's, the Aria 35A ESC is covered with Conformal coating (waterproof). Edit: DYS has just announced that they will not apply anymore of the conformal coating to any of their products in the future, including the Aria 35A ESC's)
FC passthrough works fine, and here are the stock BLHeliSuite Settings: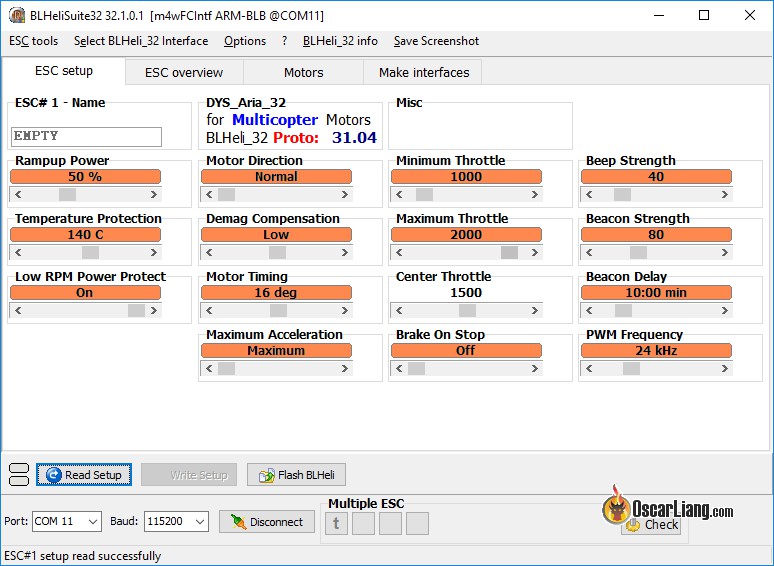 Since these ESC's are test samples, they are using "proto" firmware version 31.04, which doesn't allow me to change any of the settings. I get this error: "Sorry ESC seems to be a DYS_Aria_32 pre-release Rev31.x prototype sample. It's not possible to upgrade this ESC to a release version".
I checked with DYS and they confirmed everything will work as expected in the production version. So at the moment I can only test these ESC with the default settings.
No Telemetry pin/connection?
I am not sure which of the solder pads on the Aria ESC's is the telemetry output, which you would be able to send current and RPM info to the flight controller as part of the future BLHeli_32 feature. We will have to wait until DYS release an user manual for that.
I will be testing these on a mini quad, I will report back if there is any problem, stay tuned.