There are many transmitter options available for mini quads. While many would recommend a high end transmitter, beginners might choose to save a bit of cash on selecting a TX. This is completely understandable when you don't know if the hobby is really for you, and this is where the FlySky range comes in.
Some of the links on this page are affiliate links. I receive a commission (at no extra cost to you) if you make a purchase after clicking on one of these affiliate links. This helps support the free content for the community on this website. Please read our Affiliate Link Policy for more information.
This guide is written by Tom Allport (aka Tom BD Bad on IntoFPV forum) and edited by Oscar.
Disclaimer: this is NOT a sponsored post, we did not and will not get paid by Flysky for writing this guide. This article was created purely for the benefit of the FPV community, and with the hope that some people who have the passion but with a small budget can find a more affordable way to fly.
A radio transmitter is often referred to as a TX, or radio controller. Make sure to check out our tutorial to learn the basics of radio transmitter and receiver.
Why Buy Flysky TX and RX?
FlySky provides the market with some of the most affordable radio control solutions available. The range is most suitable for people who are incapable of comprehending the addictive power of flying FPV mini quad… Sorry, I mean people who just want to 'try it out', and don't require all the bells and whistles of something more expensive.
This guide is to advise which of the less up-to-date products to avoid and point out a few other common areas of confusion.
In this article we will cover:
Channels, how many do you really need?
There are 4-channel transmitters available from FlySky, but while a 4-channel TX is fine for simple RC cars, boats and basic planes, we really need 6 or more channels to operate a mini quad.
Channels 1 to 4 are used to control the actual movement of the craft, while the rest of the channels are assigned to the switches and pots (potentiometers) on the radio, and are referred to "Auxiliary Channels", labelled as AUX 1, AUX 2 and so on.
Aux channels can be used to activate different flight modes, and control different peripherals on a quadcopter such as a lost model buzzer and LED light. With new technology being updated all the time the amount of functions and peripherals we can control from the transmitter are increasing every day.
Realistically you will soon begin to feel limited if you only have 6 channels available, therefore we have only included TX's with 6 channels or more.
Flysky TX and RX Protocols
Different TX and RX might be capable of different protocols. In this section we will give you some basic understanding of the protocols used by Flysky transmitters and receivers..
There are 2 types of communication protocols you should know about:
TX protocol – the "language" used for TX and RX to communicate
RX protocol – the "language" used for RX and flight controller to communicate
Check out this tutorial for an overview of different TX and RX protocols.
Flysky TX Protocols
There are 2 different Flysky TX protocols:
AFHDS stands for Automatic Frequency Hopping Digital System, and is a digital protocol that ensures 2 or more radios can operate at the same time without interfering each other's respective aircraft (or receiver).
AFHDS 2A is the 2nd generation of the system that added 2-way communication capability and allows for telemetry.
Flysky RX Protocols
In addition to the older analogue PWM and PPM protocols, newer Flysky receivers also support iBUS protocol.
Similar to SBUS, iBUS is a digital serial protocol that allows for up to 18 channels to be supported on a single wire (compared to the 16 channels offered by SBUS). These digital protocols have less latency than PPM, providing an overall better solution to traditional analogue RX signals.
Another point in favour of iBUS over SBUS is that the signal is un-inverted, so you are not required to invert the signal when using F1 and F4 boards as you do with SBUS.
Note: Micro RX often do not support PWM due to their limited physical size to provide sufficient space for the necessary solder pads.
FlySky TX models For Mini Quad
Below is our pick of the transmitters available from FlySky, those prefaced with a letter 'i' are the newer options, the number denotes how many PWM and PPM channels each supports.
FS-TH9X
FS-i6
FS-i6S
FS-i6X
FS-i8
FS-i10
NV14 – Nirvana
The Nirvana NV14 is developed together by Flysky and UndergroundFPV (UFPV). This is the latest offering in the Flysky radio lineup, featuring a gmaing pad style housing and a colour touch screen. It also supports external JR module and compatible with TBS Crossfire and Frsky R9M modules.
See my review for more detail.
Product Page: https://amzn.to/2N52yuS
FS-FT18 Paladin
The Palatin is the latest offering in the Flysky premium lineup. It has many of the new features in the Nirvana but in a much more traditional style shell. It also supports the latest AFHDS 3 air protocol.
Check out its Product Page to learn more: http://bit.ly/2N7YNVo
FS-TH9X
Buy here:
I have included the older FS-TH9X here because it's worth mentioning that it is capable of running OpenTX.
OpenTX is open source TX firmware, which is a powerful transmitter operating system. It allows you to change menu displays, welcome screens and various other options on your TX via LUA scripts.
Sadly the TH9X only operates the older AFHDS and is not compatible with AFHDS 2A system, and therefore doesn't support iBUS and telemetry, so it is close to becoming (if not already) obsolete.
Note : The FS-i range does not support OpenTX.
Flysky FS-i6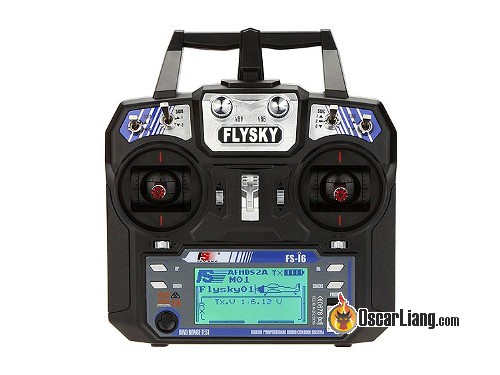 Buy here:
The FS-i6 is commonly found supplied with RTF (Ready To Fly) models, due to this I believe that manufacturers share the opinion that the FS-i6 is a great TX for beginners.
It has been around for a few years now and as such there are quite a few well documented hacks for this TX, from replacing the potentiometers with 6 position switches, to 3D printed grips, and more.
The FS-i6 utilizes the updated AFHDS 2A TX protocol, but is backwards compatible with the original AFHDS system too.
It has 6 native channels, but can be expanded to 10 channels by updating to a community developed firmware. This allows the full use of all  4 switches and the 2 potentiometers the FS-i6 is fitted with.
Flysky FS-i6S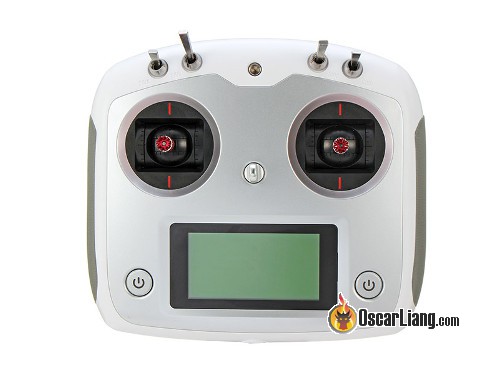 Buy here:
The FS-i6S is the first update to the i6 and has a similar feature set to the original, but be aware that the i6S is not backwards compatible with AFHDS, so it will only work with AFHDS 2A compatible RX. This is important as many micro ARF brushed models only support the original AFHDS system.
The appearance of the FS-i6S is pretty er, pretty! Almost what you might expect a TX to look like if Steve Jobs had a hand in its design! The VrA and VrB potentiometers have been moved to a more accessible position on the corners, and with only the edge of the dial exposed, it really helps to maintain the image of sleek minimalism.
The trainer port has been moved to a more convenient location on the bottom of the TX, and next to it you will find the addition of a micro USB, for simulators and firmware updates, which was a good move in my opinion.
I do think that the designers may have pushed appearance ahead of function in some areas, as they have neglected to include trim buttons. Ideally you should trim your craft using the 'sub-trim' option in the TX menu, this then saves the trim setting to the model memory data. However I find that it is easier to use the trim buttons to stabilize the craft 1st, then remove trim added via the buttons in conjunction with adjusting the sub-trim through the menu.
The i6S provides up to 10 channels when using an iBUS / SBUS RX. Despite the benefits and its futuristic looks, I am not completely happy about this one, only because of its lack of trim buttons, and the fact that it isn't backwards compatible is a bit, well, backwards!
Flysky FS-i6X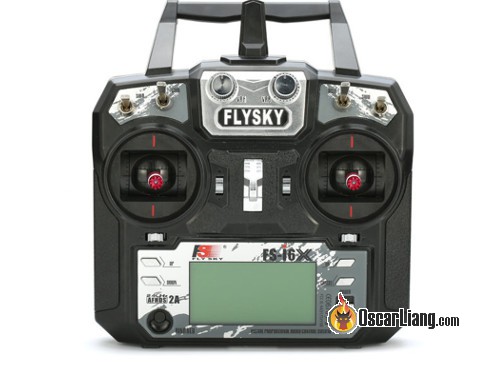 Buy here:
The FS-i6X is the latest update to the i6 and retains the basic design of the original. Unlike the i6S, the X is backward compatible and supports both AFHDS and AFHDS 2A.
With a simple firmware update using the provided cable, this iteration supports up to 10 channels without the need to hack anything. The model memory has been increased over the i6 too, now storing 20 models.
The layout of the X could have done with a touch from the design team of the S but as they have stuck with the original form factor of the i6, this means that there are some design flaws that have re-emerged. The inclusion of the USB port on the S was great, but it has been frustratingly excluded here, this means that you will need to purchase a dedicated simulator adapter to use with your PC simulators.
The trainer port on both the original i6 and the i6X act as the firmware update port, trainer port, and simulator cable port, which is in the centre of the back of the TX. If you are flying with a sim, every time you put the TX down it puts stress the sim cable and trainer port, and accidentally stepping on it in this scenario could spell the end of the radio! Reconnecting the cable to the circular PS2/Video S socket is not quite as simple as 'just plugging it in' either.
Note : The firmware update cable provided with the FS-i6 and FS-i6X will only work to update the firmware and is not capable of supporting 'trainer' connections, neither can it be used to control a PC simulator. These cables must be purchased separately.
Flysky FS-i8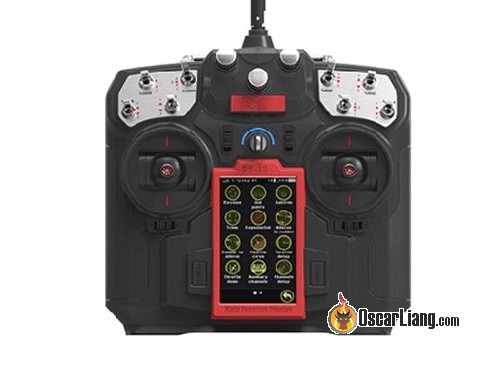 Buy here:
The FS-i8 is the newest TX on the list from FlySky, and as the name suggests it offers 8 native channels, serving to fill the gap between the i6 range and the i10.
The i8 sees the reintroduction of the micro USB port which is used to recharge the supplied LiPo battery (the i6 series are all powered by 4 x AA batteries). The USB also acts as the trainer and simulator port. Negatively, the antenna of the i8 is the adjustable motive type, which gives me concern over its durability.
Borrowing heavily from the design of the i10, the FS-i8 isn't the best looking TX available, (some will say that's a gross understatement) but that can be put, in-part, down to the large TFT colour touch-screen.
I think the size of the screen may be useful if you don't have great eyesight, but TFT screens of this size can be even more difficult to make out in bright sunlight than a backlit black and white LCD. I also think the touchscreen is more gimmick than actual functionality at this stage, though I'm sure we can expect to see more touch-screens providing a real improvement to user friendliness in future.
Flysky FS-i10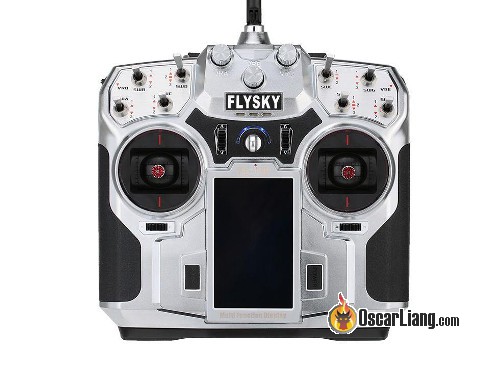 Buy here:
The FS-i10 is the top of the range offering from FlySky and provides 10 native channels with all the (5) knobs and (7) switches to make full use of them all. Like the i8, the i10 also utilizes a rechargeable LiPo battery and a USB port for charging, connectivity for sims and trainer functions.
The appearance of the i10 is a bit more classy than the red plastic of the i8, but again its face is marred by the massive touch-screen! The i10 and i8 both weigh in at 720g, almost double the weight of the i6S at 410g.
Thanks to Loopyroberts for his comment below confirming that the i10 does support the original AFHDS system, so you will be able to bind with older FlySky RX.
One point that has me worried about the i10 (and the i8 as well) is that there is no mention of how long the supplied rechargeable battery lasts. While using a LiPo to power the TX is a good idea (IMO), I think that the large screen might burn through the battery quite quickly.
Turnigy Evolution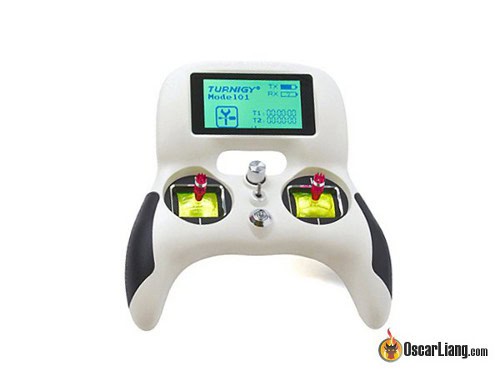 Where to buy:
The Turnigy Evo is not a Flysky TX, but we'd like to include it in this list because it uses the same TX protocol as Flysky TX's, and it's compatible with Flysky's RX as well.
It's a budget TX that is light weight and small. It has the shape of a gaming controller and that's great for people who prefer to control the sticks with their thumbs, but for "pinchers" (using both thumb and index finger) you might find it a little uncomfortable.
You can use the Turnigy Evo to play simulators, and it supports PPM, SBUS and iBUS receivers which is great for mini quad.
Flysky RX Options
Receivers are where FlySky would most benefit from adding a few more solutions to their range, they are lagging behind the market leaders when it comes to full featured micro RX options.
So much in this hobby is a balancing act, "motor KV" vs. "prop size", "battery weight" vs. "flight time", and FlySky receivers are no different. You will be required to do a bit of 'balancing' to ensure that you get the features you are expecting from your RX…
The older models in the FlySky RX range are prefaced with the letters 'iA' and are relatively large and heavy, weighing between 15 and 20 grams! As keeping weight down is critical in a mini quad, I have excluded the bulky options to focus on these lighter weight solutions.
Also all the following RX use AFHDS 2A and thus are incompatible with the FS-TH9X.
Flysky FS-A8S V2
Buy here:
The FS-A8S was one of the 1st micro RX available for FlySky, it weighs just 1.2 grams, and is commonly supplied with FlySky TX's as a bundle.
There has been some talk of problems with the A8S retaining the protocol selection, automatically reverting from iBUS to the default 8 channel PPM on power up, which would cause failsafe to fail.
The version 2 of the A8S has been released, which has fixed this problem, but there is still talk of "full throttle brownouts" where RX channels might behave randomly when throttle hits 100% (I will test this and update this info soon).
While the weight of this RX aims towards micro <100mm models, the length of the supplied IPEX antenna is a bit long to be ideal for this application.
Protocols : PPM, iBUS
Range : 300+ meters
Failsafe : yes on iBUS, no on PPM
Telemetry : no
Model size : any
Weight : 1.2g
Flysky FS-RX2A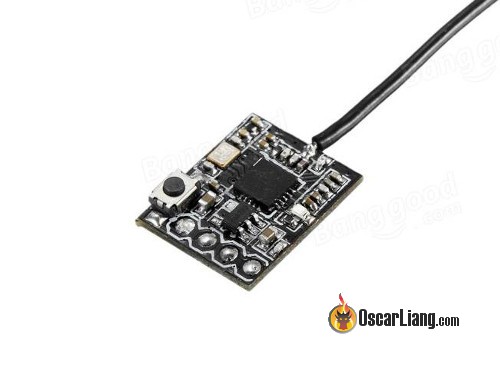 Buy here:
The FS-RX2A, can be considered an updated A8S and is one of the smallest RX made by FlySky at the moment. It weighs in at 1g, and measures only 12mm x 15mm to gift the market with a true micro FlySky RX. The
RX2A specs claim the longest range on this list, but considering the simplicity of the monopole antenna, fly out this distance at your peril!
Protocols : PPM, iBUS
Range : 400+ meters
Failsafe : yes on iBUS, not on PPM
Telemetry : no
Model size : <130mm
Weight : 1.0g
Note : The failsafe on the RX2A only works over iBUS protocol and not PPM.
Flysky FS-RX2A Pro V1
Buy here:
The upgraded version of the RX2A with longer range. It features better antennas with IPEX connectors so you can easily replace them. Failsafe is available with iBus.
Protocols : PPM, iBUS
Range : 500+ meters
Failsafe : yes on iBUS, not on PPM
Telemetry : no
Model size : <130mm
Weight : 0.9g
FS82 MICRO
Buy here:
Another compact and light weight receiver option and with AFHDS2 protocol support. No telemetry, but supports both PPM and iBUS protocols. Compatible with popular radios such as the Turnigy Evolution, FlySky i6S. It also supports failsafe in iBUS.
Protocols : PPM, iBUS
Range : 300+ meters
Failsafe : yes on iBUS, not on PPM
Telemetry : no
Model size : <130mm
Weight : 1.2g
Fli14+ Mini
Buy here:
A light weight RX that is able to output RSSI on the 14th channel and it supports AFHDS-2A protocol.
Protocols : iBUS
Range : 500+ meters
Failsafe : no
Telemetry : Yes, RSSI and vBAT via Channel 14
Model size : <130mm
Weight : 1.7g
Flit10
Buy here:
Similar to the Fli14+ but with diversity antennas giving you more reliable signal.
Protocols : iBUS
Range : 500+ meters
Failsafe : no
Telemetry : Yes, RSSI and vBAT via Channel 14
Model size : <130mm
Weight : 3.1g
Flysky X6B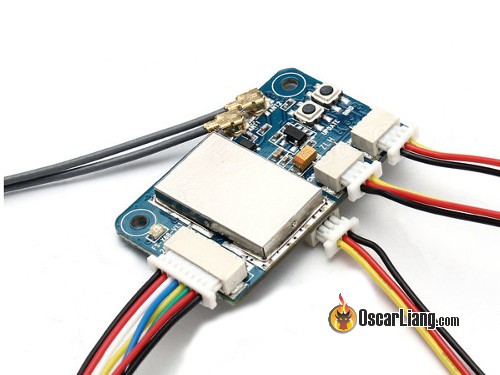 Buy here:
The FS-X6B is the only RX on this list with diversity (2 antennas), it also has the added benefit that the board, which measures 36x22mm has 30.5mm mounting holes so it can be added to the FC stack.
This is a 2-way RX which is capable of providing telemetry from the sensors on the FC to the display on the TX. The FS-X6B receiver provides failsafe capability over both iBUS and PWM.
Weighing in at 4.5g this is the heavyweight on the list, and with diversity to ensure signal reliability, this is ideal for models in the 180mm+ category.
Protocols : PWM, PPM, iBUS
Range : 300+ meters
Failsafe : yes on PWM and iBUS
Telemetry : yes
For model size : >180mm
Weight : 4.5g
Eachine Minicube FlySky RX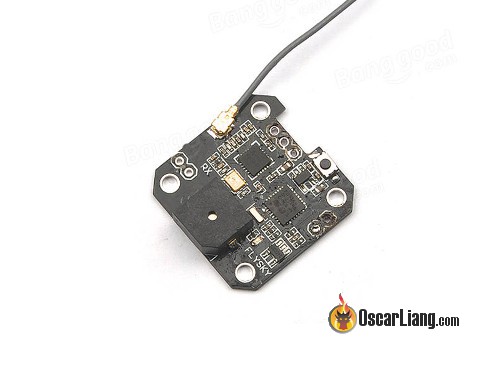 Buy here:
The Eachine Minicube Flysky RX is a great option for outdoor models between 100mm and 180mm due to its 20x20mm mounting pattern, and pre-installed buzzer.
However there is no antenna diversity and no telemetry. The Minicube RX weighs 3.1g including the buzzer, but it is the most expensive RX here at just over $15.
Protocols : PPM, iBUS
Range : 300+ meters
Failsafe : yes
Telemetry : no
Model Size : >120
Weight : 3.1g
Turnigy iA6C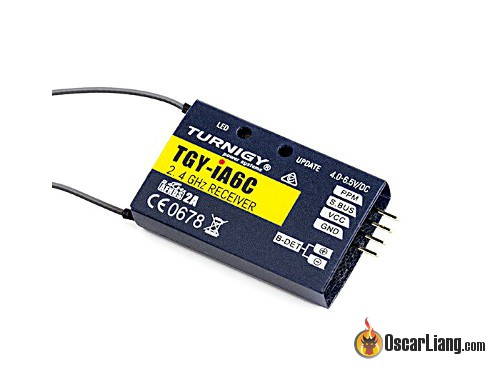 Where to buy:
The Turnigy iA6C is an AFHDS2A radio receiver with dual antennas. It's light weight and supports all both serial RX protocols making it a great option for mini quad.
Protocols : PPM, iBUS, SBUS
Range : 300+ meters
Failsafe : yes
Telemetry : yes
Model Size : >140
Weight : 7.9g
MOY RXA2-10
This receiver has autobind function – it always tries to bind automatically every time it is powered on.
Protocols : PPM (10CH), SBUS (10CH)
Range : 100+ meters
Failsafe : yes
Telemetry : no
Weight : 2g
Dimension: 12x18mm
Compatible Transmitter: FS-i4, FS-i6, FS-i6S, FS-i6X, FS-i10
Product Page: https://amzn.to/2XbJ4cO
Flysky FS2A 4CH PWM Receiver
This is a variant of the FS-RX2A, but with four PWM channel output and no PPM/SBUS support. It has a 3-pin servo connectors, ideal for micro planes and wings. It's compatible with AFHDS 2A protocol.
Protocols : PWM 4CH
Range : 400+ meters
Failsafe : Yes
Telemetry : no
Weight : 0.9g
Dimension: 11x25mm
Support: FS-I6, FS-I6X, FS-I6S, FS-TM8, FS-TM10, FS-I10 and other AFHDS 2A protocol transmitter
Product Page: http://bit.ly/2Eb0YF1
Flysky FS-IA8S
This receiver was designed together with UndergroundFPV for Flysky Nirvana NV-14. It has diversity antennas and works in AFHDS 2A protocol. Outputs PPM / i-Bus / S-Bus signals.
Protocols : SBUS PPM iBUS
Range : TBC
Failsafe : TBC
Telemetry : TBC
Weight : TBC
Dimension: TBC
Supports AFHDS 2A protocol transmitter
Product Page: http://bit.ly/2tuSgeN
Flysky IA8X
The smallest original receiver made by Flysky currently.
Protocols : PWM and iBUS
Range : 200+ meters
Failsafe : TBC
Telemetry : Yes
Weight : 2g
Dimension: 15x13x3mm
Support: AFHDS 2A protocol transmitter
Product Page: https://amzn.to/2IcLG6H
X-BOSS RX2A PRO
Protocols : SBUS
Range : 500+ meters
Failsafe : TBC
Telemetry : no
Weight : 0.9g
Dimension: 12x10mm
Product Page: http://bit.ly/2X5lVsz
Flysky X8B
Protocols : PPM, iBUS 8CH
Range : 300+ meters
Failsafe : TBC
Telemetry : TBC
Weight : 3.7g
Dimension: 32×22.5×7.5mm
Product Page: https://amzn.to/2I9K8dt
Essential Features of Flysky Receivers
Telemetry
I think that for FlySky, telemetry has been a bit of an afterthought, and when most newer FCs come with an integrated OSD, who can blame them if they are focussing sales towards the FPV market? In reality though telemetry can be considered one of the 'bells and whistles' I referenced earlier, and for the beginner is not a necessity by any means.
Failsafe
As you can see, when using a FlySky RX there can be some sacrifices that must be made to ensure you have an operational failsafe. Failsafe is probably not as critical to an indoor model or a micro that you use in the garden, but it is far more important than telemetry. For some reason the most suitable RX FlySky make for larger models (the FS-X6B) only provides a failsafe on the older PWM protocol, which is nonsensical in my view.
As you can see, failsafe is sometimes only available over specific protocols, depending in the RX. Failsafe is far more important than telemetry because it minimizes the chance of unexpected behavior in case of losing RX signal. Take the time to ensure that you are using a protocol that supports failsafe!
So, which Flysky TX should you buy?
tl;dr… Our first choice is the Flysky i6X
The selection of RX that I have detailed above are the cream of what Flysky currently have to offer for mini quad and micro quads, but there are pro's and con's to each.
On the other hand, I honestly have to say that out of all the Flysky TX we've seen so far, the Flysky i6X is the one I would choose for flying a mini quad. The FS-i6X is inexpensive, provides 10 channels, and can operate on both AFHDS and AFHDS-2A systems. It's compatible with iBUS/SBUS receivers as well as the older PWM and PPM receivers.
Its light yet durable, simple to use, and offers all the required features (such as elevon mixing and V-tail settings) to set up and fly almost any model aircraft. The FS-i6X may not be perfect but it ticks a lot of boxes for the price, and it will serve a newcomer well for a long time before you even consider upgrading.
My next pick would be the Turnigy Evolution, and the Flysky i6S is also a pretty good choice if you don't mind the missing physical trim buttons and lack of support for older AFHDS receivers.
What's wrong with other Flysky radios?
The i8 and i10 offer more native channels and are well provisioned with switches, however despite the attempt to integrate the updated technology of a touchscreen, I feel that these 2 fail to provide much actual improvement over the i6X.
It makes sense for FlySky to include these options in their range, however they are catering for the affordable end of the market. Since the introduction of the FrSky Taranis QX7 at a similar price point to the FS-i8, there is now some stiff competition at the $100 market level.
Other options for those that are unsure about committing to a single RC system are starting to hit the market now. There are multi-protocol TX and external modules to support a bind with FlySky, FrSky, Futaba and Devo RX as well as many toy grade quadcopters out there.
The Jumper T8SG which has Deviation Firmware installed, and the iRangeX iRX-IR8M, at between $70 and $80, are also worth checking out.
Is there a better TX than the Flysky i6X?
The i6X is only $50 which is a pretty good price for what it does, but in reality if I had the extra $50 to spend, I would probably get a FrSky Taranis QX7 ($100).
A few reasons:
Firstly, there is a wider range of small size RX for FrSky. Although they are generally slightly more expensive, but the full featured options and additional range they provide are worth the extra investment
Secondly, the OpenTX software on the Taranis is extremely powerful and flexible
And there is no RSSI (a feedback on how good your radio link is)
Lastly, the Taranis provides excellent range for mini quad (1Km+)
I wish Flysky would support OpenTX with their radios, as it allows for more freedom of customization and settings. Another super useful feature that is missing is the LUA script that has been popular with the Frsky Taranis, which allows the pilot to conveniently change PID, rates even VTX settings from the radio.
Author: Tom Allport (IntoFPV ID: Tom BD Bad)
Edit History
Nov 2017 – Article published
Feb 2019 – Added 2 new radios, and 5 new receivers