5.8Ghz frequency band is getting more and more popular for FPV gear. One of the reasons is because the antennas can be made very small, while lower frequency devices require larger antennas, see here for the other reasons. I have mainly been using Boscam 600mW (TS832) and ImmersionRC 600mW video transmitters, I would like to share my review and some comparison of these two popular VTX.
Some of the links on this page are affiliate links. I receive a commission (at no extra cost to you) if you make a purchase after clicking on one of these affiliate links. This helps support the free content for the community on this website. Please read our Affiliate Link Policy for more information.

Difference and Comparison
The two modules are specified at the same power (600mW), however we have heard they perform quite differently. Also the ImmersionRC module operates at a different set of frequency bands (8 channels) than what Boscam usually does, so you need to be careful when buying a matching video receiver.
ImmersionRC Frequencies: 5740, 5760, 5780, 5800, 5820, 5840, 5860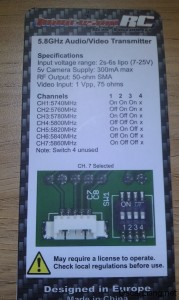 The Boscam 600mW module has four frequencies, each has 8 channels, making it a total of 32 channels available. That's great because it works on almost all the video receivers on the market.
Frequency range: FR1 5865,5845,5825,5805,5785,5765,5745,5725 FR2 5733,5752,5771,5790,5809,5828,5847,5866 FR3 5707,5685,5665,5645,5885,5905,5925,5945 FR4 5740,5760,5780,5800,5820,5840,5860,5880
Some users choose the ImmersionRC 600mW over the Boscam one, probably because the ImmersionRC transmitter frequency band is compatible with stock video receiver in the Fatshark goggles (since they are the same company).
In terms of range, I didn't test them any further than 1Km as I don't normally fly that far out. I was using the Fatshark SpiroNET antenna, and I could get around 800m LoS out of the Boscam video transmitter (nearly lost signal). With the same antenna, I could do 1Km+ with the ImmersionRC one with perfect image, which suggests there is still room for longer range. I think the antenna plays a big part when it comes to range, maybe I could go a lot further with the Boscam module with a more suitable antenna.
The ImmersionRC 600mW also has the advantage of being able to be driven by a wider range of power supply voltage, which can be between 7V and 25V. The Boscam ones only accept input voltage within 7.4 – 16V.
Output Power VS Frequency Channel
Boscam 600mW TS832
There is a quite interesting argument on this forum about the true output power of these video transmitters.
People on this thread basically did some measurements on both transmitters, and discovered the Boscam 600mW is overstated on their output power, while the ImmersionRC 600mW can output more power than specified. Here is the maximum output power they could get from each transmitter.
ImmersionRC 600mW    764 mW
Boscam TS832               247 mW
It's surprising to see the Boscam 600mW only meets less than a half of what's specified.
However there are people argued that the claimed "600mW" might mean power consumption, but not output power. If you measure the current going through it you should get ≈40mA at 15V. For a video transmitter such a figure is very misleading and not really standard. Output power is what should be be marked unless otherwise clarified in the specs.
Tests also carried out to find out which channel on the Boscam TS832 output the most power, which could help maximizing the range. But of course you need a tuned antenna to see the benefit.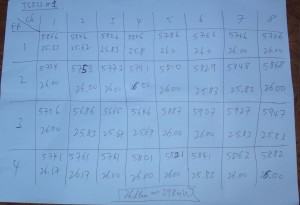 ImmersionRC 600mW
As for the ImmersionRC 600mw, it appears that all 7 channels are above what is specified. And first 3 channels are the best (5740, 5760, 5780). Data is from this post.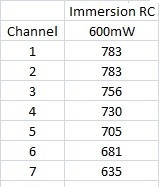 The 600mW transmiiter in theory is more powerful than enough for multirotors, since it's twice the range of a 200mw. Some users claim they can reach as far as 7Km on helical antenna, and at least 2Km on circular polarized antenna (such as Skew Planer Wheel) flying line of sight.  If you are getting short range, first thing to look at would be your antenna.
ImmersionRC has their own circular polarized antenna called Fatshark SpiroNET antenna, the old version are a clover leaf (tx) and skew planar (rx), the new version are two identical skew planar (four leaf) for both receiver and transmitter, which means you can swap them around. I have heard good reviews on these antenna coupled with the transmiiters.
Lastly ImmersionRC also has their own receivers, which has the NexWave feature. This is found in the Fat Shark Attitude SD goggles and their stand alone receiver products, and it has been claimed to help extend the range of their own vTX.
Why Boscam Transmitter Performs Under Power?
What's more interesting is, while many people are criticizing Boscam for lying about the performance of their products, someone who seemed to represent the company Boscam, stepped up and defended the name of their company, by saying the TS832 is not made by their company, but by Skyzone. From what I understand it, that's because the CEO of Skyzone was still the CEO of Boscam at the time the device was released to the market, so it continues to use Boscam as its brand, and Boscam does not have quality control over this product. However we cannot verify the reliability of this information.
Despite of this slightly less successful vTX, Boscam did come up with some great products before, like the TS353, which was once one of the most recommended video transmitters for 5.8Ghz. I hope they can continue to release great products in the future.
Update (05/05/2015) – I recently received a new Boscam TS832, comparing the performance with my other two ImmersionRC 600mW VTX, I have to say the range is just as good if not any better. However I don't have the equipment to measure the output power to confirm this with numbers.