The Jumper T Pro is an extremely portable gamepad style radio. It comes with OpenTX firmware, hall sensor gimbals and built in multi-protocol module. Affordable and compact but still powerful enough to be your daily driver.
Some of the links on this page are affiliate links. I receive a commission (at no extra cost to you) if you make a purchase after clicking on one of these affiliate links. This helps support the free content for the community on this website. Please read our Affiliate Link Policy for more information.
Learn more about radio transmitters in this tutorial.
Where to Buy?
The radio alone is only $100, $115 with ExpressLRS TX module, which is a really good deal if you ask me.
Mine is the ExpressLRS bundle which includes the AION ELRS TX module and Nano ELRS RX. I will talk more about ExpressLRS later in this review, but now let's focus on the radio.
The Jumper T-Pro transmitter comes in a very nice soft shell carrying case.
Beware that batteries are NOT included. It takes two 18650 Li-ion cells. I recommend Panasonic NCR1650B 3400mAh (get them from Amazon), in my testing they performed the best.
Specs and Features
Built-in JP4-in-1 multi-protocol TX module, supports DSM2/X, FrSKY, SFHSS, FlySky, FlySky AFHDS2A, Hubsan etc
OpenTX firmware
Hall sensor gimbals
Supports External TX modules, compatible with ExpressLRS, TBS Crossfire and Tracer
USB-C battery charging
Haptic and voice feedback
Specifications:
Working Voltage: 6V – 8.4V DC
OpenTX Firmware
Display: 1.3 inch LCD, 128*64 resolution
HALL Sensor Gimbals
Battery: 2×18650
Support SD card for OpenTX content
Dimensions: 160x128x68mm
Weight: 238g (without battery)
Closer Look
The Jumper T-Pro has a multi-protocol module built-in, meaning you can use this radio to control many FPV drones on the market, including the popular Frsky D8, D16, Flysky AFHDS2A etc.
Not only that, it also supports external RF module! It comes with a mount that you can install, and it supports "Lite modules" (not Standard size JR module). This is great if you want to run TBS Crossfire, Tracer or ExpressLRS.
The Jumper T-Pro has improved from the T-Lite (see my review here) considerably in many aspects.
The new design seems to be inspired quite significantly by the TBS Tango 2 (screen location, buttons, scroll wheel, antenna shape etc) . I actually prefer this change over the T-Lite, it looks more professional and is definitely more user friendly and intuitive to use.
The T-Pro is almost the same size (maybe just a little larger) than the T-Lite. Here's a size comparison between the T-Pro and the XBox gaming controller.
This transmitter has pretty good ergonomics. It's great for thumbers, not so much for pinchers though.
The gimbals are hall sensor gimbals, they are very smooth and more durable than potentiometer gimbals. The sticks can be extended by twisting the stick ends, but that's as short as they can get in the picture. I wish they could be even shorter :) It uses M3 stick ends, if you want upgrade this is a good option: https://oscarliang.com/product-g79x
The sticks feel quite decent, maybe a little too loose out of the box for my taste, and the gimbal springs just needs a little tightening perhaps.
Additionally, it has trim buttons! It's awesome for guys who fly wings and planes :)
The Jumper T-Pro doesn't have as many switches as a full size radio like the Jumper T16 or Radiomaster TX16S. It only has two 3-position switches, two momentary switches, two sliders and 6 flight mode buttons (only one button can be turned on at a time). Is this enough? I'd say yes for casual flying. For me personally, I use one 3-position switch for arming, the other for flight modes, and the momentary buttons for beeper and turtle mode. If you want to use Rescue mode and other stuff, I am sure it's doable with some more careful arrangement.
The position of the switches are easy to access, I don't have any complaints there.
The external antenna is quite bulky, but fortunately it's foldable. It's for the multi-protocol module inside the radio. However I wish it could be rotated 90-degree so it points vertically, in some cases this provides better signal. And if it could be removed while using an external RF module, that would be nice.
Note that there is an SD card slot in front of the antenna. It's for OpenTX content such as images, scripts and audio files. It's not necessary but will make your experience much better, so I do recommend getting one. The radio doesn't come with an SD card so you'd have to buy one yourself. Here I explain how to update SD card content.
On top, there is a 3.5mm trainer port, USB-C connector for FPV simulators and battery charging as well as accessing bootloader mode and connecting to OpenTX Companion. The button in the middle is the boot button, if you want the radio to go into bootloader mode when connecting the USB cable, you have to hold down this button first before powering on.
The screen is of decent quality, it's small but readable. The only complain I have is the uneven backlight. The T-Pro also has a speaker and haptic feedback (vibration) built-in.
Back of the radio:
By removing the rubber grips on the back, reveals the battery compartments. The previous Jumper T-Lite only takes a single 18650, in the T-Pro it actually takes two, so battery life is significantly prolonged.
The double batteries also makes the T-Pro heavier, but in a good way in my opinion. It just feels better in my hands because of the extra weight, and the grip feels more solid too.
Without battery, the T-Pro weighs 238g. With two 18650 it weighs 330g.
You actually need both batteries inserted in order to power on the radio, one battery won't work.
Since the T-Pro is powered by two batteries in series (much higher voltage), it has integrated voltage regulators to provide enough current for higher power external TX modules without mods, such as the 1W TBS Crossfire module V2 Nano.
The 18650 can be charged via the USB-C port, takes about 2 hours to fully charge.
First Flight Setup
If you are totally new to OpenTX, here's how you can setup the Jumper T-Pro for your first flight the fastest.
They have created a model for you in the radio, so all you have to do is to select the right protocol in the radio so that you can bind it to the FPV drone you are flying.
In this example, I am flying the Emax Tinyhawk 3, which uses Frsky D8 protocol.
In Model Setup, scroll down to External RF, make sure it's switched off.
In Internal RF, select "Multi" for Mode, and "Frsky D" for Type, "D8" for subtype.
Then you can click the "Bind" option to begin binding to the drone. (you also need to put the drone in bind mode, simply go to Betafilght, enter "Bind_RX" in CLI).
That's it! Now go to the Receiver tab in Betaflight, and check if the channels are responding correctly to your sticks. You might need to change Channel Map to AETR if the channel order is wrong.
Out of the box, the switches are not assigned to the channels, so you won't be able to arm the drone, or change flight modes.
To assign switches, go to the Mixes page, and assign any switches you want to CH5, CH6, CH7 and CH8. You can follow my step by step tutorial on how to do it.
ExpressLRS Module Installation
Here's a closer look at the ELRS TX module and RX that comes with my Jumper T-Pro radio, and how to install it.
ExpressLRS is an awesome and affordable opensource radio system. If you haven't heard about it yet, make sure to check out my article.
SMA connector.
USB-C connector for firmware updates. It also has WiFi built-in so you can upgrade it that way too.
The Nano ELRS receiver is tiny.
Here's the manual for the nano ELRS receiver.
First of all, install the external module mount. Drill 3 holes on the back of the radio. They already marked the position of the holes for you. I used a 1.0mm drill bit and it worked great.
Insert the ribbon cable from the mount, into the connector on the radio, then secure it with 3 screws.
To setup the ExpressLRS TX module, and learn how to use this system, follow my tutorial here.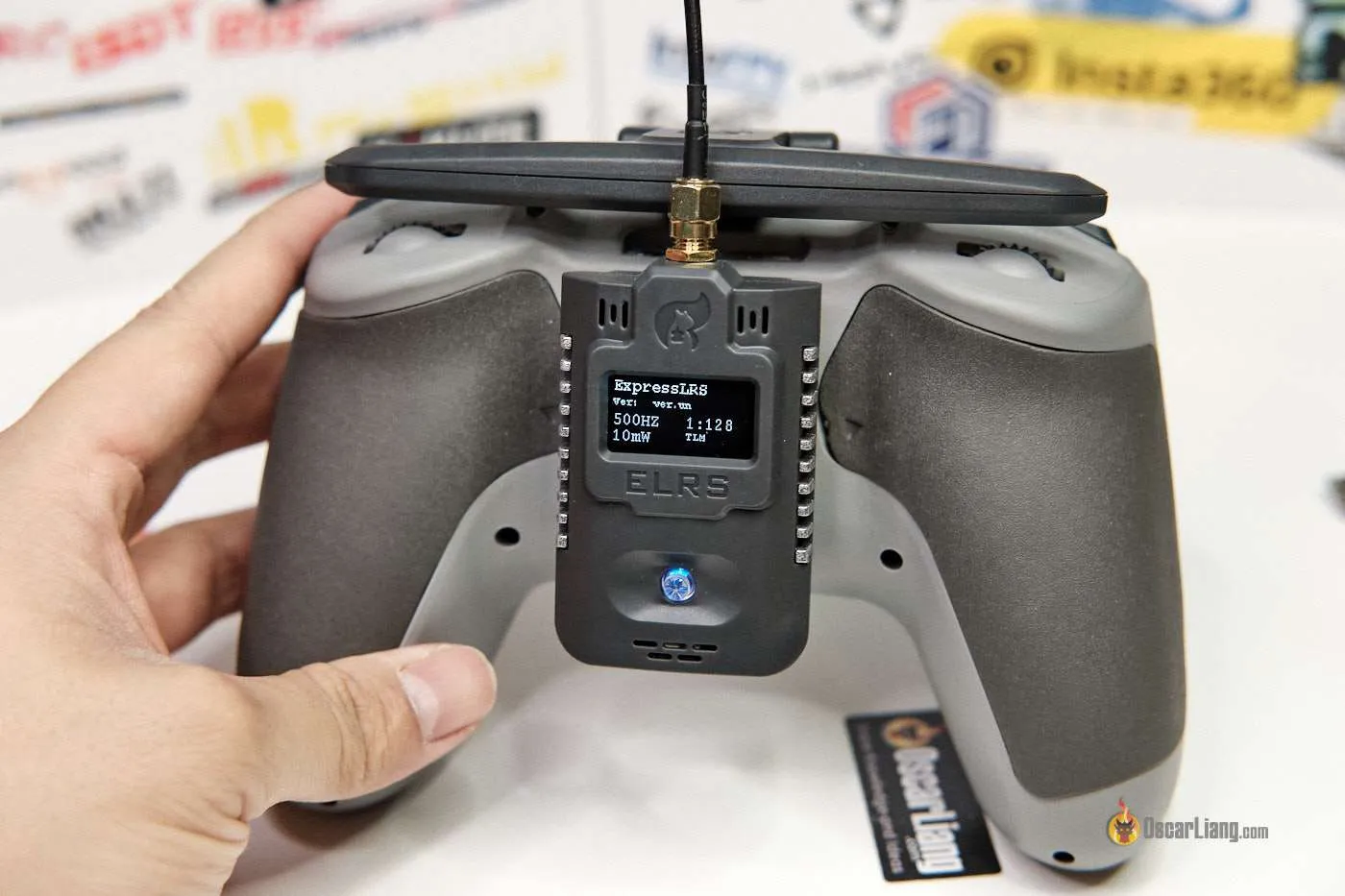 So far I am loving the Jumper T-Pro. For $100 this is really a good compact radio you can easily take everywhere.
Hardware Bug in the Internal ELRS Version
There's a new version of the T-Pro that comes with internal ELRS module (instead of the multi-protocol module). However it has a hardware bug that can potentially brick the internal module from a failed firmware flash.
Statement from ELRS Dev, Alessandro Carcione, on ELRS Facebook Group:
This is a disclosure statement regarding the Jumper T-Pro with internal 1W ELRS module. Jumper did not consult with the ELRS team when designing this product. As a result, there is no provision for recovery from a failed flash of the internal module. Unlike the Zorro for example, where the internal module which can be flashed via EdgeTX passthrough and is impossible to brick.

This means a failed WiFi upgrade on the internal T-Pro module requires a complex procedure and extra hardware to recover (youtube.com/watch?v=wrrERX_liCU). It is not possible to add passthrough flashing as a feature on the T-Pro as Jumper has not wired up the appropriate pins. If Jumper had collaborated with us, this could have been avoided in the design phase, but it was not. We are currently looking into options, but it will be unavoidable that you will have to open the radio at least once if you are affected by this issue.

We encourage all manufacturers to engage in discussion with us when designing new products.