Holybro recently released the Kakute F4 V2 FC and TekkoS 4in1 ESC Combo. This is great timing as I am planning to build an ultra light weight racing drone and this might be the perfect option.
Some of the links on this page are affiliate links. I receive a commission (at no extra cost to you) if you make a purchase after clicking on one of these affiliate links. This helps support the free content for the community on this website. Please read our Affiliate Link Policy for more information.
You can get the FC and 4in1 ESC separately or as bundles:
4in1 ESC has advantages over individual ESC, such as more centralized mass, less wiring and soldering etc. Generally there is also weight saving with using 4in1 ESC's. which is great news for light builds.
Modern racing quad frames have skinny arms, 4-in-1 ESC's are better suited because mounting separate ESC's on the narrow arms is just not ideal.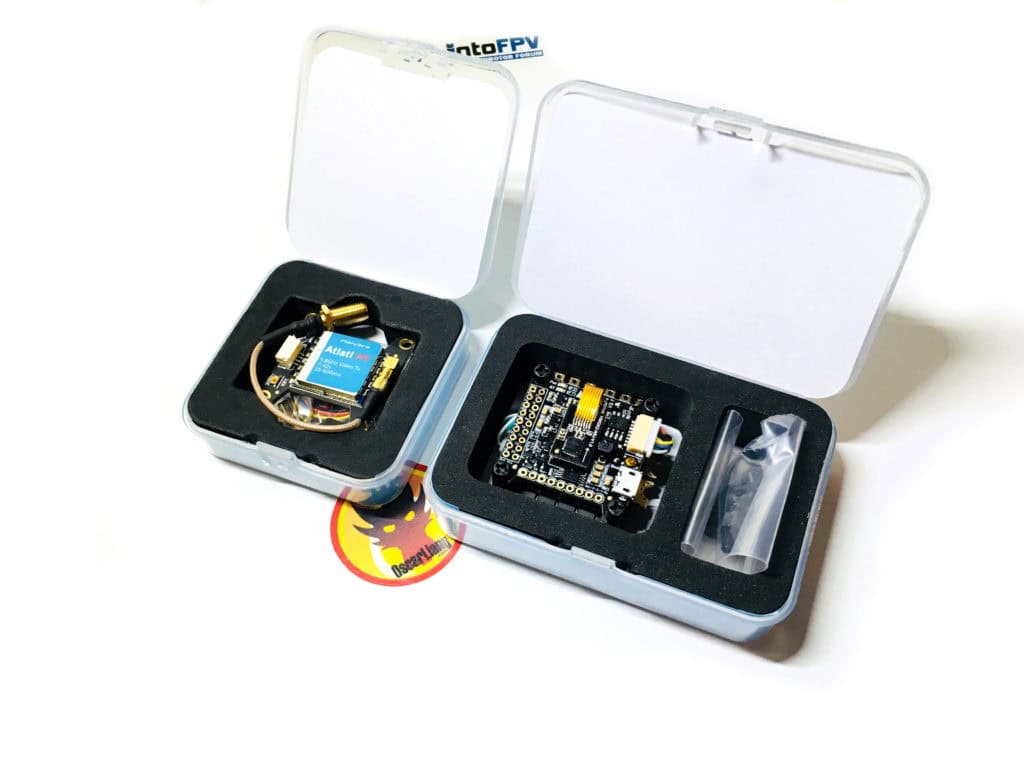 Further Reading
Package Includes
The FC and ESC combo comes assembled in a very nice plastic box.
1 x Kakute F4 V2 FC
1 x TekkoS 30A 4in1 ESC
2 x Spare Vibration-isolating Foam for Gyro
1 x Spare Gyro ribbon cable
Some Nylon standoffs and screws
Holybro Kakute F4 V2 FC
The Kakute F4 FC doesn't have integrated PDB like the AIO version, it doesn't need to because the 4in1 ESC will handle the "high voltage high current" task.
The most interesting feature about this FC is the "soft mounted" gyro sensor, this means you won't have to soft mount the FC and worry about over-tightening the FC screws. The only downside to this is that you cannot mount anything directly on top of the FC. Well you can but you have to leave enough room to prevent anything from touching the Gyro sensor, at least 8mm of clearance.
There is a lot of hate in the community towards the ICM series IMU's because how susceptible to noise they are. But with enough vibration damping this shouldn't be a problem. I have been using the Kakute F4 AIO V1 and haven't had issues with it.
In the V2, Holybro has replaced all the solder pads with through holes, so you can work with the board from both sides rather than just on top.
Spec and Features
Betaflight OSD
ICM20689 IMU allows up to 32 kHz of Gyro sampling rate and looptime
Barometer built-in
ESC Telemetry
Runcam Split Camera Control
i2c port for additional peripherals (such as GPS)
Input Voltage 7V-42V (2S-6S direct input)
Filtered BEC: 3.3V, 200mA; 5V, 1.5A
3 hardware UARTS + VCP
120A maximum continuous current
16MB Dataflash chip for Blackbox logging
Dimensions: 35x25x7mm (Includes USB height)
Weight: 7g
Holybro TekkoS 4in1 ESC
There is an 8-pin JST connector on the TekkoS 4in1 ESC you can connect directly to the Kakute F4 FC, or you can solder to the ESC's on the pads located in the centre of the board.
While it's almost a must to add additional low ESR capacitors in our high power mini quads these days, It's interesting to see that Holybro is confident enough to say that's not necessary with their ESC because it already has enough noise filtering built-in. I shall find out how well it works in my testing.
Spec and Features
Built in current sensor
BLHeli_S Firmware, supports DShot600 & Multishot (48Mhz Runs BLHELI_S J_H_xx firmware)
Voltage Input: 3S-6S
Current Rating: 30A Continuous, 40A Burst (per motor)
BEC: NO
weight: 13g
Closer Look
The FC and ESC are connected through a 70mm cable (8pin JST 1mm pitch), there is no soldering required at all.
The 8 wires are: 4 ESC signals, FC power, GND, Current sensor.
The other sides of the boards.
A light weight, clean system, I cannot wait to try it!
Build and Testing
Coming soon.