After about 2 years, Flyduino finally updated their flight controller the KISS V2 FC, and their ESC the KISS 32A ESC. In this review we will take a look at the new features and improvement over the previous versions, and test them in a mini quad to see how they perform.
Some of the links on this page are affiliate links. I receive a commission (at no extra cost to you) if you make a purchase after clicking on one of these affiliate links. This helps support the free content for the community on this website. Please read our Affiliate Link Policy for more information.
Where to Buy? You can find both products at:
If you want an All-in-One KISS FC (FC with PDB integrated), check out the iFlight KISS AIO FC
KISS 32A ESC
KISS 32A ESC features:
32-bit Processor, running custom KISS firmware
Supports 2S to 6S LiPo battery
ESC Telemetry capability, voltage, current, ESC temperature, motor RPM
Protective current limiting of max 40A
Temperature protection: when temperature reaches 100°C, the ESC will reduce power
New sinHybrid feature for smoother motor
Supports faster ESC protocol – the DShot2400
Supports DShot commands such as turtle mode, 3D mode and motor direction
Further Reading:
Unboxing, size and weight
The KISS 32A ESC's have the same package as the previous 24A Race Edition, and they also come without any wires.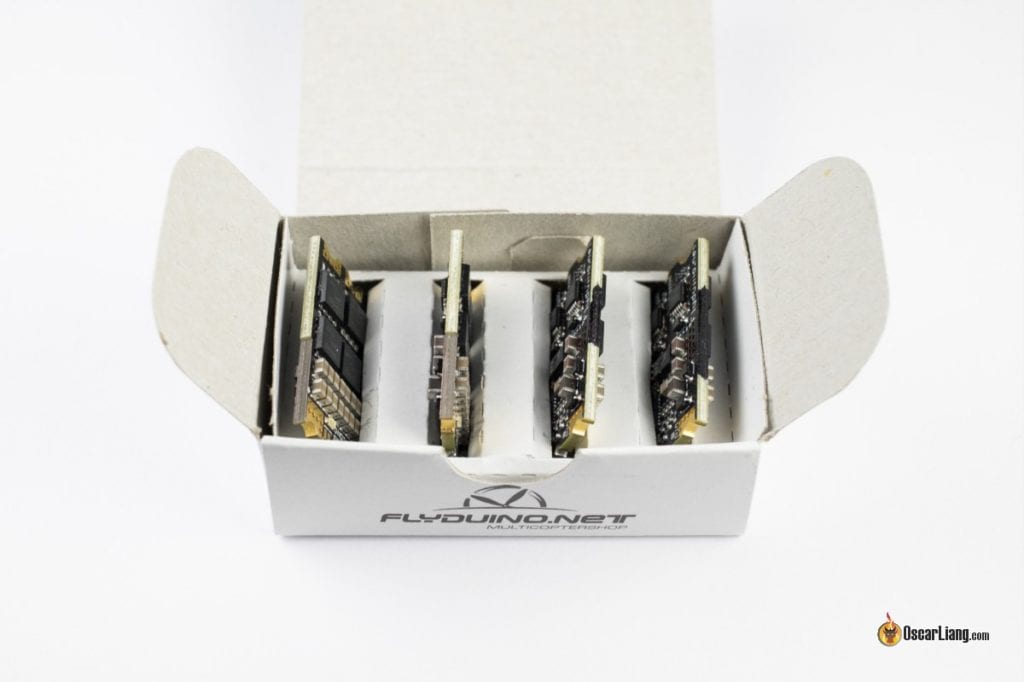 They share the same dimensions with the predecessor of 17x27mm.
The weight of the ESC is about 3.3g excluding soldering and wires.
The KISS 32A ESC are relatively larger than most BLHeli_S and BLHeli_32 ESC.
What's new compared to the 24A Race Edition ESC?
The most significant differences between the 32A and 24A KISS ESC's are:
6S support (but we are recommended to add a 220µF or 330µF 50V capacitor for 6S)
Higher current rating, suitable for more powerful motors
Supports faster DSHOT2400 protocol
Bootloader pads are removed
We were told the new "sinHybrid" feature would allow to run motors even more smoothly and efficiently
KISS ESC can make motors "Talk"?!
We have seen ESC's making motors beep, or even play a little jingle, but this is the first time we've seen someone plays human voice sound files using motors.
Further Reading: using ESC & motor as lost model alarm
The 32A ESC's are able to do that with their custom firmware, and you can upload your own sound files using software provided by kiss such as KISS Sound Editor.
KISS Flight Controller V2
At first glance, the KISS FC V2 appears to be similar to its predecessor, but don't be fooled, there are many changes and new features in the KISS V2 flight controller..
Spec & Features:
F7 Processor (STM32 F722RET6)
IMU: MPU6000 SPI Gyro
2S-6S voltage input
5  serial UART ports (one is shared with USB connection)
Improved Adaptive Filtering (for 1KHz looptime only), allow up to 8KHz looptime
6 PWM output for ESC/Motors, allows hexacopter configuration
8 onboard LED (2 at each corner)
Micro JST connectors available for additional PDB, such as the Mr Steele PDB for Alien frames
Weight: 5.0g
Further Reading:
What are the differences between KISS FC V1 and V2?
The V1 has an F3 processor while the V2 has an F7, the increase in procession power will allow us to run more sophisticated algorithms and more powerful features in the future.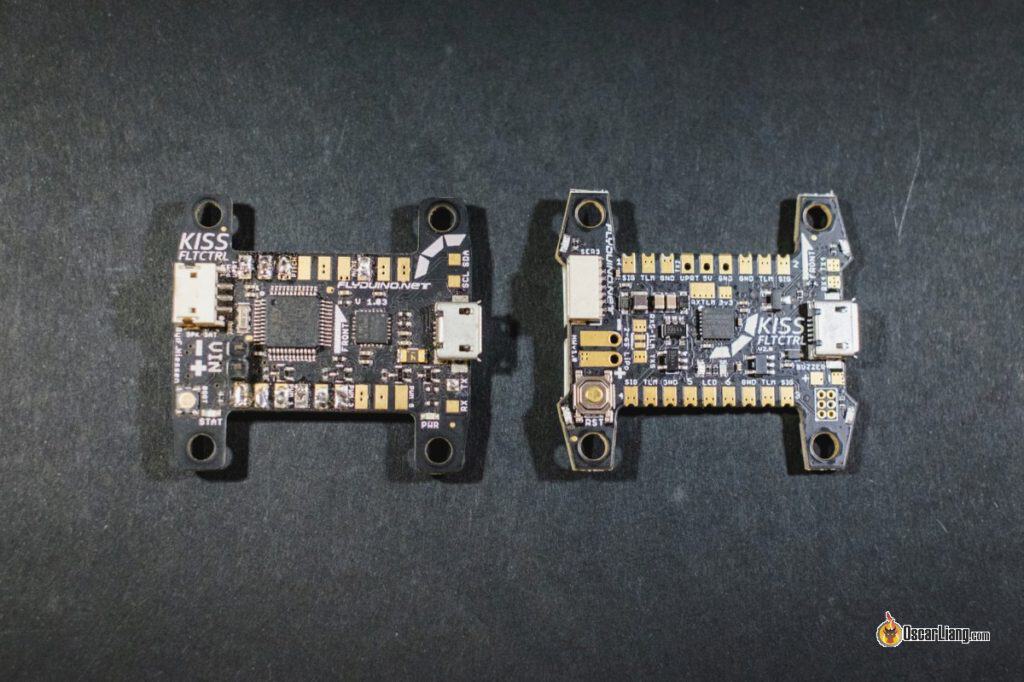 The KISS FC V2 improved their pin layout by moving ESC signal pins to the 4 corners. I had been moaning about this since I first got my KISS V1 and I am glad to see this change.
Beware that the motor order is different from Betaflight.
Bootloader button was replaced with bigger Reset/Force Bootloader button. Pressing this button will activate ESC/FC flasher tab in GUI.
Active filtering was already a feature in previous KISS FC V1 and 24A ESCs with RC30 firmware. According to Flyduino it is improved over the previous version thanks to F7 chip, but it's recommended to only use it with 1kHz loop time only and LPF filters set to off.
KISS FC V2 connections diagram (from Flyduino)
The new flight controller comes with 8 LED's installed in pairs on each corner of the board.
KISS FC V2 Installation (with the Steele PDB)
I installed new flight controller as to replace the old KISS FC V1 in my ImpulseRC Alien 5″ with Steele PDB.
To install it I had to de-solder the current connection to the Crossfire Micro V2 RX and then removed the micro JST wires from the ports on V1.
Ports on the Steele PDB are named Port 1 and Port 2. Port 2 goes to the SERIAL 1 connector on KISS V2, and Port 1 goes to the PDB connector on FC. It is very important to connect them in the correct order or you could risk frying the flight controller.
Once connected and install on the vibration dampening bobbins, I soldered the Crossfire receiver to Serial 2, and Tramp VTX Telemetry to RX5.
KISS FC GUI
KISS FC V2 uses the new GUI version 2. It looks the same as the last version, but there are a few additions such as looptime setting.
The new KISS flight controller needs to be activated first when you first get it, you do by this connecting it to the GUI, make sure you have internet connection.
Flying experience
I have tried the new KISS combo with my Alien, I set my PID close to what I previously used with the V1.
The testing quad parts list:
My flight video:
The quad feels sharp and snappy on the sticks. It's hard to describe with words but it definitely feels different to Betaflight or RaceFlight.
The movement were very crispy and it was easy to stay in line when flying forward without a single trace of drift. I didn't even spent much time tuning the quad and it flew really well already. Flying experience was positive, it felt good on sticks and was fun to fly.
Conclusions
KISS FC V2
Pro's
Excellent flight performance
Easy configuration and firmware upgrade via GUI
Improved, much easier pin layout, now the motors outputs are in the corners
Extra LEDs on the board – looks really cool
More UART's (finally!)
Easy plug and play integration with certain PDB, such as the Steele PDB in the Alien frames
Con's
Price – about $78, probably one of the most expensive FC on the market
Lack of integrated OSD
It doesn't have integrated flash memory or SD card logger for Blackbox
Lack of support for GPS modules (for long range aircraft)
KISS 32A ESC
Pro's
Rock solid performance, smooth, efficient and reliable
6S support
Easy to solder
Easy firmware upgrade via GUI
ESC telemetry
They can "make motors talk"! :)
Con's
Price is more than double of a BLHeli_32 ESC
These ESC's are big! Especially for frames with skinny arms
The new KISS gears are a very solid combo, there are many improvements to the flight controller from the layout to voltage/current rating. A lot of these improvements had been long awaited upgrades, but still there are things that are missing such as built in OSD, Blackbox etc.
Is new gear worth the premium price? I can't decide for your money but what I can tell you is that it flies and feels exceptionally good in the air. Exactly what I would expect from KISS components.
For more discussion check out our thread on IntoFPV forum.
Guest Writer: Authur Banach