The Matek HV VTX has been out for months, I've always wanted to give it a try because of the tempting spec, features and price. Finally we got one in for a review!
Some of the links on this page are affiliate links. I receive a commission (at no extra cost to you) if you make a purchase after clicking on one of these affiliate links. This helps support the free content for the community on this website. Please read our Affiliate Link Policy for more information.
Purchase: http://bit.ly/2voTI5B
Unboxing
The Matek HV video transmitter comes with nothing but the VTX itself and a MMCX to SMA pigtail.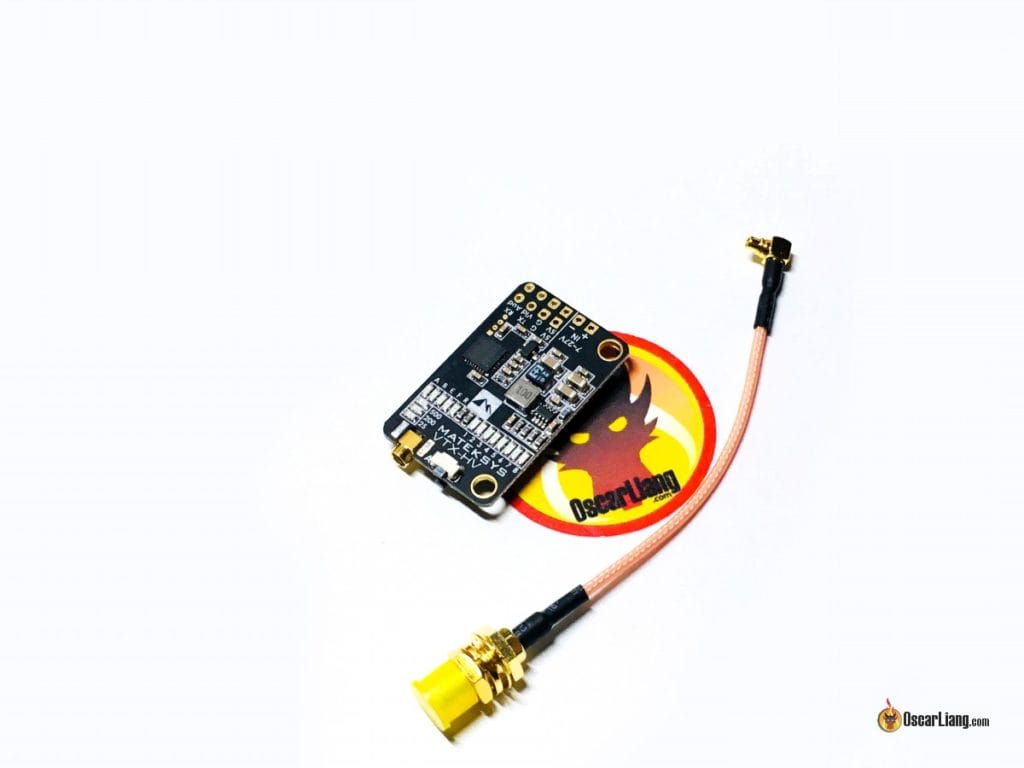 Further Reading: How to choose VTX for Racing Drone?
What's Special about the Matek HV Video Transmitter?
This is a very impressive VTX, it's got almost all the features I want on a VTX, and it's cheaper than the Tramp HV and the Unify Pro HV at only $30.
High voltage input up to 6S
Supports VTX Control
Using robust MMCX antenna connector
The Matek HV VTX has a rectangular shape and two M3 screws holes that are 30.5mm apart, this allows you to stack it on top of your flight controller.
However in terms of size it's not as compact as the Tramp or Unify Pro. Therefore if you have a tight build or low profile frame, you might not be able to take advantage of the "stackable" feature, even have trouble fitting the VTX in the quad.
Spec
Input Voltage: 7V – 27V (2S to 6S)
5 bands, 40 channels
Switchable Power: 25W, 200W, 500W
Supports VTX Control (Tramp Telemetry – BFCMS)
BEC: 5V, 1A
Dimension: 18mm x 36mm (half of an FC)
Weight: 10.5g (VTX + SMA extension wire)
Closer Look at the Matek HV VTX
To change settings, most people would use Betaflight OSD or Taranis LUA script via Tramp Telemetry. But I am glad to see there are two physical push buttons (A and B) for changing settings just as a back up method.
The excellent LED indicators for channel, band and power are another nice touch! Very easy to understand than single digit LED display.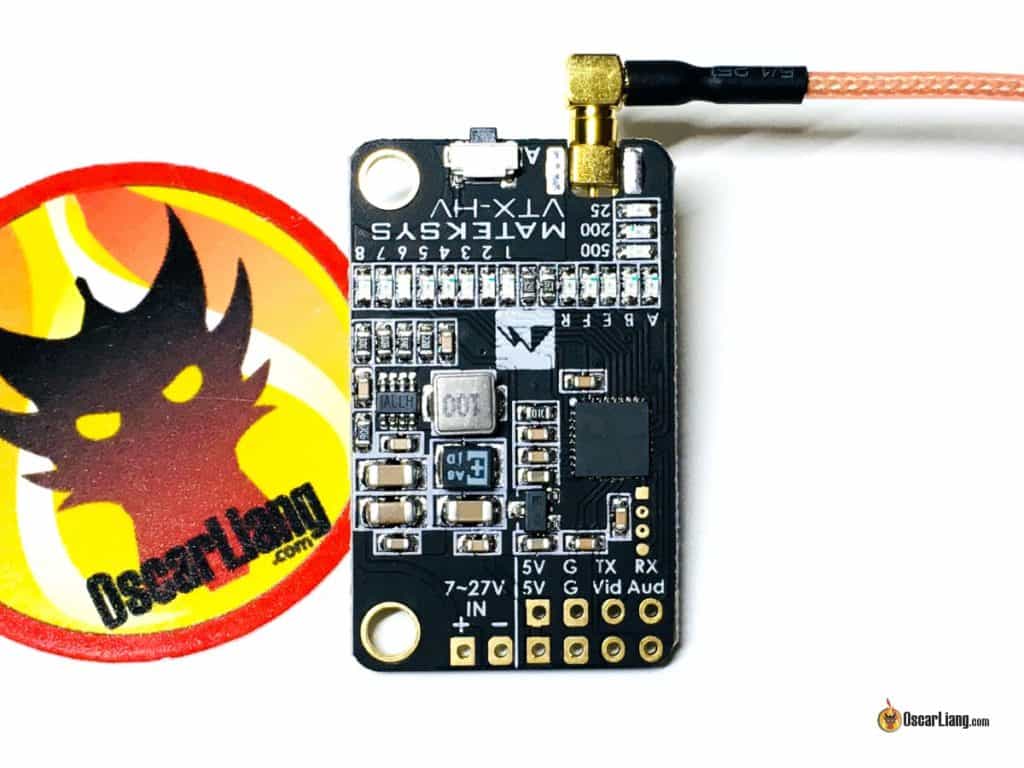 The Matek HV VTX uses solder pads rather than the common plastic JST connector, so you can directly solder wires on the VTX, but I wish they've included some silicone wires!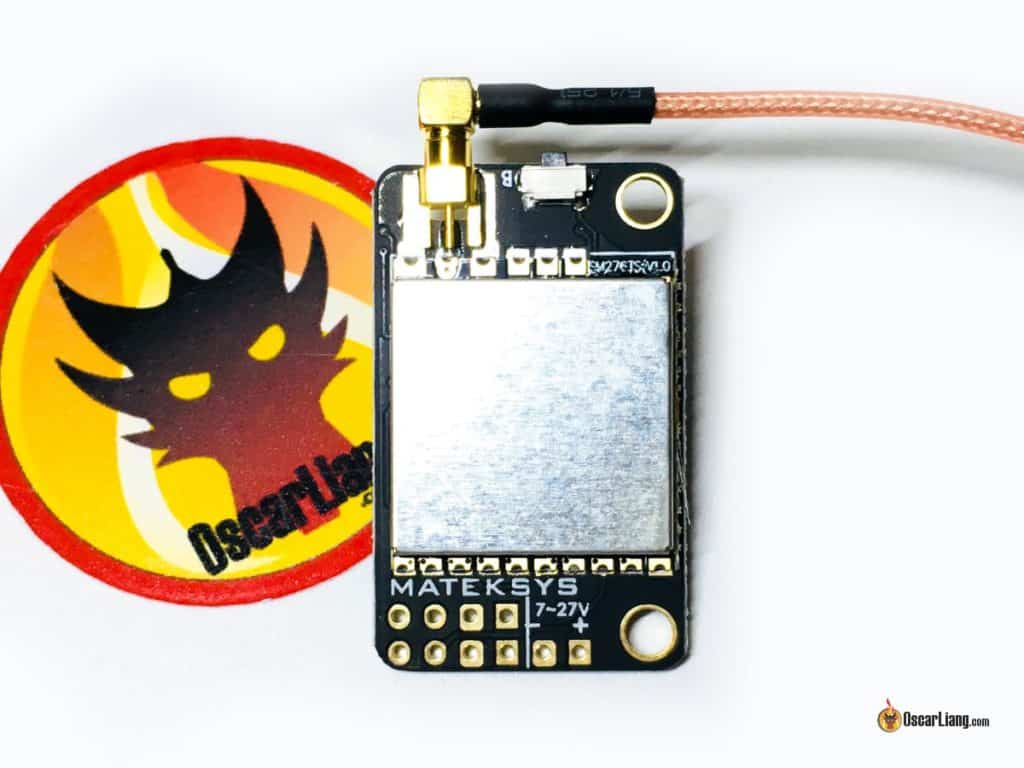 The MMCX to SMA connector pigtail is 70mm long, and it weighs 4.6g alone. The VTX alone weighs 5.9g.
The on-board BEC is a handy feature, the 500mA current rating is enough to power your FPV camera as well as your flight controller if required.
There is no built-in microphone, but if you want audio during FPV, you will have to get an external mic or use an FPV camera with built-in mic.
The Matek HV VTX can be mounted directly on top of the FC like so, and you can probably use shorter standoffs to achieve a lower stack than what I am showing you here.
Beware that not all frames are going to fit an extra board in the FC stack, especially if you are already planning to use a PDB or 4in1 ESC in the quadcopter.
I will be testing this VTX on a new build in the coming weeks, and I will update this post if I have any issues or findings in the future.