The AKK Nano2 VTX is a compact and low cost solution for micro quads and ultralight builds. Despite the small size it has all the desirable features and functionality in bigger VTX's. Let's take a closer look at the AKK Nano2!
Some of the links on this page are affiliate links. I receive a commission (at no extra cost to you) if you make a purchase after clicking on one of these affiliate links. This helps support the free content for the community on this website. Please read our Affiliate Link Policy for more information.
Buy the AKK Nano2 from AKKTEK | Amazon
Learn how to choose VTX in this tutorial.
Overview & Spec – AKK Nano2 VTX
Input voltage: 3.2V – 5.5V
Switchable Power Output and Current Consumption:

25mW (300mA)
50mW (450mA)
100mW (600mA)
200mW (650mA)

5V Output voltage to camera, maximum 300mA
IPEX Antenna connector (U.FL)
Weight: 2.4g excluding antenna, 3.1g including antenna
Supports Smart Audio (VTX Control)
Supports Pitmode (reduces power to 0.01mW for you to change settings without interfering others)
Push button and LED Panel for changing settings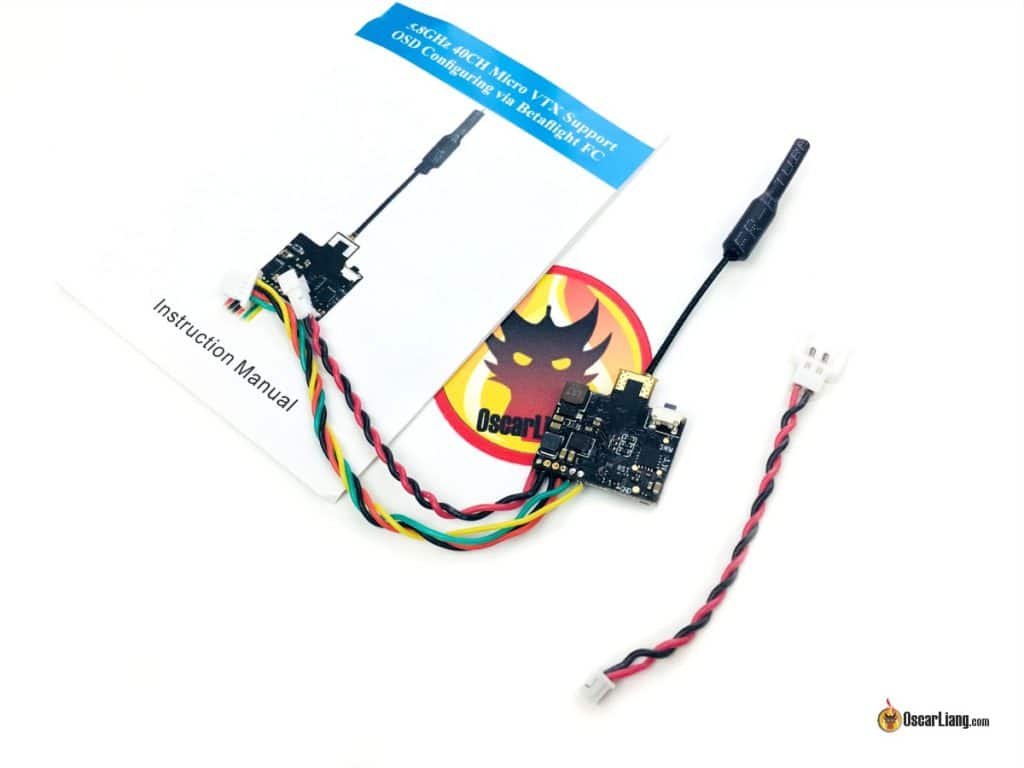 Other Nano VTX from AKK
There are 3 models in the AKK Nano VTX line of different spec and features. Here is a comparison chart to give you an overview. Anyway, I will only review the Nano 2 in this post.
| | | | |
| --- | --- | --- | --- |
| | Nano1 | Nano2 | Nano3 |
| Price | $13 | $15 | $15 |
| Dimension | 19x15mm | 19x15mm | 19x19mm |
| Weight | 2.2g | 2.4g | 2.3g |
| Cam Mounting Holes | No | No | Yes |
| Smart Audio | No | Yes | Yes |
| Output Power Option | 25/200 | 25/50/100/200 | 25/200 |
| Pitmode | Yes | Yes | Yes |
| Channels | 48 | 40 | 40 |
The Nano2 is basically the Nano1 with Smart Audio added, as well as additional power options to allow finer control. Eight VTX channels are removed because they weren't used a lot, and it helps simplify the menu and operation.
There are 2 holes in the Nano3 so you can mount it on the back of an FPV camera. That's really the main difference from the Nano2. And they decided to remove the 50mW and 100mW power options again in the Nano3.
Input and Output Voltage
You can power the Nano2 from 5V which is available on almost all flight controllers these days. It can run off as low as 3.2V, with the battery adapter you can power it with a wide range of 1S batteries if you want.
For clean videos we recommend powering your FPV camera from the VTX, and you can do so with the Nano2 thanks to the 5V/300mA BEC.
LED Indicator Not So User-Friendly
However the operation and menu isn't that easy to work with. It uses only 1 LED as indicator for the channel and power settings. So how does 1 single LED represent 8 channels, or 4 power options? It doesn't.
When the LED stays solid, it's on channel 1, or 25mW. When it's not, it can be on any channels between 2 to 8, or any power options between 50mW, 100mW and 200mW. Sounds inconvenient? It is!
You wouldn't know which channel or power option you are on, unless you cycle through back to channel 1, and start counting how many times you press the button.
It takes some practice and can be annoying at times, but not a deal breaker since you can use Smart Audio for changing settings. Most people would probably be using that most of the times anyway instead of pressing the button and guessing what power level they are on.
Another thing I noticed was how hot this little VTX gets when testing on the bench. I can't stress enough to make sure adequate air flow and cooling during flight, especially when you intend to use it for 200mW.
Actual Output Power Testing
I tested the AKK Nano2 VTX with my ImmersionRC power meter V2 for both 25mW and 200mW on Raceband.
| | | | | | | | | |
| --- | --- | --- | --- | --- | --- | --- | --- | --- |
| | R1 5658 | R2 5695 | R3 5732 | R4 5769 | R5 5806 | R6 5843 | R7 5880 | R8 5917 |
| 25mW | 28.5 | 29.7 | 30.3 | 28.6 | 30.2 | 31.5 | 29.6 | 25.2 |
| 200mW | 185 | 182 | 210 | 182 | 205 | 180 | 182 | 165 |
Manual
Conclusion
The Nano2 is lightweight and compact, it will probably fit into any mini quads or even micro quads without much problem. Perhaps not the easiest VTX to use because of the LED indicator design, but the SmartAudio feature can make up for it. And it's one of the cheapest option on the market for what it can do!