RunCam sent me their latest HD Camera, and I am fortunate to be one of the first users to review it. At the time it arrived, this action camera was still not released on the market, we don't even know what the price is yet. (update: camera has been released, priced at $49.99)
Some of the links on this page are affiliate links. I receive a commission (at no extra cost to you) if you make a purchase after clicking on one of these affiliate links. This helps support the free content for the community on this website. Please read our Affiliate Link Policy for more information.
However there are already quite a few technical reviews of the RunCam HD camera on Youtube, analysing the electronic and hardware aspects. I don't want to repeat the same stuff so I will just examine the quality of the camera, from a user point of view.
Have a look at our guide on how to choose a great HD action camera for quadcopters.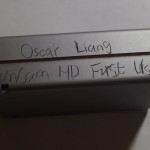 Love the beautiful engraving :)
In this review I will compare the footage of the RunCamHD with the Mobius. I won't compare it with the GoPro though, since they are not in the same class. These tests will be carried out:
All settings on Mobius are default. I have not change any settings on the RunCam either, it was straight out of the box. Both using Sandisk Ultra class 10 32GB SD Card.
Flight video:
The RunCam HD seems to be very similar to the Mobius in appearance, with a few alterations in the design. Someone on the forum asked RunCam why we would use this camera instead of the Mobius. RunCam replied, saying the main selling point of this camera is "Cost Effective", so I suppose they might sell this camera cheaper than the Mobius.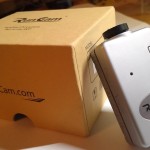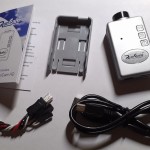 I also reviewed a FPV camera for RunCam before, check the RunCam SK2 800TVL Camera.
Appearance, Shape, Weight and Dimension
First impression of this Camera is, it looks similar to the Mobius: the buttons, Indicator LEDs, Heat sink, Microphone, Mini USB port and the SD card slot are all in the same places. The case is silver plastic that feels similar to the type of material used in Mobius.
The biggest difference is the camera lens. The whole camera is now symmetrical, as the camera lens is right in the middle (which I am really happy to see). Unlike the Mobius it's on the left.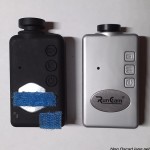 On the RunCam HD's product page, they described this camera as "designed for FPV". They are clearly targeting the RC hobbyists primarily, unlike the Mobius which is Marketed more for general purposes. Undeniably the form factor of the RunCam HD and Mobius is better for FPV, when mounted on a quadcopter or RC air plane, due to the better aerodynamic shape to the GoPro. Apart from that I failed to see how much more it's designed for FPV than the Mobius.
Weight and Dimension wise, they are almost the same.
60mm(Length) * 35mm(Width) * 18mm(Height)
41 grams
Colour, Image Sharpness, and FOV
I like the vivid colour offered by the RunCam HD, except the sky blue looks a bit unnatural. I would probably turn the colour a bit warmer as well in the software.
The Mobius has warmer, and slightly faded colours (like overcast in light haze). But the footage has more detail to it. The magnified Image (500%) appears sharper on the Mobius than the RunCam HD, on both image centre and edges.
The wide angle lens Mobius has 112 degree FOV, and the RunCam HD claims to have 120 degree FOV. But in the result the Mobius clearly has wider FOV than the RunCam HD.

To RunCam's defence, I received an email from them about two weeks ago, saying that there might be issue with the the type of glue they used to fix the camera lens. It would get unsticky with large temperature changes, and cause the camera to come loose and become out of focus. I am not sure if my camera is one of those affected, so there could be a quality difference between the camera I am reviewing, and the new cameras that they will be selling.
* Update (07 March 2015)
RunCam saw my test, and reckons there is a problem with the camera lens I have, which caused the degraded focus and sharpness. They have suggested to send me a replacement, and I might test it again if they do send it to me.
WDR Capability, and Dark / Dim Lighting Condition
WDR and expose level transition speed are similar on both cameras (e.g. pointing towards the sun and move to less bright view). However I think the RunCam works slightly better in dim/dark condition, objects have a bit more colour and appear to be clearer.
Video-out Delay Latency as FPV Camera
Video out delay (latency) are pretty similar on both cameras, whether when recording or not recording. Latency is pretty huge when it comes to flying acrobatics, proximity and racing in the wood, I probably would stay away from using these cameras for FPV video out. But for general flying they should be fine.

This FPV camera guide explains what makes a good FPV camera.
Other Aspects
UHF Noise
Cameras are well known to produce noise around 430MHz frequency band, and the noise around this frequency mainly affects UHF Radio gear. It could significantly reduces your range. In RCModelReview's video, he discover the RunCam HD has much lower noise level than the Mobius, by using a spectrum analyzer.
That's because the conductive shielding in the camera casing interior, that helps block/reduce some of the noise coming from the camera. I believe you can now also buy a Mobius with a shielded casing.
Audio Quality
I wanted to compare the audio quality as well, but when I came back and check, the audio from the Runcam HD was extremely quiet. Not sure if that's something I can change in the software, I will play around with this later and update this one. But it's odd that they would disable or lower recording audio volume by default.
File Format
Same as Mobius, in ".MOV" format.
Still Picture Test
I don't think many people would be concerned about still picture quality, as I am sure most would use it for videos recording only. But here are two pictures I took from RunCam HD and Mobius anyway. Compare away!
 RunCam HD Camera Picture
 Mobius Camera Picture
Software – RunCamTool GUI Configurator
There is a software to change camera settings just like the Mobius. Maybe because it's new, it's quite limited what settings you can change compared to the Mobius at the moment.
This is the Mobius Software.
This is the RunCam Tool software.
It runs perfectly on my Windows 7 machine.
Battery Life
In my battery life test, I have both camera recording at 1080p 30fps video, and see which one run of out battery first. The RunCam HD shut down at 77 minutes and the Mobius lasted almost 87 mins. As for as I know the Mobius has a 820mah built-in LiPo battery, and that's a 750mah in the RunCam HD, so that explains the difference in Battery life.
Conclusion and FPV Flight Video Example
Things I like about the RunCam HD Camera
I like richer colour (except the sky blue), just need to go a bit warmer, would be great.
Silver casing makes it easier to find when lost in the field
Option for live video out (PAL and NTSC), comes with cable too
Smaller lens, and it's in the middle, making the camera symmetrical
Great RF shielding, less noise for UHF radio gear
Low drag form factor like the Mobius, better aerodynamics
Thinks I don't like
Relatively smaller FOV
When recording reach a time limit, it will create a new video file, and the first second or so overlaps with end of last video, making it harder to edit footage.
Sharpness could be improved, though it's only noticeable when zoomed in. (Interesting that some people commented it's better than the Mobius, maybe to do with the colour)
Software lacking functionality
FPV flight Video Coming soon in a couple of days!

.
Possible Improvements
No doubt there will be criticism about how one product copies another. In my opinion, the RunCam HD is indeed very similar to the Mobius in terms of what it does and how it looks. For them to compete with Mobius, apart from prices, there are a lot of improvements they can do to make their product to stand out in the market.
Here are a list of ideas for RunCam to consider.
SD Card Slot Cover, so it doesn't pop out in quadcopter crashes (design for FPV?! Start with this one!) This issue bugged me for a long time with my Mobius.
1080p 60fps – a lot of people fly proximity or do aerial filming would love 60fps. Currently only the high end GoPro cameras are capable, if they can make a cost effective camera that does 1080p 60fps, they would take over the market from Mobius and SJ series :)
Built-in buzzer indicator – useful when you can't see the LEDs well under the Sun
Bigger LiPo battery for longer recording time
Improve image sharpness and larger FOV
Improve on configuration software
RunCam HD Camera Manual
For my own future reference.
Lens Replacement and re-test
Runcam reckoned there was something wrong with the lens module on the camera I received, so they kindly sent me a recplacement. Here is how I replaced the Lens module.
And right after that I tested the two cameras on my quad for FPV flight. And here is a quick zoom in test for sharpness comparison again. Left is the Mobius, right is the runcam HD. After replacement, the sharpness is now about the same.