This tutorial explains how to setup the R9M TX module and R9 Mini receiver in Betaflight. The R9M is a long range module that operates on 900MHz band. It's compatible with most Frsky's radios including the Taranis X9D-Plus, QX7 and Horus X10.
Some of the links on this page are affiliate links. I receive a commission (at no extra cost to you) if you make a purchase after clicking on one of these affiliate links. This helps support the free content for the community on this website. Please read our Affiliate Link Policy for more information.
Update (Jan 2020): I've sold all my R9M gear, and I am now using Crossfire only for long range, because it's just so much more reliable, and easier to use. I was hoping the R9M could be a good contender, but Frsky's recent development on the product, and lack of backward compatibility have been extremely disappointing. I don't plan to update this page, so use at your own risk.
Table of Content
What to Buy?
Setup R9M

Troubleshooting R9M Poor Performance
What to Buy?
R9M TX Modules
R9M Module
R9M-Lite Module
– Full Size JR Module
– Max Power up to 1W
– Designed Specifically for the X-Lite
– Max Power up to 100mW
– Lighter and smaller
Banggood | GetFPV | Amazon
HorusRC | Banggood | RDQ
TX Module Antennas
| | |
| --- | --- |
| 900MHz Duct Antenna | Super 8 Antenna |
| | |
| Cheap and robust | Slightly higher gain (3dB), lighter and smaller; Tuned at 900MHz and meant to be used for both 868MHz and 915MHz |
| HorusRC | Banggood | Banggood | HorusRC | Amazon |
TBS Diamond
Just a different option to the Frsky Super-8. But it's bigger and more expensive. Made to be used on both 868MHz and 915MHz.
GetFPV| Amazon
R9 Series Receivers
| | |
| --- | --- |
| R9 Receiver | R9MM / Mini |
| | |
| Robust, servo connectors, MMCX diversity antennas | The lightest and smallest R9 series receiver |
| Banggood | Amazon | Banggood | HorusRC |
| | |
| --- | --- |
| R9 Slim | R9 Slim+ |
| | |
| Just as good as the R9 but slimmer. | Basically R9 Slim with diversity antennas |
| Amazon | HorusRC | GetFPV |
R9MM Receiver Antennas
R9 Mini vs. R9MM
Frsky released a new receiver, R9MM. It's basically the R9 Mini, with the "SBUS_IN" pin replaced with the "Inverted S.Port" pin.
It's the go-to RX for F4 flight controller users, because you don't have to worry about signal inversion anymore. For F3 and F7 users it really doesn't make a difference.
Not sure what I am talking about here? See this post "inverted SBUS and SmartPort signals".
Which receiver do I have?
I have both R9MM and R9 Mini receivers in the same pile, and they look identical! Here is a little trick to tell them apart.
The only difference I can see from the outside, is the silkscreen. The R9MM has a recognizable letter "S" on the Inverted S.Port, while the R9 Mini doesn't.
Update OpenTX
It's best to update OpenTX on your Taranis before using the R9M module.
Especially if you want to use the "FLEX" firmware, you have to use OpenTX version 2.2.3 or newer. For instructions: Tutorial: Flash OpenTX (2.2) firmware to Taranis
If you do decide to flash the "FLEX" firmware, make sure to select build option "FLEXR9M" before downloading firmware.
Update R9M Module Firmware
Download the latest R9M Module firmware here: https://www.frsky-rc.com/r9m/
Which Firmware Should I Use?
There are the Normal firmware, and the new Flex firmware.
The Flex firmware offers the following benefits.
You can switch frequency in the radio setting between FCC (915MHz) and EU-LBT (868MHz). It can be a pain with the normal firmware as you are locked to a specific frequency, and it requires re-flashing if you want to change it. Not that you will need to do that normally, but it's just convenient, say if you travel to another country with your quad.
It also allows maximum power up to 1W, and now you get telemetry on all power levels, that's probably the best feature.
I can see Flex firmware taking over in the future, but it's still kind of experimental as far as I know. There were some complaints about failsafe in the past and Frsky has since released a number of updates to improve reliability. Anyway use it at your own risk.
Copy Firmware File to SD Card
Unzip the file you just downloaded, and the firmware file should have .frk file extension.
Put the firmware file on the SD inside the Taranis, inside the folder "Firmware". Create one if it's not there.
Firmware Flashing
In your Taranis, go to Radio Setup (long press the Menu button). Press Page button once to go to the SD Card page, and find the folder "Firmware".
You should see the firmware file you just copied here.
Hold down the Enter button, you should get a list of options, choose "Flash Ext. Module"
Pro Tip: DON'T select "Flash internal module", your 2.4GHz will stop working! If unfortunately you did this, you can fix this by "Flash internal" using firmware for XJT module.
The flashing will begin, and the screen should say "Writing…"… The R9M module LED will flash Green and Red rapidly during this. It will take a minute or two.
Update Receiver Firmware
Download the latest R9MM receiver firmware here: https://www.frsky-rc.com/r9-mm/
Follow this guide on how to flash Frsky Receiver Firmware.
Note: FPort firmware allows you to use FPort, instead of SBUS and SmartPort. Don't flash the FPort firmware if you want to use SBUS!
Taranis Setup
On your Taranis, go to Model Setup page
Turn OFF "Internal RF Mode"
Under External RF, Mode, Choose R9M
According to your region, select FCC / 915MHz or EU-BLT / 868MHz.
You can also change the power level here: 10mW, 100mW, 500mW and 1W (Auto). The high the power, the less battery life you will get. Remember, the range is only double as power is increased 4 times in theory. And when using 1W power you should plug in an external 2S LiPo at the back of the module.
For the R9M Lite module, you might see higher power options in the menu, but this module is only rated for maximum 100mW. Setting it to higher power won't do anything. So don't get too excited.
Finally, set Failsafe to your desired option, I prefer "No Pulse" as explained in this post
Current draws vs. output power:
Taranis internal module 120mA
R9M 10mW 170mA
R9M 100mW 210mA
R9M 500mW 320mA
R9M 1W 370mA (without external battery)
Receiver and FC Connection
The wiring depends on whether you want to use SBUS or FPort protocols. I personally prefer FPort because it's simpler to setup.
For FPort connection, there are only 3 wires:
5V to 5V
GND to GND
TX pin of a spare UART on the FC to the S.Port pin on the Receiver
Please see my tutorial how to setup FPort for more detail.
For SBUS and SmartPort, here is the connection. If you don't know how to setup SBUS and SmartPort, please follow this tutorial.
Mounting RX Antenna
For the stock loose antenna on the R9MM, I just use two pieces of zip tie wrapped around the arm, and secured by heatshrink tubes.
For the Dipole T antenna, here is how I do it with two zip ties.
Check this more detailed guide to learn the different ways of mounting your 900MHz antenna.
Display RSSI in OSD
One cool thing about FPort is that RSSI works automatically! But make sure you first check RSSI in the OSD. Enable RSSI value element in the OSD tab.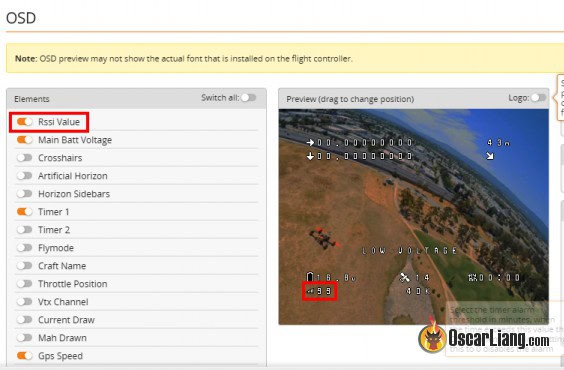 On the bench it should read around 90 to 100. If it shows below 50, then you need to change the scale to 200%. As far as I know, this bug only affects R9MM using FPort, but check first anyway.
set rssi_scale = 200
save
If you are running SBUS, follow this tutorial to setup RSSI and display it in Betaflight OSD.
Edit History
Oct 2018 – Article created
Feb 2019 – Updated product, instructions and info about Flex firmware