Walksnail just released two new Avatar VTX and Camera Combos boast a comprehensive upgrade, with a host of user-friendly new improvements, including two new 4:3 cameras with an option to support Gyroflow, as well as an increased 32GB storage capacity for capturing more breathtaking footage than ever before. In this review, we'll take a closer look at all the exciting new features that the Walksnail Avatar HD Pro/V2 Kit has to offer.
Some of the links on this page are affiliate links. I receive a commission (at no extra cost to you) if you make a purchase after clicking on one of these affiliate links. This helps support the free content for the community on this website. Please read our Affiliate Link Policy for more information.
If you're still on the hunt for the perfect FPV system for 2023, be sure to check out my FPV system buyer's guide at: https://oscarliang.com/fpv-system/
Where To Buy?
Walksnail Avatar V2 Kit (120fps ultralow latency, offers 8GB and 32GB options)
Walksnail Avatar Pro Kit (Great for lowlight as well as day time flying)
In the box it comes with the following accessories:
USB transfer extension cable X1
4 Pin silicone cable X1
M2*4mm screws X8
M2*5mm screws X4
M2*6mm screws X4
M2*14mm screws X4
M2*5*0.5mm gasket X4
Upgraded VTX Module Features
Larger Internal Storage
The latest Avatar HD Pro and V2 Kit feature a refurbished VTX module that comes packed with several new and improved features. The previous version of the Avatar HD VTX had a limited 8GB storage, which could only store about 20 minutes of 1080p footage. However, the upgraded version now offers a massive 32GB option, allowing you to capture and store four times more footage.
If you're unfamiliar with the original Avatar HD VTX and Camera, be sure to check out my review of it at https://oscarliang.com/walksnail-avatar-digital-fpv-system/.
Gyroflow Support
The new Avatar HD Pro and V2 Kit's VTX module now supports Gyroflow, which provides image stabilization to the recorded video. It's important to note that only the 32GB version of the VTX module has a built-in Gyro sensor, while the 8GB version does not.
If you're not familiar with Gyroflow, be sure to check out my post on the topic at: https://oscarliang.com/how-to-use-gyroflow-video-stabilization-tool-for-fpv/.
The Gyro data is recorded along with the video and saved in a .gcsv file. To use Gyroflow, you'll need to load both the gyro data and video file into the software.
Currently, there are no lens profile presets for the new Avatar cameras, so you may need to create your own.
Grounded Heatsink Less Interference to GPS
Another significant improvement in the Avatar HD Pro and V2 Kit's VTX module is the updated heatsink design. The new heatsink is now properly grounded, reducing interference and improving GPS lock times. The redesigned PCB and improved heatsink also make the VTX module more robust and durable than the previous model.
In terms of size, the V2 VTX is about the same thickness as the V1, but pay attention to the 20x20mm threaded mounting holes that protrude out of the heatsink for added thickness.
Solder Pads
In addition to the JST connector, the Avatar HD Pro and V2 Kit's VTX module now includes solder pads, allowing you to direct solder the VTX to your flight controller.
20x20mm Mounting
The Avatar HD Pro and V2 Kit's VTX module offers greater convenience and compatibility with a wider range of FPV drone frames. In addition to the original 25mm x 25mm mounting holes, the VTX module now includes 20mm x 20mm holes, making it easier to install and providing more mounting options.
User-friendly Improvements
The new design of the Avatar HD Pro and V2 Kit's VTX module has made several user-friendly improvements. The bind button has been relocated to a more accessible location (right next to the LED), making it easier to find and use. Additionally, the tiny screws that were used to hold the camera ribbon cable and antenna connector in place have been replaced with proper M2 screws and nuts, making it easier to maintain and repair the VTX module.
Two New Cameras
Both new cameras have a 4:3 image sensor instead of 16:9 as in the previous version. If you use 16:9 in the goggles (currently the default settings), you will get less field of view, so make sure to set it to 4:3. This is also a good improvement for the newly added Gyroflow support, as it will crop less of the image when it's being stabilized.
Smaller Connector for USB Cable
The Avatar V2 VTX now features a smaller connector for the USB cable, which is not compatible with the cable from the previous version. To access the internal storage, you still need to plug in a LiPo battery.
It's important to note that every VTX from Walksnail, including the V1, V2, 1S Mini, and 1S Mini Lite, now use a different USB adapter cable. To avoid any issues with downloading footage or updating firmware in the future, it's recommended to keep all of these cables.
Specifications
Walksnail Avatar HD kit V2
Camera: Avatar V2 Camera
Image Sensor 1/3.2-Inch 4Mp 4:3 native sensor
Resolution 1080P/120fps support,1080P/100fpssupport,1080P/60fps,720P/120fps,720P/60fpsRatio 4:3 native/16:9
Lens 2.1mm
FOV 160°
Aperture F2.0
Rolling shutter
Camera cable 140mm
Option for Gyroflow Support
4KM range
Option for 8G or 32G internal storage
Connectors: JST1.0 4-pin (Power in), JST0.8 6-pin (USB)
Mounting holes: 25.5*25.5mm; 20*20mm
Input Voltage: 6V-25.2V
Supported FC System: Betaflight, Inav, KISS, Fettec, ArduPilot
OSD: Canvas mode
Camera Dimensions 19*19*22mm
VTX Dimension: 33*33*10.5mm
Weight: 29.5g (camera 7.5g, VTX 19g, antenna 3g)
Walksnail Avatar HD Pro kit
Camera: Avatar Polar Pro Camera
1/1.8 inch Sony Starvis Ⅱ sensor
Resolution 1080P/60fps,720P/120fps,720P/60fps
Ratio 16:9 / 4:3
Lens 8MP
Rolling shutter
FOV 160°
Aperture F1.6
Min. Illumination 0.0001Lux
Camera cable 140m
4km Range
Gyroflow Support
Built-in 32G storage
Connectors: JST1.0 4-pin (Power in), JST0.8 6-pin (USB)
Mounting holes: 25.5*25.5mm; 20*20mm
Input Voltage: 6V-25.2V
Supported FC System: Betaflight, Inav, KISS, Fettec, ArduPilot
OSD: Canvas mode
Camera Dimensions 19*19*24mm
VTX Dimension: 33*33*10.5mm
Weight: 32g (Camera 10g, VTX 19g, antenna 3g)
The Avatar HD Pro camera is great for daytime flying as well as low light thanks to the Sony night vision camera. It's called the Avatar Polar Pro Camera, so I guess it's for similar role as the Caddx Polar camera they previously released for the DJI system.
Avatar V2 antenna
Polarization LHCP
Frequency range 5600MHz-6000MHz
Gain 1.9dBi
VSWR <1.5
Input Impedance 50Ω
Connector: IPEX-1
Size 15x45mm (without cable)
Weight 2g
Dimensions of the Pro camera and Avatar V2 VTX: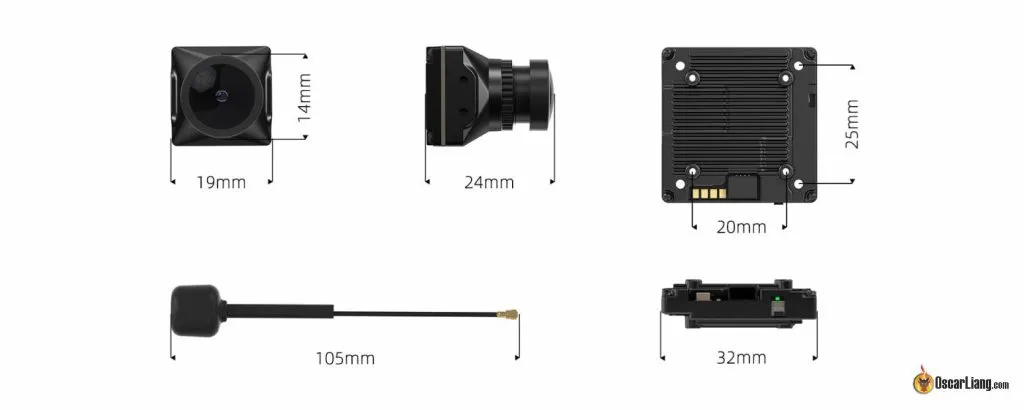 Wiring/Pinout diagram of the Avatar V2 VTX, connectors are JST1.0 4-pin (Power in), JST0.8 6-pin (USB).
Range and Penetration
The V2 VTX features only a single U.FL antenna connector, while the V1 VTX had the advantage of diversity antennas (two antennas). When it comes to flying within close proximity (up to 1 km), there doesn't appear to be a significant difference between the two versions. Long range needs to be tested in the future. Additionally, when comparing the 700mW and 1200mW power output options in the V2 VTX, there isn't a noticeable difference in terms of range and signal stability.
Image Quality
The standard version of the Avatar v2 VTX camera is very similar to the original v1 camera, while the pro version comes equipped with a 1/1.8-inch Sony Starvis sensor. The Pro version excels in low light conditions, but the standard camera delivers a slightly better image in daylight.
When comparing the Avatar v2 cameras to the DJI OG camera and DJI O3, it's clear that the new Avatar v2 cameras offers better image quality than the DJI OG camera, though they don't quite match the DJI O3. The Avatar v2 Pro camera truly stands out in low light situations, outperforming all these cameras.
The new cameras have native 4:3 image sensors. Unfortunately I was only given the specs of the cameras 2 hours prior to the product release, that's why I was initially testing them in 16:9 assuming they were 16:9 cams like the V1. That's why the new cameras have smaller FOV in the test. I will retest it in 4:3 mode when it stops raining here.
While the high bitrate mode did show some improvement in image quality under ideal conditions (e.g., line of sight), it seemed to have a trade-off in terms of stability and usable range. Ultimately, the choice between the 25Mbps and 50Mbps modes boils down to individual preferences and needs. The 25Mbps mode might be more versatile if you don't mind the very minor reduction in image clarity (which is only noticeable when zoomed in).
During my test of the 1080p high bitrate performance, I found that the Walksnail V2 struggled to maintain the necessary bitrate for a clear image when flying behind trees. Although 1080p offers more image detail, the moving FPV footage suffered from insufficient bitrate, resulting in a smeared, blurry image. Once again, this is a matter of personal preference. In my opinion, 720p is a more versatile option, especially for those who frequently fly behind obstacles.
Latency
The Walksnail Avatar V2 camera has the same latency as the Avatar v1, while the Pro camera exhibits a marginally higher latency (less than 5ms). In comparison to DJI systems, the Avatar V2 is faster than the DJI O3 in most modes.
Compatibility
The Avatar V2 system is fully backwards compatible with the v1 system, which means you can use both the V2 and Pro cameras with the V1 VTX, and the V1 camera with the V2 VTX. You can even combine the V2 hardware with the 1S Lite components for a lighter setup, making the Avatar v2 system even more appealing to pilots seeking lightweight builds.
Conclusion
If you're interested in setting up the Avatar HD Pro and V2 Kit, be sure to check out my comprehensive guide at: https://oscarliang.com/setup-avatar-fpv-system/
Walksnail is making strides to compete with DJI O3 by introducing several exciting new features with the Avatar VTX and Camera combo, such as Gyroflow support, 20x20mm mounting, 4:3 image sensor, and a single antenna. In some ways, the Avatar HD Pro and V2 Kit even surpasses DJI, such as with its smaller form factor and budget-friendly price. However, it's still lacking in certain areas, such as an SD card slot for storage expansion and 4K recording. Despite this, it's great to see Walksnail offering a competitive and attractive alternative to DJI.
n conclusion, the Walksnail V2 video transmitter showed some potential for improvement in certain situations, but it didn't seem to offer significant enhancements across the board. However, it's worth noting that the V2 low light camera is amazing, and the regular V2 camera has a proper 4:3 mode, which is a welcome addition for those who want to use Gyroflow to stabilize footage.
Update (Oct 2023): Avatar HD VTX V2 SE
Shortly after Caddx released the Walksnail Avatar HD VTX V2, they introduced an updated version — the SE (Special Edition) — featuring several tweaks from the original V2.
While the new version retains most of the specs and features of the original V2 VTX, it introduces the following changes and key features:
Increased internal memory of 32 GB (no 8GB version).
Dual Antenna design: It features 2 antennas to enhance video reception, rather than just 1.
4K compatibility: Although not a confirmed feature and possibly intended for future systems or cameras, it's not currently relevant to existing systems or hardware.
Dual mounting pattern: The video transmitter now includes 20mm x 20mm and 25mm x 25mm mounting holes, offering greater compatibility with a wider range of FPV drone models.
Improved PCB design: The PCB board and housing have been updated, enhancing the quality and durability of the VTX. Additionally, the VTX includes a spare power pad, providing an extra option for soldering.
More accessible link button: The binding button has been repositioned for added convenience.
Support for up to 6S power input: The new VTX offers enhanced TVS protection and supports power inputs up to 6S (25.2V).
Avatar HD VTX V2 SE Specifications:
Dimensions: 33*33*10.5mm
Mounting Holes: 25.5*25.5mm & 20*20mm
Weight: 15.4 grams
Storage: 32GB
Antenna ports: Two IPEX
Wide Power Input: 6V-25.2V (2-6S)
Communication Frequency: 5.725-5.850GHz
Transmitter Power (EIRP): FCC:<30dBm; CE:<14dBm; SRRC:<20dBm; MIC:<25dBm
Channel numbers: 8
Supported FC OS: Betaflight, Inav, Fettec, ArduPilot, and Kiss
OSD Canvas mode: Yes
Latency: Average delay 22ms