The Aomway Commander FPV goggles have been be out of stock since their initial release, and Aomway has been struggling to meet the high demand. We are lucky enough to get a pair to try out, and we cannot wait to find out if they are really that good.
Some of the links on this page are affiliate links. I receive a commission (at no extra cost to you) if you make a purchase after clicking on one of these affiliate links. This helps support the free content for the community on this website. Please read our Affiliate Link Policy for more information.
We're going to take a close look at these goggles and also compare them to the FatShark Dominator HD2 that we have on hand. This review is written by Andrey Mironov.
Get the Commander Goggles from Banggood: http://bit.ly/2fQMSw4
Update (April 2018): The Aomway Commander V2 FPV Goggles are out!
To learn more about the technical aspects and other options, make sure to check out our guide on FPV Goggles.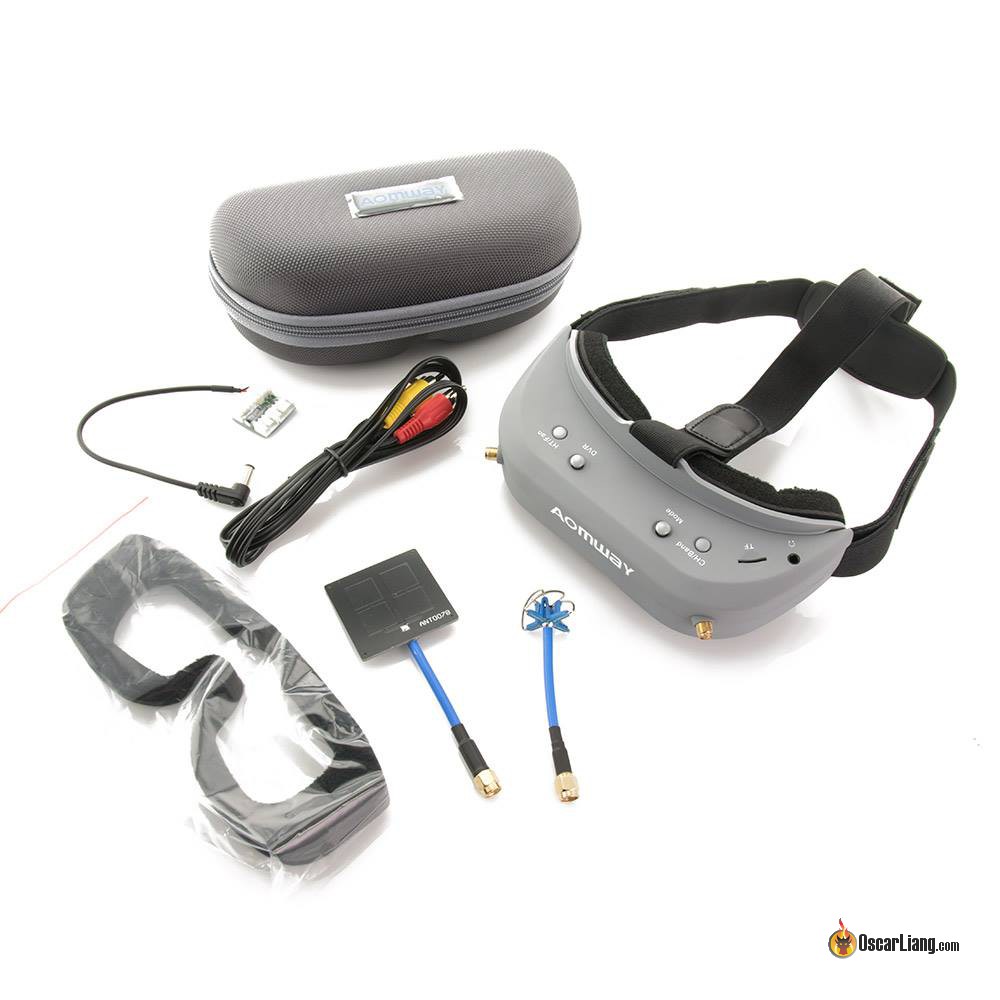 Specs
Diagonal FOV of 32º
59-69 mm interpupillary distance adjustment
854×480 LCD displays
Built-in 40CH 5G8 diversity receiver with OSD and auto-search function
Built-in DVR powered by an HMDVR module typical for other goggles
Diopter lens slots
Wide powering options: 6-17V
Side-by-side 3D support
HDMI 720p input
AV input/output
Unboxing
The goggles came in a cardboard box with foam padding inside ensuring safe transportation. For some reasons, Aomway calls these goggles "modular FPV headset", which we kind of disagree with, more on that topics later.
Inside the box, we can find a manual in English and Chinese, a carrying case with the goggles inside, an AV cable, a power cable, two antennas and a replacement foam face-plate.
The carrying case is really well made and feels to have a higher quality than the one that comes with the FatShark's. However it's not big enough to store all the necessities like the antennas and battery, so you may want to find another case for those. Some of us don't like taking the antennas off either, as the SMA connectors have a limited mating cycle. I wish they could have made this case bigger.
The goggles' surface is made out of matte rubberized plastic which is really comfortable to touch. I like it much more than the glossy plastic used in the Dominator line from FatShark.
I also like the grey color! Now let's have a close look at the buttons and connectors.
Closer Look
Let's go through the buttons, from left to right.
CH (Channel) & Band button – Short press to cycle through channels of the same band. Long press to cycle through different bands, and a 5-second press to perform auto scan.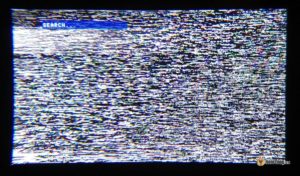 Mode button – This one is actually a 5-position joystick. Short press to change modes between 16:9, 4:3, 3D, HDMI etc. Long press to switch built-in VRX on and off, which is necessary when using DVR playback. I've noticed that cycling through modes also switches the receiver back on.
Moving the Mode button joystick left/right, you can control brightness, and the current numerical value is displayed on the screen which is really handy.
Moving Mode button joystick forward/backward controls the contrast.
DVR joystick – You can set DVR to auto-start at power on, and it's disabled by default. To turn it on, long press the DVR button until the "REC" label appears in the upper-right corner of the screen. Short press starts/stops recording with a beep, REC label also starts blinking when recording.
A 5-second press enters the HMDVR settings & playback menu, and don't forget to disable your receiver first. From there you can format your SD-card, enable DVR auto-start, or play a recording to locate your aircraft after a nasty crash in bushes :-)
If you've ever used DVR on FatShark goggles, the operation and menu are nearly identical.
HT (head-tracker)/Fan button – short press starts the built-in fan, which runs for 10 minutes or until you power-off your goggles.
However, I couldn't figure out how the HT(Head-Tracker) button work. According to manual it powers on the head-tracker module when pressed, but I couldn't find any info about it online. I didn't take the goggles apart to find out where the module should be installed. This module is probably the reason why Aomway calls these goggles "Modular".
Headphones slot – for those of you who fly with audio, you can plug your mono headphone here.
SD-card slot – finally there's a vendor who put some thoughts into SD card slot location and even added a small dimple to make it easily accessible. Well done, Aomway! Maximum card capacity supported is 32GB, anything higher is not guaranteed to work, keep this in mind while shopping for a new micro SD card.
On the bottom of the goggles, there are:
PS/2 head tracker output
IPD adjustment sliders
AV input/output port
Mini HDMI input
There is also the anti-fog fan located in the middle.
I've heard stories about the IPD sliders having insufficient tension and doesn't stay in position during usage. But the goggles I have don't seem to have this problem. To get a clear picture I had to move both sliders all the way inward, while on my Dominator HD2 I'm somewhere in the middle which leaves me some room for further adjustment.
The Aomway Commander FPV goggles use a special 2-band head-strap, with one band going around of your head horizontally, while the other goes over the top of your head. Initially I thought I'd look funny with these on, but I actually prefer this design over the typical head-strap found on other goggles, it's more stable and secure.
The Goggles come with a power adapter with built-in filter. It might look a bit bulky, but it allows more battery options for the goggles: 2S, 3S and 4S. Nearly all LiPo batteries out there have a balance lead nowadays, and you can plug them straight in regardless of the type of main discharge lead.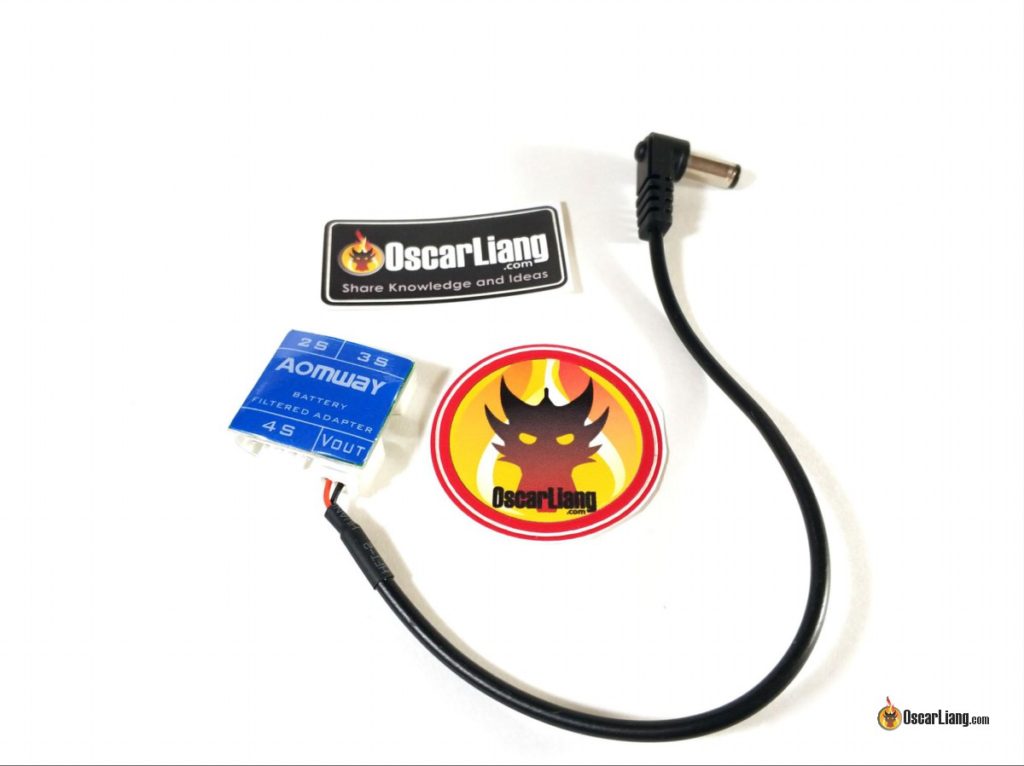 Also it includes a typical AV in/out connector to 3.5mm jack cable. It will come in handy when connecting an external receiver, a display, or directly connecting a camera for adjusting lens or settings.
One of the two antennas included is this directional patch antenna. I have to be honest, it performed terribly in my testing. When I first went out with these goggles I noticed lots of multi-path interference, the reception was much worse than I expected. Later I found the issue was caused by this patch antenna.
Upon closer inspection, it turned out to be a linearly polarized 4-element antenna, and it's definitely not circularly polarized. Aomway has conflicting info about it on their site, one line says RHCP, another say Vertical Polarization.
Anyway, this antenna doesn't seem to be tuned properly, and with the fact that being linearly-polarized, it doesn't reject multipath interference as well as CP antennas.
Another funny thing about this antenna is that it's mounted the wrong way in many photos of the Commander on the internet. The antenna should be pointing forward, but backwards in those photos (including the ones on Banggood's website). This is quite a big mistake as this is a directional antenna.
The cloverleaf antenna on the other hand is a solid performer, it's perfectly tuned for the 5.8Ghz band. As mentioned in our "Best FPV antenna" article, it's one of the most recommended and cheapest antennas on the market.
Goggles with antennas installed. Pay attention to the orientation of patch antenna, active elements should be pointing towards your quad at all times to get the best reception.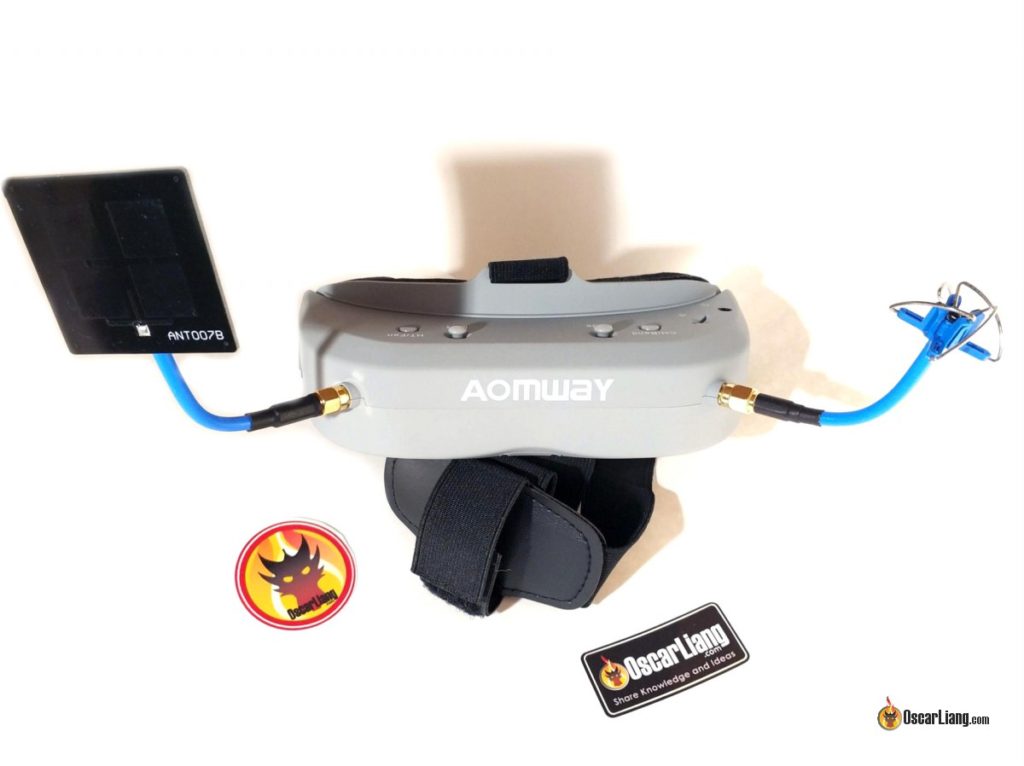 Performance Testing
I tested the goggles side by side with the FatShark Dominator HD2, this would give you an idea how the Commander would perform against another goggles of different price range.
In the first test, I used stock antennas on the Aomway Commander, and a SpiroNet + 3.5 turn helical antenna on the Dominator HD2 (with a True-D module).
Aomway Commander footage on the left, FatShark on the right.
Aomway Commander footage
FatShark footage
For the second test, I swapped the directional antennas between the goggles to see if that makes a difference (and it did!).
Helical on Aomway, Patch on FatShark
Aomway Commander footage
FatShark Footage
Aomway's DVR quality is on par with the Fatshark (both bit-rate and image quality) and that's no surprise given the same underlying technology.
The Aomway Commander provides DVR footage resolution of 720×480 while Dominator HD2 gives 640×480.
If you are getting the Commander, make sure to get a good directional antenna to replace the stock patch antenna for the best possible performance.
Final thoughts
The Aomway Commander is good value for the money, providing many features that are normally available only on some high end goggles: diversity receiver, OSD menu, DVR, and power adapter.
The video receiver is hard-wired inside the goggles. It also uses a 8-pin connection so you could probably modify it to work with other Fatshark VRX modules. But I wish they could have provided an 8-pin connector to make it compatible with all the existing Fatshark modules on the market.
The OSD is an excellent addition, but without some sort of menu it still feels a bit incomplete. Not being able to select channel by frequency doesn't help either. I really hope that further software revisions will do something about it and support higher level user interaction through the OSD menu.
The 32º diagonal FOV is a bit narrow for me personally, and I occasionally find myself having issues flying through trees and tiny gaps that I'm used to. But on the other hand the analog video quality looks better and less stretched than the Fatshark I have. The difference in FOV is mainly noticeable when flying them back to back, and I got used to it very quickly. I can't say the narrow FOV would affect flying, but the wider FOV definitely helps to see things more clearly.
To give you an idea, here's an image for comparison between Aomway Commander in 16:9 and 4:3 modes with Dominator HD2. This is rendered using trigonometry based on the FOV degree we get from the specs.
The image appears to be considerably smaller than the Dominator HD2, especially when it's in 4:3 mode. Therefore I don't recommend using these goggles in 4:3 mode unless you have to, as you would lose the precious field of view. That means you should be using 16:9 FPV cameras with this goggles, as any 4:3 image would look stretched and cause image distortions.
To sum up:
Pros
Built-in diversity
Supports 2S, 3S and 4S battery
OSD
Antennas on both sides for better weight balance
Price is lower than Fatsharks of similar spec
Easily-accessible SD card slot
HDMI input supports DJI/Connex HD FPV systems, and PC simulator software
Cons
Not really modular as advertised, I wish we could at least swap the receiver module
bad patch antenna
FOV is a bit narrow