There are two main ways to change motor spin direction in an FPV drone. You can either swap the motor wires, or simply change a setting in the ESC configurator without soldering. In this tutorial I will show you how to change motor rotation.
Some of the links on this page are affiliate links. I receive a commission (at no extra cost to you) if you make a purchase after clicking on one of these affiliate links. This helps support the free content for the community on this website. Please read our Affiliate Link Policy for more information.
Further Reading:
Check If Motors Are Spinning The Correct Direction
If you are building a new quadcopter, you have to make sure the motors are spinning the correct direction before putting propellers on for the first flight. If one or multiple motors are spinning the wrong direction, the quad will probably flip over at take off.
This is the default motor spin directions in Betaflight:
If the motor spin direction is wrong, you can easily change it by using one of the following methods.
Betaflight 4.3: You can Do It in the Configurator!
Since Betaflight 4.3, you can now reverse the rotation of a motor inside Betaflight Configurator (on the motors tab), no need to use BLHeliSuite for that anymore!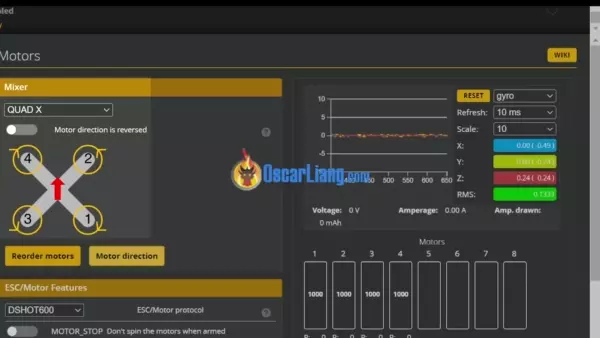 Swap Motor Wires
By simply swapping ANY 2 of the 3 wires between the motor and ESC, you can reverse the rotation of the motor. It doesn't matter which two wires, the result would be the same.
Reverse motor direction in BLHeliSuite software
If you don't like soldering, you can also easily change motor direction in BLHeliSuite – a software program for configuring BLHeli_S ESC. If you are using BLHeli_32 ESC's, the program is called BLHeliSuite_32.
Download the latest BLHeliSuite from here
Open BLHeliSuite and connect to your quadcopter to computer via a USB cable
Plug in a battery to power your quad, then click the "Connect" button in the configurator
Click "Read Setup" – if you are getting error – this could mean your ESC is either not a BLHeli_32 or BLHeli_S ESC, try the other configurator
If everything is ok, you will get a summary of the discovered ESC
In the bottom right corner – select an ESC you want to alter
If Motor Direction was set to "Normal", you can reverse motor direction by changing it to "Reverse". And if it was already set to "Reverse", you just need to change it back to "Normal". You also have the option to set it to "3D", which will allow your motor to spin both directions for 3D acro flying. Don't set it to "3D" unless you know what you are doing.
Further Reading: How to configure your BLHeli_32 ESC using FC pass-through?
Edit History
Jan 2018 – tutorial created
Feb 2022 – updated for Betaflight 4.3 new feature