Flying FPV with the awesome HD video feed from your DJI Digital FPV System is great, but you will get even better experience with some of these accessories and upgrades for your DJI FPV Goggles and Air Units.
---
Replacement DJI FPV Camera and Lens
The lens is the most vulnerable part of the whole DJI FPV system. The good news is you can replace the lens or the camera module without buying a whole new Air Unit.
The DJI Air Unit and Caddx Vista use the same camera module, so these are compatible with both VTX:
Camera Module Replacement:
Lens Replacement (specs seems to be like the original):
Runcam RG18 (apparently this one works too but I haven't tested it):
---
Nebula – A Lighter Camera Module
If the DJI camera is too heavy, you might find the Nebula camera interesting. It's smaller and lighter than the stock DJI camera, which is great for micro quads. However, some people might consider the loss of image quality too much for merely 4g of weight saving.
See my review of the Caddx Nebula here.
Improved Faceplate Foam Padding for Goggles
Many users have issue with light leakage around the nose and at both sides of the goggles. DJI listened and quickly released this new foam that addresses the problem.
The foam is much thicker and it wraps around the face more effectively to reduce light leakage. Some people cut the nose part out of the stock foam and use that together with the new foam.
However with the stock foam, you can put the goggles on while wearing your glasses, you can't do this with the new foam as the fit is much tighter.
This is now available from:
There is also an aftermarket foam padding made by WLYL, which offers different colors as well:
---
DJI FPV Goggle Shims
Apart from thicker foam padding, you can also try these shims that you can insert between the foam and the goggles to increase thickness on both sides. This will help if you have light leakage from the sides.
You can also make this yourself if you have a 3D printer:
---
Analogue Receiver for DJI FPV Goggles
The DJI FPV Goggles supports analogue FPV system – it has an AV input you can plug your video receiver into
BDI Digidapter
The digidapter is my favourite analogue solution for the DJI FPV goggles, check out my review the Digidapter! It's very easy to install, looks awesome and just works!
URUAV Analogue Adapter
If the Digidapter is beyond your budget, you might want to check out this cheaper alternative from URUAV. It's also very easy to install there is no soldering or tear-down required. Simply screw in the board to the goggle strap holes, connect the cables and you are good to go!
However I find it hard to use because the receiver module tends to come loose easily. You might have to get a 3D printed housing for this.
iFlight Conversion Kit
iFlight makes an analogue conversion kit for the DJI Goggles. It does look cool (the canopy is made of 3D printed TPU), the whole module bay almost feels like "integrated" in the goggles. However, there is a lot of DIY work involved, you have to up the goggles and do quite a bit of soldering, which also voids the warranty. Note that there are different versions for the ImmersionRC Rapidfire and TBS Fusion modules.
---
Corrective Lens for Goggles (Diopters)
You can actually wear your glasses while using the DJI FPV goggles, and I find no discomfort in doing so. But if you must, you can get these corrective lenses for your DJI Goggles according to your eyesight. These are also known as "lens diopters" in Fatshark Goggles.
For those with vision issues outside the range of the DJI corrective lenses, here is a company that makes custom direct fit diopters for practically any prescription / astigmatism etc. It's not going to be cheap, but if the DJI corrective lenses don't work for you, this may be your only option currently: http://rho-lens.com/tador/
---
Simple Single Head Strap for Goggles
With a single elastic strap around your head, it doesn't mess up my beautiful hair :D And honestly it's easier to put on than the original headband.
Here is the aftermarket option you can purchase off the shelf:
Or you can 3D print the strap holders to replace the originals, and use a strap from any Fatshark or Skyzone goggles like I did in the above image.
---
SD Cards for DJI FPV System
Here are some cost effective micro SD card options for your DJI FPV goggles and Air Unit:
I have a tutorial explaining what SD card you need for your FPV equipment.
---
FPV Goggles Antenna Upgrades
Omni-directional Antennas
The stock antennas are omni-directional, meaning they provide reliable signal coverage all around you, although they aren't the best when it comes to range. The stock antennas are not bad at all, I don't think you have to upgrade unless you are running out of range. Many pilots have reported better results with the aftermarket omni-directional antennas listed below.
When selecting antennas, make sure you choose LHCP (antenna polarization) because the Air Unit comes with LHCP antenna. If you are getting RHCP you will also have to replace the Air Unit antenna to RHCP.
TRUERC Singularity Stubby (Omni-directional, 1.9dBi)
Lumenier AXII (Omni-directional, 2.2dBi)
Directional Antennas
To get better range, you might want to consider directional antennas with higher gains. The downside however, is the narrower coverage. You have to point the antennas directly at your aircraft at all time during flight in order to get the best possible signal.
Higher gain = longer range but narrower coverage
I have an article explaining how antenna dB affects your maximum range.
ORT Shield Pro (Directional, 6.5dBi)
TRUERC X-Air (Directional, 10dBi)
VAS Cyclops V2 Array (Directional, 10.25dBi)
Banggood Maple Antenna (Directional, 8.5dBi)
URUAV Pogoda Triple Feed Patch (Directional, 9.8dBi)
Menace DigiPack Patch Antenna
---
Goggles and Transmitter Case
Cases For both Goggles and Remote Controller:
Case for just the FPV Goggles:
---
Goggles Power Cable Holder
The power cable sometimes comes loose easily. If you have a 3D printer, you can make one of these holders to secure the power cable in place.
---
Shorter Battery Cable for Goggles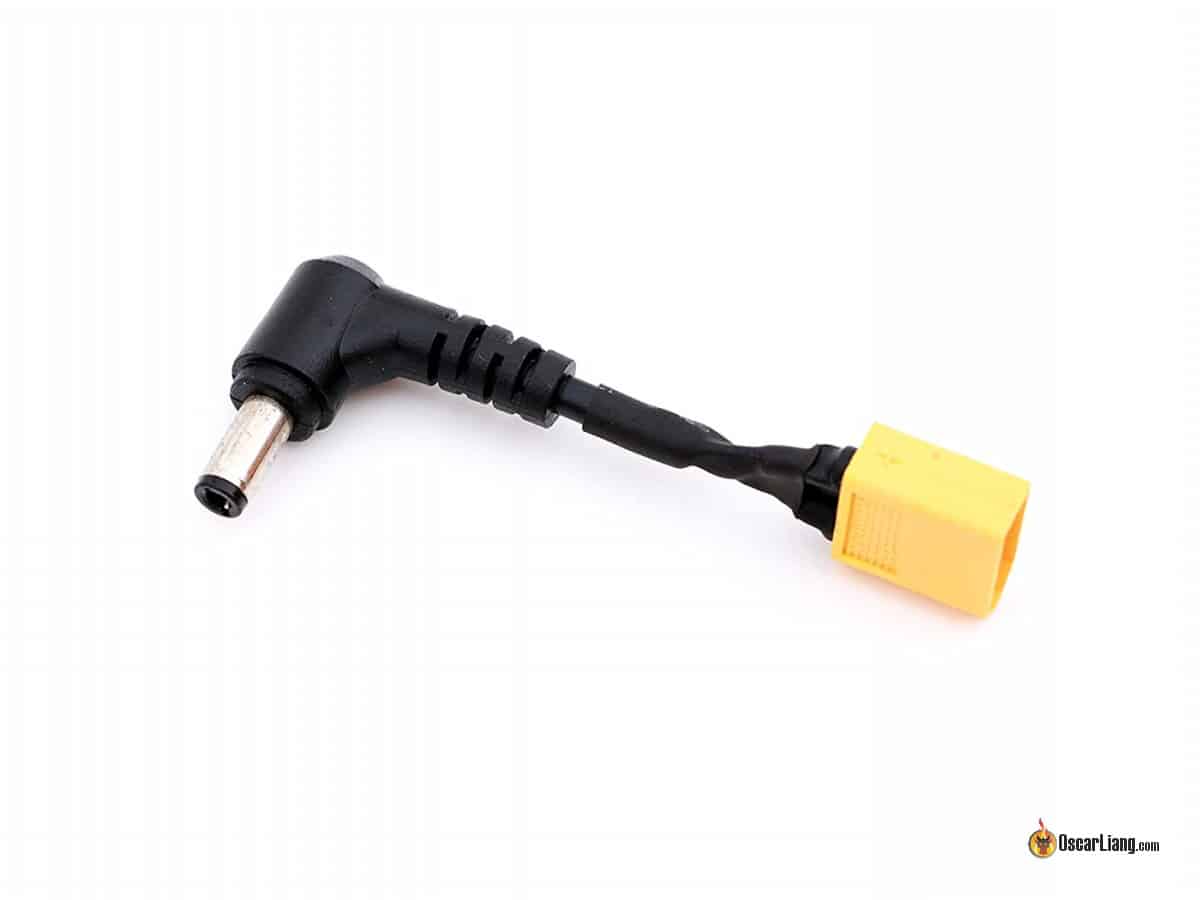 Prefer to hang the battery on the strap next to your ear? You might find one of these shorter power cables useful.
---
DJI FPV Goggles Screen Protector
3D-print this in TPU, it keeps the dusts away and protects the display/optics during transportation.
---
Air Unit Antenna Upgrade
The AXII antennas claim to have over 50% increase in performance. If you are already using AXII antennas on the DJI FPV goggles, you might want to get these for your Air Unit as well because they are likely to be best matched in terms of frequency turning.
Also these antennas are lighter than the stock antennas on the Air Unit so it's a bonus to smaller drone builds.
---
Lens Protection
If the frame doesn't provide enough protection to the camera lens, it could be a good idea to use a lens cap to protect it from crashes.
You can buy or 3D print it yourself:
There is also an official version, but it's slightly more complicated when it comes to installation. To install it, you first have to remove the four screws on the front of the camera, then push the protector on to the lens. It's not easy putting the screws back on as the lens protector gets in the way of the screws. The trick is to use the short side of an "L shape" Allen key to fasten the screws.
Installing Extra Low ESR Capacitor
Solder a big low ESR capacitor to your ESC/LiPo power pads as per normal builds, or even better, also add a 330uF capacitor to the Vista power and ground pads. The capacitors will prevent freeze frames issues related to noisy power supply, especially on powerful setups.
Edit History
Mar 2020 – post created
Jul 2020 – added a few products and tips