You can configure Betaflight settings on your quad by installing a Betaflight mobile app on your iPhone, iPad, Android Phone or tablets. This is handy when you are out in the field and don't have access to a computer. There are a few different options which we will introduce in this post.
Some of the links on this page are affiliate links. I receive a commission (at no extra cost to you) if you make a purchase after clicking on one of these affiliate links. This helps support the free content for the community on this website. Please read our Affiliate Link Policy for more information.
New to Betaflight? Here's a list of Betaflight tutorials to get you started.
Why Mobile APP?
Why would you want to use a clunky mobile app while we can already change a lot of the settings in Betaflight OSD or using LUA script in our radio?
Well, APP's like Speedybee gives you access to all the Betaflight settings (just like on the computer client), and many of these settings aren't in Betaflight OSD or LUA script yet. Another advantage is that it doesn't require OSD or specific radio receiver or transmitter for LUA script to work.
There are also some other apps like BLHeli32 which you can use to configure your ESC, and it isn't available anywhere else apart from using a computer.
SpeedyBee APP for Betaflight
Developed by the same company, SpeedyBee, the app is available on both Google Play and iTunes. I like this app because it's FREE and it gives you access to all the settings on Betaflight configurator, even including the CLI. It's really a convenient APP especially when you want to change settings in the field.
Here are a few screenshots of the app, the layout is nearly identical to the configurator on a computer, and so it's easy to navigate.
When changing numeric settings it can take a bit of patience as you can only tap on the up/down arrow. Say if you want to change current sensor scale from 600 to 200, it can take a while. I wish they allow number typing in the future.
You can use this app via a few different methods: OTG cable between your phone and the FC, Bluetooth, and WiFi. Android supports all 3 methods, while iOS only support Bluetooth and WiFi.
OTG Cable
If you use Android, OTG is probably the cheapest and easiest way to use the Speedybee App. It also supports firmware flashing!
WiFi Adapter
Speedybee released an adapter that plugs into your FC and connects to your phone over WiFi. It's more responsive than bluetooth connection, and it also supports firmware flashing, and it can do a lot more than OTG cable. This is a great option for iPhones (iOS) as OTG isn't an option at all.
Bluetooth Module
You can use a generic BT module with the app (with serial connection), like this one: https://oscarliang.com/product-6b0v
The setup is relatively simple, enable MSP in one of the spare UART and connect TX and RX to the BT module.
When using bluetooth connection, beware that the refresh rate is a bit slow compared to the PC configurator. Especially with the 3D model and the receiver tab when you move the TX sticks. Not really a big issue though, it still works well for the most part.
Apart from these, the APP loads pretty fast, opening the tabs and changing options are decently responsive.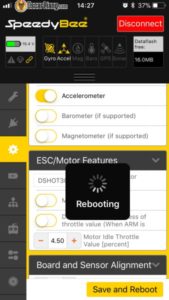 BLHeli32
It allows you to configure your BLHeli_32 ESC, similar to the BLHeliSuite_32 configurator on PC. Very useful when you want to reverse motor direction, or optimize ESC settings like PWM frequency in the field. The BLHeli32 app requires OTG cable connection between your flight controller and phone.
It supports the following USB connections to ESC(s):
USB connected flight controller (FC) that supports BLHeli_32 passthrough
USB adapter with CP210x, FT232 or CH34x USB to UART device
USB connected Arduino programmed for BLHeli bootloader
The app also supports connection to FC via a bluetooth module, like this one: https://oscarliang.com/product-6b0v
Beware that it's only available on Android, NOT Available on iOS.
UAV Forecast
Another app I use quite often is the UAV Forecast. You can check the weather of your location before deciding whether it's good for flying or not.
Betaflight CM
Betaflight CM (configuration manager) is similar to Speedybee, but a paid software. They also offer a free version with limited access to settings.
It's designed to be used only with OTG cables, NOT Bluetooth module. Therefore it only support Android devices, no iOS.
The Betaflight CM looks to have a really well designed user interface, however I haven't actually tested it myself. For more information about its capability and where to get it, please visit their thread on IntoFPV forum. Here's the differences between Speedybee and Betaflight CM according to the developer.
Other FPV APP
There are some other FPV related APPs. The two we've mentioned above have been tested and reported working well at IntoFPV, that's why I have to recommend those two first.
Am I missing any Betaflight apps? Let me know in the comment. Featured Image is from Lê Thanh Tùng on Youtube.
Edit History
May 2018 – post created
Mar 2021 – updated, added UAV Forecast and BLHeli32