The Speedybee Flex25 has a unique frame design that makes it possibly the smallest 2.5″ whoop ever existed. It's also action-camera-friendly for having an easy-to-access power plug on the top plate.
Some of the links on this page are affiliate links. I receive a commission (at no extra cost to you) if you make a purchase after clicking on one of these affiliate links. This helps support the free content for the community on this website. Please read our Affiliate Link Policy for more information.
Where to Buy?
Batteries are not included, grab some here:
Get Spare Props here:
In the box comes with the following accessories:
1x SpeedyBee Flex25 HD FPV Drone
1x Extra Gemfan D63-3 Propeller Set ( 2L+2R)
1x set of connection cables
1x set of Screws and Nuts
Features and Specs
Wheelbase (motor to motor distance): 78mm
Dimension: 136x136x35mm (LxWxH)
Weight:
169g (without LiPo)
226g (with 4S 450mAh)
246g (with 4S 450mAh and Runcam Thumb Pro)
FC / ESC:
SpeedyBee F745 35A AIO FC
Gyro: MPU6000
OSD: AT7456E (Betaflight OSD Supported in Analog and DJI)
4 UARTS + Barometer + I2C pads + 8MB Blackbox flash memory
Support 3-6S Lipo
Mounting Hole: 25.5×25.5mm
ESC Con. Current: 35A
ESC Firmware: BLHeli_S (J-H-40)
Motors and Props:
SpeedyBee 1404 4500KV Motors
Gemfan D63-3 2.5-inch Propellers
FPV Seutp:
RUNCAM LINK VTX (same as Caddx Vista, DJI Compatible)
RunCam Falcon Nano FPV camera
Recommend 4S 450-850mAh LiPo
Flight Time: around 5mins with 4S 850mAh Lipo
Closer Look at the Speedybee Flex25 Whoop
It uses the same size props and motors as a typical 2.5″ cinewhoop however it looks more like a 2″ drone. This is achieved by overlapping the propellers by mounting the motors on different height.
The frame is really rigid, hardly any movement when I try to bend it with my hands. The top plate (3mm thick) that the motors are mounted on has no flex at all, the plastic prop guard on the outside can flex a tiny bit but it shouldn't affect flight performance at all and feels very crash resistant.
The FC is protected by a carbon fibre plate from physical damage.
The overlapping props result in a much smaller form factor but it will lose some efficiency and stability. You can see how much smaller it is compared to the Pavo25 which basically has the same motor and prop size. Although the Flex25 is smaller, it's actually about 10g heavier than the Pavo25, which is on the very heavy side for a 2.5″ whoop IMO.
The F7 FC and 35A ESC are integrated into one single board and that saves a lot of space inside the frame. ESC's are flashed with BLHeli_S 16.7 firmware. I wish they came flashed with Bluejay firmware so it could support 48KHz PWM frequency, Dshot bi-directional and RPM filter out of the box, but it's not hard to do yourself. The FC also has built-in bluetooth and WiFi so you can configure Betaflight wirelessly on the SpeedyBee app your phone.
On the top plate, there's a plug for powering your HD camera (for example the naked GoPro, Insta360 and Runcam Thumb), which makes it super easy to use your camera, probably the first solderless solution on a whoop.
Not only it provides 5V and VBat voltage, it also connects to a UART on the FC, so you can control your camera if it allows.
The FC USB port is also located on the top plate for easy access. However the USB port doesn't not power the FC, so you have to plug in the LiPo battery in order to connect to Betaflight. Seems like a strange bug.
The Runcam Falcon Nano camera is amazing. It's tiny but still has almost the same performance as the stock DJI camera: natural colour, great sharpness and ultra low latency 120FPS mode.
The FPV camera lens is well protected by the TPU camera mount from crashes. Camera angle is easy to change, overall a very good design.
The Runcam Link (same as Caddx Vista) is mounted vertically at the back, it saves a lot of space and makes it easy to access the USB port and bind button. The TPU antenna mount design is also very practical. I was sent the Crossfire version, and there will be ELRS version too when it comes out to the market.
Motors are 1404 4500KV and props are Gemfan D63 triblade which is a popular combo in 2.5″ whoops like the 95X V3, Pavo25 etc.
It comes with an optional LED strip around the prop guard, and it's super bright. You can choose different colour when you buy the drone.
The LED is powered by a dedicated voltage regulator at the back, it doesn't use the BEC on the FC.  There is a slider switch on top of the BEC to turn off the LED.
It doesn't have a physical buzzer, but it has DShot Beacon setup out of the box, the motor makes noise when beeper is activated to help you find the drone when it's crashed.
How to Setup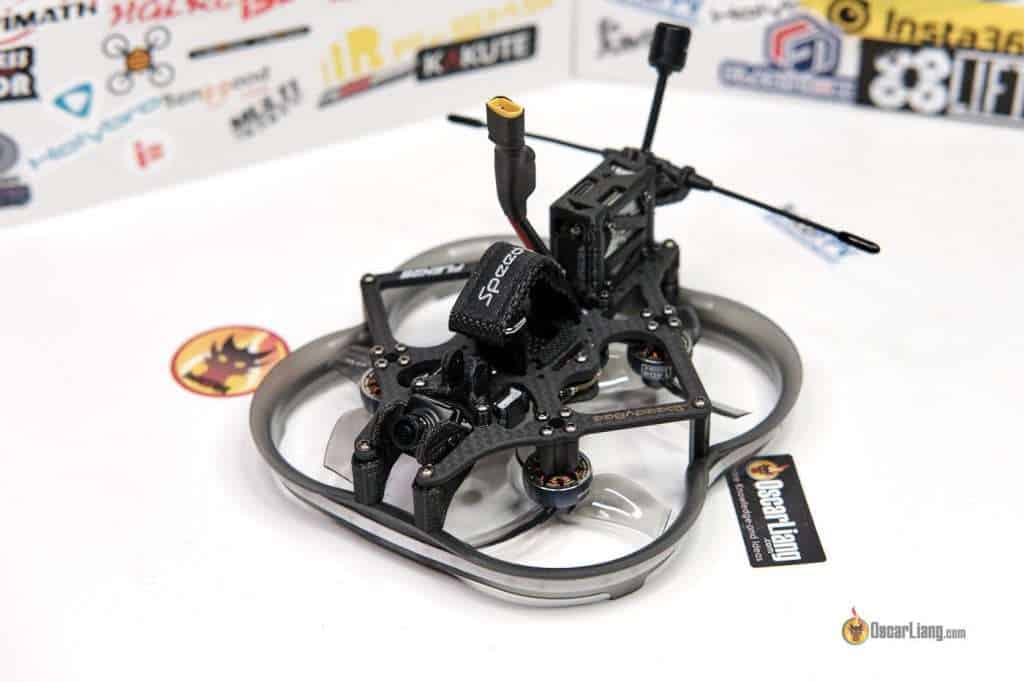 Setting up the Speedybee Flex25 whoop for the first flight was very straight forward.
It came with Betaflight 4.2.11 firmware. You can find the original CLI dump here. FC board target is SPEEDYBEE_F745_AIO.
DJI FPV System:
RX:
Betaflight Configurations:
Setup switches for arming, beeper, angle mode and flip over after crash
Setup OSD
Change rates
My rates:
set rates_type = BETAFLIGHT set quickrates_rc_expo = OFF set roll_rc_rate = 80 set pitch_rc_rate = 80 set yaw_rc_rate = 120 set roll_expo = 8 set pitch_expo = 10 set yaw_expo = 20 set roll_srate = 65 set pitch_srate = 65 set yaw_srate = 50
Here's the manual:
Flight Performance
First impression, it's really loud! Almost lounder than the BetaFPV Pavo25 which I thought was probably as loud as a 5″ quad :) Perhaps it has something to do with the overlapping props, but the heavy weight doesn't help either.
The good news is that it flies really smooth and has almost no jello and very locked in when carrying an HD camera. It does have a bit of vibration at 85-90% upward throttle, but I rarely go that fast when shooting cinematic videos. Almost no prop wash when performing acro moves. I am pretty impressed by the flight performance. However you can tell it carries a bit of momentum when doing sharp turns and it's not the most nimble 2.5″ whoop I ever flown due to its heavy weight.
Here is some acro flying footage:
I had a couple of free fall drops from 20 meters down to the ground (grass) and a few collision into trees, it held up well so far.
If you are looking for a small whoop that's capable of carrying an HD camera and can go through tight gaps, the Flex25 is a serious contender if you don't mind the noise. It's well tuned out of the box, and is well designed and pretty strong against crashes.
Flight time is not its strength though. When carrying the Runcam Thumb Pro camera and a 4S 450mAh the whole setup weighs just under 250g at 246g. But that only gave me about 2 to 2:30 mins of flight time. If you want to get longer flight time you will have to use a bigger battery and it will bring the weight way above 250g.
Some footage from the Thumb Pro Here:
Image quality from the Falcon Nano is stunning , almost as good as the original DJI cam. Most of other 2.5″ whoop use the Nebula Nano and it's hard to look at.
I really love the idea of having those really bright LED stripes, imagine racing a few of these at night it would look really fun.