I will show you how to setup and use DJI FPV system with Betaflight. This tutorial will cover activation, wiring and installation in an FPV drone, pairing between FPV goggles, Air Unit and Remote controller, finally the basic operations.
Some of the links on this page are affiliate links. I receive a commission (at no extra cost to you) if you make a purchase after clicking on one of these affiliate links. This helps support the free content for the community on this website. Please read our Affiliate Link Policy for more information.
Still wondering if you should get the DJI FPV system? Check out my review. You can get the DJI FPV system from these vendors:
Turning on FPV Goggles
Install the four stub antennas, make sure they are well tightened
Power on the goggles with a 3S or 4S LiPo battery using the provided cable (I am using a 4S 1500mAh LiPo for my drone)
Put on the goggles, and adjust IPD sliders at the bottom to ensure clear view
If you want to record video in goggles, you need to insert a Micro SD card (what SD card do I need?)
Activation
Visit https://www.dji.com/uk/fpv, click Downloads, Under Software, download the latest version of DJI Assistant 2. Install the program on your computer.
Make sure you download the FPV version of DJI Assistant! The wrong version will not detect your FPV goggles and Air Unit.
Power on the DJI FPV Goggles first before connecting it to your computer via the provided USB-C cable.
Launch DJI Assistant 2 and login with your DJI account (Sign up if you haven't already).
You should see the "DJI FPV goggles" icon. If you don't see it, reconnect the USB cable. Note that it could take a minute or two for the computer to install the driver when you connect it for the first time.
Click the icon, and you will be prompted to activate your device. Make sure you have internet connection!
You will have to activate each component separately, but the steps are the same. Repeat these steps for the Air Unit (and remote controller).
Installing Air Unit In the Drone
If you are building a drone from scratch with the DJI FPV system, it's best to get a frame that is designed for the DJI Air Unit. Usually it comes with 3D printed parts to fit the Air Unit and Antenna.
Here is a list of frames made for the DJI Air Unit.
If you are upgrading your existing FPV drone, and don't want to invest in a new frame, check on "thingiverse.com" and see if there are custom designs for your frame that you can 3D print. I am still using the Martian II frame from 2015, and there are already some really nice designs available.
Connecting Air Unit to FC
Full Size Air Unit
If you get a flight controller designed for the DJI Air Unit, you can simply connect them with a ribbon cable, and forget about all the confusing wiring diagrams :) But if you don't want to spend extra on a new flight controller, I will show you how to connect the Air Unit to your FC.
The DJI Air Unit takes 7.4V to 17.6V voltage, you can power it directly from a 3S or 4S LiPo battery.
However, I'd recommend powering it from an external voltage regulator, or a BEC on the FC. That's because voltage spikes from motors and ESC could damage the Air Unit (same way it could damage your analogue VTX). Installing extra capacitor might mitigate this problem.
Caddx Vista
The Caddx Vista Air Unit even supports higher voltage up to 6S, and therefore you might get away with powering the Air Unit directly from 4S LiPo Battery. But if you want to play safe, use a voltage regulator or BEC on the FC.
With the Vista however, there is no JST connector, you have to solder your own wires to the pads.
* SBUS connection to the flight controller is optional
BEC Requirement
If you are using a BEC / voltage regulator to power the Air Unit, make sure it can supply enough current. Max power consumption is 8W for the Air Unit, the current requirement changes under different input voltage:
9V => 0.9A
12V => 0.7A
16V=> 0.5A
If the BEC on your FC doesn't meet the voltage or current requirement, you could use an external voltage regulator. I used this little voltage-adjustable regulator with good result.
Before Powering Up
Before powering on Air Unit, make sure the antennas are attached and the wiring to FC is correct, otherwise it could cause irreversible damage.
With the Caddx Vista, don't forget to install the antenna connector holder properly!
Pairing FPV Goggles and Air Unit
In order to get image on your goggles from the camera, you have to first pair/link your DJI FPV goggles with the Air Unit.
Power on both FPV Goggles and Air Unit.
Use a small pin or needle to press the link button on the goggles that is located next to the power connector. After that you should hear a continuous beeping, which indicates the goggles are ready to be linked.
Wait until the LED on the Air Unit becomes solid green, then press the link button on the Air Unit which is located under the SD card slot.
The link button on the Caddx Vista is located near the USB port (it's a push button).
Pairing should complete within a few seconds. Once they are paired, the beeping should stop and you should see an image in the goggles from the camera.
Using DJI Remote Controller
It's NOT compulsory to use DJI's remote to control your drone, you can use whatever RC link you prefer, such as Frsky and Crossfire. But there is already receiver capability built into the DJI Air Unit, so you could save an additional receiver :) Totally up to you!
Here is my review of the DJI Remote.
To turn the radio on or off, simply press the power button once, then hold it for 2 seconds.
Pairing Remote to Air Unit
If you are using the remote, then you need to pair it with the Air Unit.
Note: you should bind the FPV goggles to the Air Unit first before binding the remote.  otherwise you could lose the bind to the goggles and you have to do it again. It's a weird bug.
First, pair the Air Unit to the FPV Goggles first before the radio, otherwise you'd have to repeat this process.
Power on the Air Unit and Remote Controller, but turn off the FPV goggles.
Wait until the LED on the Air Unit becomes solid green, then press the Link Button on the Air Unit.
Press the record button, C button and the right dial at the same time. The Radio should now beep continuously.
The linking will take a few seconds, once paired, the beeping should stop and the status LED on both devices should turn solid green.
Note to Japanese users: If you bind your goggles to the air unit, then bind the controller, your goggles might stop working and shows a message on the screen "Image transmission stopped". This could be due to the Japan firmware restriction. To work around this, I've been told you could try performing FCC hack on the Air Unit, after you bind it to the goggles, then unplug everything and bind the radio.
Radio Settings
You can configure radio settings through the OSD menu in the Goggles, "Settings" => "Remote Controller".
Here you have Servo Setup, Function Mode, Stick Mode (mode 1 and mode 2) and Calibration.
The First thing you should do is to calibrate your sticks in the "Calibration" menu.
Then go to "Servo Setup" to make sure all your channels are sending out 1000 – 2000 when you move your sticks to its maximum position. These are called "End Points". It's okay to have your end points slightly beyond the 1000-2000 range. For example, your lowest end point can be around 995 to 1000, and your highest end point can be around 2000 to 2005.
The switches on the radio are pre-configured and take up channel 5 to channel 8:
CH5 = SA
CH6 = SB
CH7 = SC
CH8 = SD
Now go to Betaflight's Ports tab, enable "Serial RX" for the UART which you've connected the SBUS wire to on your FC.
Under Receiver in Configuration tab, select SBUS in "Serial Receiver Provider".
Go to the Receiver's tab and check if the "bars" are responding to your stick movement. If channel outputs are responding to the wrong stick, here is how to fix channel map.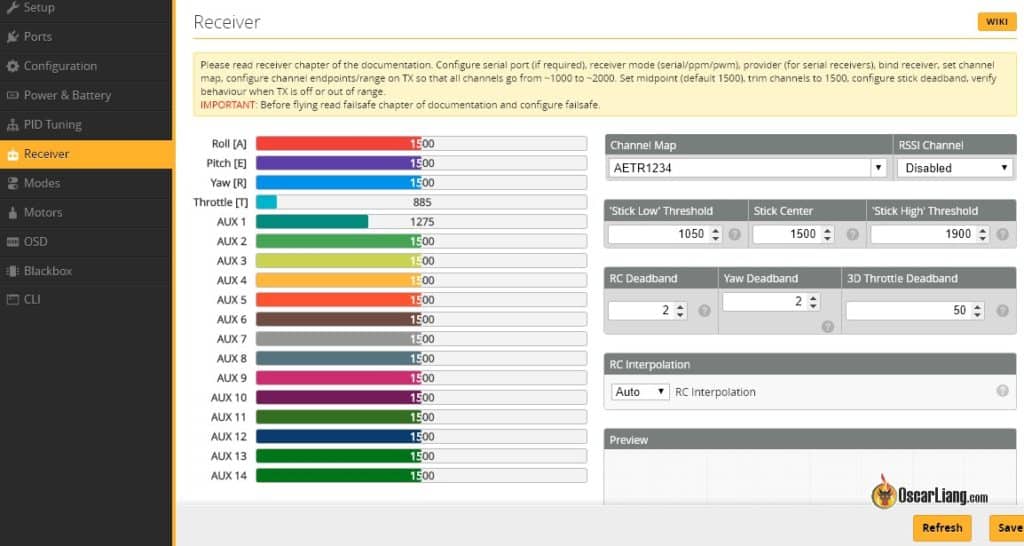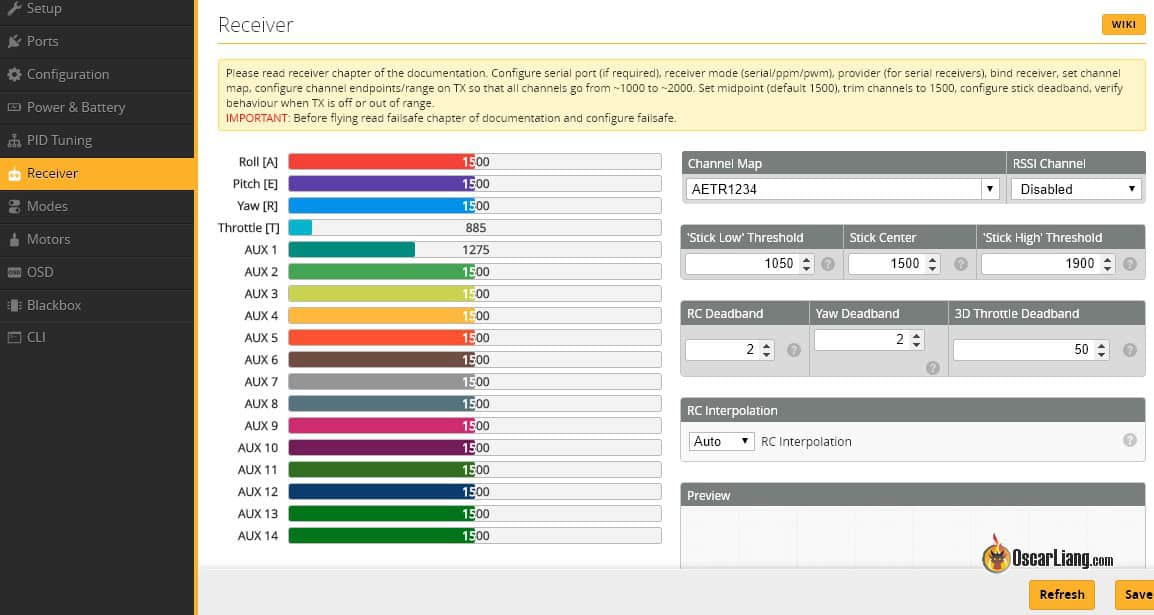 If everything looks right, you are now ready to use your radio to fly your drone :) Oh don't forget to setup switches for arming first :)
Gimbal Tension Adjustment
Finding the sticks too loose or too tight? You can adjust gimbal tension by turning the screws on the back of the radio.
You can access these screws by pulling back the rubber plates.
Stick ends are M3 threads ( in case you want to get some custom stick ends).
Lock Mode
There are only two buttons on this radio, a power button and a "C Button". Power button is self-explanatory, the C button is for "locking" all the sticks and switches so no RC signal will be sent out. This is a safety feature to avoid accidentally arming your drone.
Simply hold down the C button, and the status LED will flash purple to indicate it's in lock mode
Remote Antenna Placement
For maximum performance you should have them both pointing up when transmitting.
Removing Battery
If you ever need to remove the battery, open the cover, hold down the battery release button and push the battery downward.
Remote Status LED / Beeping Explained
Solid RED – Powered on, but not connected to receiver
Solid Green – Working, connected to receiver
Blinking Blue and beeping at medium speed – Binding
Blinking Purple – Locked mode (Hold down C Button to lock/unlock sticks and switches)
Beeping alternate sounds and vibrating – Requires calibration (do this in FPV goggles)
Beeping and vibrating – Low battery <10%
Beeping at low speed – throttle stick is not at its lowest position
Betaflight OSD Setup
In order to get OSD working, you must connect the TX and RX pins on the Air Unit to a spare UART on the flight controller, as shown in the wiring diagrams above.
Depends on which UART you connected the DJI Air Unit to, enable "Configuration/MSP" in the Ports tab in Betaflight Configurator for that UART (and keep all other options disabled).
In the Configuration tab, under "Other Features", enable OSD, and TELEMETRY.
Finally, in your DJI FPV goggles, turn on Custom OSD under Settings, Display.
Now you can select the elements you want to display in the Betaflight OSD tab. Not all the elements are supported yet, but DJI has been making some progress to support full Betaflight OSD.
For now the following elements are supported as on Mar 2021.
You can drag the elements around on the preview screen to change their locations, same as the normal Betaflight OSD, it will get updated in real time in your DJI goggles. You can also set and save element position using CLI.
Video Feed Quality
You can adjust video feed quality under "Settings", "Transmission" in the OSD menu.
Best Image Quality Settings
Preference: High Quality
Focus Mode: Auto (or OFF)
Bitrate: 50Mbps
If you don't have the Bitrate option, you should update your DJI firmware to the latest. If it's greyed out, it means you are on CE mode, 50Mbps only available in FCC mode. How to switch to FCC mode.
Lowest Latency Settings
Preference: Low Latency
Focus Mode: Auto
Bitrate: 50Mbps
Using 50Mbps bitrate doesn't seem to affect latency (similar latency to 25Mbps), but you will only have 3 channels available instead of 8.
With Focus Mode enabled (set to on), you will constantly get blurry edges in order to reduce the amount of data when signal gets weaker, this can be quite distracting. By setting it to auto minimizes blurry edges.
Focus Mode – optimizes the center of the view, makes it smoother and clearer when signal becomes weak. I recommend leaving this setting at AUTO.
LED Mode increases color saturation on the LED racing track in low light, making it easier for the pilot to fly in any direction.
Racing Mode increases the display contrast, which makes obstacles more distinguishable in day light.
Standard Mode is suitable for most environments – use this mode if you are not sure what is best.
How to Record Video?
Insert micro SD card in the FPV Goggles and Air Unit (except the Vista which doesn't have a SD card slot). Here are my SD card recommendations.
And format the SD card inside the goggles using the menu, this will avoid many issues later on.
Set your recording preference in the FPV Goggles settings. You can change resolution if you are recording in the full size air unit, between 720p 60fps and 1080p 30fps. However you cannot change resolution for the FPV goggles recording (DVR), as it's fixed at 720p 60fps.
By default, the recording starts when you arm the drone, and it automatically stops and saves the video when you disarm. You can also start recording by pressing a button by changing the setting in the goggles.
OSD data is saved in a ".srt" file (subtitle format), these are just plain texts, you can overlay it on top of your video when you play it, or edit it.
By default the SRT file is quite a mess with possibly a lot of unwanted data in there. You can clean that up using a tool I made.
Uploading FPV Footage to Youtube
I've found the best way to upload DJI FPV footage to Youtube is to "upscale" them to 2K, or even better 4K. This is because Youtube retains higher playback bitrate for videos with higher resolution.
You can learn more about this in this post.
Other DJI FPV System Tutorials
Official Manuals
Edit History
Mar 2020 – guide created
May 2020 – updated OSD setup
Jun 2020 – updated instructions for the DJI Remote
July 2020 – added "Video Feed Quality" and "How to record video"
Aug 2020 – added links to "enable 50Mbps" and "how to upload to Youtube"