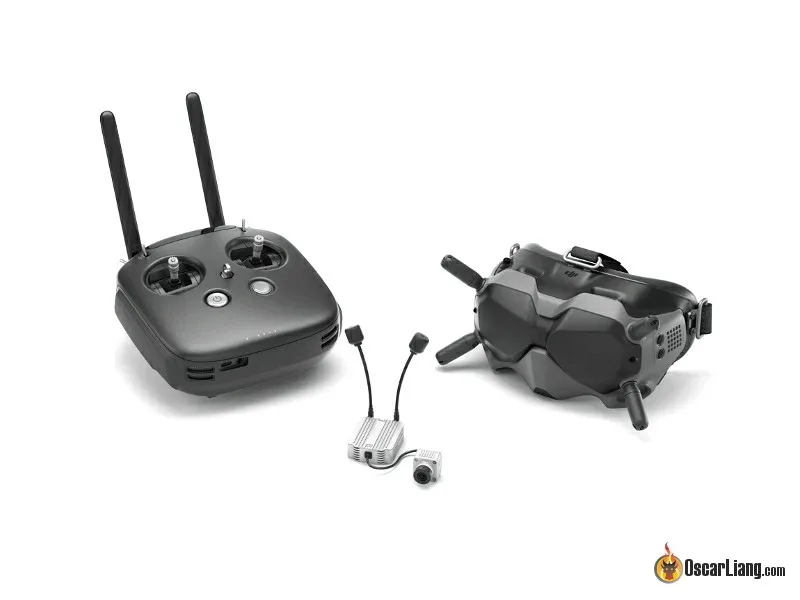 Let's talk about the DJI digital FPV system, why I think you should or shouldn't get it. I will skip all the specs and basic stuff which you can look up on the product page and manual, and get straight into the user experience side of things.
Table of Content
Where to Buy DJI Digital FPV System?
There are two major components to the DJI Digital FPV System: Air Unit and FPV Goggles. There is an optional DJI radio controller too, but it's not required and you can use your own radio controller.
Air Unit
The Air Unit consists of a camera and a video transmitter. You mount this in your racing drone just like the analogue FPV camera and VTX. The Air Unit including camera and antennas weighs around 53g.
The DJI camera has a 20x20mm form factor, which is a tiny bit larger than a typical analogue FPV camera, and so it might not fit in frames designed for micro FPV cameras (19x19mm).
Like a typical FPV camera, there are M2 screw mounting holes on both sides, and it has 150 degree FOV. The VTX on the other hand is considerably bulkier than the analogue VTX, so that's perhaps the biggest challenge to fit in common racing drone frames.
The entire casing of the Air Unit is made of aluminium, it acts as protection as well as heatsink for cooling. The length of the cable between the video transmitter and camera is about 100mm, which should be long enough for most 5″ mini quad even when you are mounting the video transmitter in the back, and the camera in the front.
The Air Unit has two antennas with MMCX connectors. It has a JST connector for power, UART connection to flight controller, and radio control signal (if you use their radio controller). There are rubber grommets on the cable in both the camera and air unit for stress relief, nice touch by DJI.
There is an SD card slot on the side of the Air Unit, for recording HD video up to 1080p 60fps. It's basically like having an HD camera like the Runcam Split – not quite as good as the GoPro though as it doesn't support 2.7K or 4K.
There are 3 modes for different situations:
Standard Mode offers the best daytime image quality, probably what you would use for freestyle flying
Racing Mode increases image contrast to distinguish brightly coloured obstacles better
LED Mode increases visibility on LED light, best for night flying
The power consumption of the Air Unit is about 4W to 8W according to DJI, at 12V, the current is 333mA to 666mA.
There are now flight controller designed specifically for the DJI Air Unit, making it a solder-free, plug and play combo.
FPV Goggles
The DJI FPV goggles come with four stubby style antennas pointing at different directions. They are mounted with RP-SMA connectors, so they can be removed for easy transportation, as well as replacement and upgrade. The stock antennas are identical omni-directional left-hand circularly polarized antennas (LHCP).
The top two antennas are responsible for transmitting and receiving signals from the Air Unit. Unlike analogue FPV goggles and receiver, you should never power on the DJI FPV goggles without antennas attached to avoid overheating the transmitter inside. The bottom two antennas are just for receiving signal, along with the top antennas, working together as a "quad-versity" system.
There are already after-market antennas available for the DJI FPV goggles, with higher gain for better range and penetration: http://bit.ly/35kWQ0E
The DJI goggles has the following features:
built-in anti-fog / cooling fan
built-in DVR – 720p 120FPS
IPD adjustable
Firmware update via USB-C port
Supports Audio play back on videos from Air Unit, but doesn't support audio with live video feed or recorded video in the goggles
When changing channels on the FPV goggles, it automatically changes it on the Air Unit too
There is no onboard battery, and it's powered by an external battery via a cable. The power cable has an XT60 connector so you can power it with a 2S LiPo battery.
Despite the lack of built-in battery, it's still heavier than most of the compact design FPV goggles. Thanks to the well designed headstrap, it distributes the weight evenly around the head by having a side strap as well as a top strap for a comfortable fit.
The face-plate foam appears to be extremely well made, I don't think any FPV goggles matches that quality.
The field of view (FOV) is a lot larger than other compact FPV goggles available – might or might not be a good thing as you have to move your eyes around more to look at the OSD at the corner. You can even zoom in and out with the video feed if you find the goggles' FOV is too wide, but the OSD will remain at the corners.
It's quite power hungry, a typical Fatshark goggles battery does not last long. For example a 2S 3000mah only last about an hour. If you use a larger battery it's probably not a good idea to have it hanging next to your head due to both safety and weight. It's probably best to use a long cable and just leave the battery in your pocket or on the ground.
Radio Controller
DJI offers their own radio controller as well. If you use their radio, you won't need a separate radio receiver in your drone, because the radio signal comes out of the Air Unit to the flight controller.
The Radio might not look like anything popular on the FPV market, but the ergonomics is actually pretty good and usable apparently. The gimbals are on par with the Hall sensor gimbals from Frsky, if not better.
The DJI radio controller has four auxiliary switches (toggles) for activating different modes in Betaflight and other features. You can also conveniently enable DVR recording on the radio controller without reaching to the buttons on your goggles.
It has a large battery pack in the back, which can last weeks of flying per charge! The radio also has a built-in charger via a USB-C port.
Although DJI claims this radio has 4KM range (about 2.5 miles) which is really impressive for a 5.8GHz system, some might still prefer to use a lower frequency radio system for better reliability and signal penetration, such as TBS Crossfire.
The radio is $300 bucks on its own, which is more expensive than the popular Taranis X9D+ SE. You can still use your own RC system and it's very flexible. I probably wouldn't get it myself, but you might want it if you like the integration and simple setup, it's worth considering.
Note that there is only mode 2 at the moment, not sure if you can change it by yourself or if DJI offers other modes in the future at this point.
Why You should Get DJI FPV System?
Glorious FPV Feed
This is the biggest selling point.
The first reaction from everyone who tried this system is just "WOW! Amazing!". There is no breakup or static like the analogue system. It's almost like flying FPV with GoPro quality video. Maybe an exaggeration, from the footage I've seen it's more like the Runcam Split quality. But still it's extremely remarkable.
The video feed at the ideal condition sends 720p 120FPV to the goggles, so what you see is extremely smooth and high detail video. In comparison, analogue video is like 360p at 25fps (maybe even worse with some cheaper cameras).
The DJI camera alos has excellent dynamic range and low light performance, nearly as good as some of the expensive analogue cameras, like the Runcam Eagle.
Image quality degrades as signal gets weaker (lower resolution) instead of immediate stuttering and freezing like other HD FPV systems. It will eventually begin to stutter when signal goes out, but it does it in a gradual way to minimize distraction.
The OSD (on screen display) is great, it shows all the important telemetry data and settings. For example it tells you the camera settings like White Balance, Exposure, Saturation, VTX Channel, Drone Battery Voltage, Signal strength, and DVR recording status.
Low Latency
The first concern would probably be the latency, but in fact it really is a non-issue (at the ideal condition). I can't feel it at all, so I would say it's just as good as analogue in that regard.
Quoting DJI on the latency figure, from radio to the drone is 7ms while the drone to the FPV goggles is 23ms, which is similar to that of the analogue FPV system. I don't have the equipment to measure and confirm this, but based on my experience, lag is too low to be noticed.
There are two modes that affects quality and latency: High quality mode that sends higher resolution footage in 60FPS, and low latency mode that sends lower resolution footage in 120FPS.
There is also a great feature called Focus Mode, which reduces latency by reducing the bit rate around the edges of the image, while keeping the centre as clear as possible to minimize distraction to the pilot.
HD Video Recording
The recorded video in the goggles is 720p 120FPS, while on the Air Unit, it's 1080p 60FPS. It certainly can't compete with the GoPro, but it looks way better than analogue DVR for sure, and even better than some low cost HD cameras.
Microphone (audio quality) isn't great or terrible, maybe between Runcam Split and GoPro.
The DJI Digital FPV system probably won't replace the GoPro for some people, because it doesn't do 4K or even 2.7K yet.
Range
Advertised range is 4 miles (around 6km). That's pretty good compared to the analogue systems. But in Europe the output power is restricted to 25mW, resulting in lower range of around 700m. However it's possible to "unlock" it and use full power of 700mW.
Betaflight Integration
Although DJI is not known to integrate with 3rd party systems, they are willing to make better integration with Betaflight which is really cool. Right now, you can tune PID, filters, and rates in the OSD menu, a bit like Betaflight OSD. But there are still some features and settings that are missing, hopefully we will see the rest of Betaflight OSD implemented.
Cost – Not That Bad Actually
The DJI FPV system might sound expensive, but if you think about it, it really isn't that bad. In fact, it's actually slightly cheaper than the most expensive analogue system you can buy:
HDO – $500
Rapidfire – $150
Antennas – $50
Runcam Eagle – $45
Unify Pro – $50
That's $800 already!
And don't forget you can use the DJI system as your HD camera, so if you add that to the equation you might find the DJI system a really good deal.
If you are new and buying everything today, the DJI digital FPV system can be a more cost effective solution (assuming it meets all your needs). For sure, if you already owned the analogue system then it is pricey to buy everything again.
The Goggle Is Actually Good!
The DJI Goggles optics are actually very good, especially the super wide FOV that they offer. It might appear to be like the size of a box goggles, but it's smaller in real life.
Although I still prefer the image quality from the OLED goggles, like the HDO2 and SKY03O (the color is just more vibrant and constrasty), in terms of non-OLED goggles, I'd say the DJI goggles is probably one of the best.
The Negatives of DJI FPV System
Concerns with Interference and Lost Signal
Like all other HD systems, the common downside is how they handle weak signal. Many people still prefer analogue FPV system, because when signal gets weak, the feed might become snowy but you can still roughly see where you are going and hopefully get out of there.
it's true that the DJI system handles weak signal better than many other HD systems, it can still have stuttering and freezing frame when the signal goes out, or getting interference. You can also lose control if you use their radio, because the control uses the same 5.8GHz video frequency. Not only it's hard to fly out of that, it can even be dangerous, so I'd be more cautious when flying with a group.
So really if you want to fly long range, or in environment with lots of obstacles, maybe you want to hold off for now until there is a solution. However this is a great system if you mostly fly over open field and don't need much object penetrations.
Air Unit Limitations – Size & Voltage
The air unit is quite bulky, as big as another 30x30mm FC + ESC stack, and so it doesn't fit every frame. You probably have to get a frame that is designed around the DJI Air Unit, and possibly an FC stack designed for it as well to avoid all the trouble with complicated setup and wiring. For that, you are looking at potentially extra cost of around $100-$200.
The air unit only support 4S, so you might need a voltage regulator to step down the voltage if you run 6S. According to my contact, when they started developing this product, everyone was still only flying 4S. 6S wasn't even a thing back then. Too late for them to change the hardware now.
Variable Latency
Although latency is not an issue, it does change with signal quality. That means the further out, or with obstacles, the latency will go up with decreased signal strength. This will largely impact your ability to precisely control the aircraft, making proximity flying and racing a lot harder as your stick control is less precise and less predictable.
And that's why I wouldn't use it for long range or in places where there might be lots of interference or obstacles.
Also, the Air Unit temperature can also have an effect on latency, video quality, and range, so make sure you provide adequate cooling.
Proprietary System
It's a proprietary system, you can only use their own gear and not others. How much I wish we can use our own goggles, like the HDO, SKY03O or the Orqa FPV.One, which a lot of people have already invested in. And frankly these companies have been long enough in the market, they make goggles that fit better.
FPV Goggle Great but Not Perfect
The goggles is overall very well made, very comfortable to wear, and they are big enough you can just put them on with ease and no need to fuss around to get the screen align with your eyes.
But still it needs a bit more work here and there to make it perfect. For example the fit is not optimized as there is light leaks on the sides for some people, and the nose is pressing down too hard. It would definitely help if they offer some different faceplate and foam pad options like what Skyzone offers.
And the power barrel connector doesn't seem to fully engage and is likely to come loose if you pull it by accident. I think you might want to use a zip tie and stress relieve the cable on the head strap.
I guess they are still relatively new to the whole FPV goggles space and will have to slowly improve in future releases. With that said, I wouldn't consider this a deal breaker.
It Won't Replace Analogue, Yet
The variable latency just means it's not quite ready for racing yet. The HD feed would be useful in big live events, but I'd imagine most racers would probably still prefer the good old analogue for the more consistent and predictable performance.
I don't think it will completely replace analogue, at least not for a while. That means you might still need to keep your analogue setup. The Air Unit is too heavy for micro quads, anything smaller than a 3″ will have trouble carrying it.
Not to mention people won't be able to tune in and watch your flying if you are using DJI system while they are using analogue.
It would have been great if the DJI goggles had an integrated analogue receiver. But it does have an AV input so you can use a ground station to receive analog signal. A bit annoying but it's still a work around.
FAQ (Common Questions Answered)
What are the other HD FPV systems?
Connex Prosight, BlueFPV, R2TECK DVL1, Fatshark Byte Frost (HDZero).
See my Byte Frost Review.
See my Connex Prosight Review.
What frequency does DJI FPV system transmit on?
Both radio and video signal transmit on 5.8GHz.
Does DJI FPV system interfere with 5.8GHz analogue FPV system?
Yes, when analogue signal powers on near the DJI frequency, the DJI latency goes up and in the worst scenario the frame just freezes. If you move the channels further away, the situation gets better but you can still tell the latency is more than when the analogue signal isn't present.
The DJI system can also affect analogue, but it doesn't seem to be as badly affected as it is the other way round. You can tell there is noise and interference in the analogue feed but it's still flyable.
Therefore, I wouldn't do anything sketchy when you are flying with people on analogue system, and keep the frequency separation as wide as possible.
DJI system channels are roughly on the Raceband frequencies. See this chart for more detail: https://intofpv.com/t-fpv-frequency-chart-now-with-dji-fpv-and-wifi
How to unlock 25mW (CE mode) to enable 700mW (FCC mode)?
Only do this if your local regulations allow 700mW.
Take SD Card out of the Air Unit
Create a text file on root directory, name it naco.txt
Write 1 in the file, which means "FCC mode"
Insert SD card in Air Unit
Power up goggles, and then Air Unit
How to mount Air Unit antennas?
V shape.
Can I use Diopter lenses in the Goggles?
Currently no, it doesn't support Fatshark style diopter lenses either. Hopefully DJI will come up with a solution in the future. For now you can use the goggles while wearing a small pair of glasses.
Can I output video from the goggles to an external display?
No, there is no HDMI output on the goggles.
Can people watch my flying?
Only if they have the DJI goggles as well. There is a spectator mode, and you can tune into another DJI pilot's channel.
Can we get different face pads?
No, but we hope DJI will release different foam pads in the future.
Will the DJI goggles work with DJI Mavic and Spark?
No, the goggles is only designed for the FPV Air Unit.
Can you use the goggles for FPV simulators?
No, there is no HDMI input.
Does it support other flight controller firmware apart from Betaflight, e.g. Flightone, and KISS?
Yes, it doesn't depend on the FC firmware, unless you want to do things like change PID and rates then it only works with Betaflight at the moment (through UART).
Can you replace the camera in the Air Unit?
Yes, you can remove the ribbon cable by removing the back cover on the camera.
What SD Card should I use?
Take a look at my SD card recommendations here based on the resolution you are recording at.
Using DJI Goggles for Analogue Video
As mentioned, there is an AV input on the DJI FPV goggles, so you can hook it up to an analogue video receiver. There are DIY kits you can install to the DJI goggles and make it plug and play to analogue receiver modules, but it's a lot of work and requires tearing down the goggles which might void your warranty.
The display in the DJI goggles is not a "blue screen", meaning when your analogue signal becomes too weak, the screen gets more snowy instead of showing a blue screen (or black screen) like the typical LCD screens. This is great for FPV.
However, there are some downsides when using the DJI goggles for analogue.
Internal DVR doesn't record AV input or HDMI input
Some people are experiencing worse latency with AV input, if PAL/NTSC doesn't match between OSD and camera
You might void the warranty by doing the module bay mod
Anyway if you wish to go ahead, you can buy the DIY kit here:
Conclusion
Hands down the best Digital HD FPV system right now. It's not perfect and there are problems, but this is definitely a huge step forward in FPV.
There are many improvements we want to see, such as full Betaflight integration, fixed latency etc. I don't think it's ready yet for the proper race track or flying with a big group. But for those who are fed up with the old and complex FPV gear, and just want to enjoy FPV, the DJI FPV system will put a smile on your face. You don't have to think about what camera/VTX to get, ignore all the technical non-sense, and just build it and fly it.
Updates
Here are the software updates of the DJI FPV system.
Nov 2019 – 1200mW "Hack"
I don't know it will affect your hardware, but this is a hack to enable 1200mW on your DJI FPV system. Do this at your own risk.
Create a .txt file
Name it nano_pwr.txt
Open nano_pwr.txt
Type pwr_2
Save and close
Copy nano_pwr.txt to an SD card
Put SD card in DJI goggles
Then power on goggles
Dec 2019 – Betaflight OSD Support
DJI now fully support all the elements in Betaflight OSD. Before this the OSD only support the display of voltage, timer, but now the list has been extended such as GPS coordinates, altitude, etc.
However there is still no updates on OSD support for other flight control software, such as iNav and Ardupilot. There is a work around though, using "Mavlink to MSP bridge" between the FC and Air Unit. For that, you will need an Arduno board, enable Mavlink on one of the ports, connect DJI AirUnit via the Arduino and that's all!
Jan 2020 – Smaller, Lighter, Cheaper Air Unit!
DJI is listening! They are working with Caddx to release a more compact air unit for smaller drones – see this review of the Caddx VISTA VTX for more detail.