The Fatshark HDO FPV Goggles is the latest model from the company in 2018. The new HDO Goggle is the first to use OLED screens, hence the name "HDO". Fatshark claims the new display technology provides better image quality which we will hopefully find out in this review, along with some other interesting new features.
Some of the links on this page are affiliate links. I receive a commission (at no extra cost to you) if you make a purchase after clicking on one of these affiliate links. This helps support the free content for the community on this website. Please read our Affiliate Link Policy for more information.
I am getting the Fatshark HDO Goggles for testing soon, and I will update this post with more information. For now here is all the info I have from discussions with Fatshark.
Update: There's a new version – HDO2.
Product Page: Banggood | Amazon | Racedayquads
Further Reading: How to Choose an FPV Goggles
Specifications of Fatshark HDO FPV Goggles
Resolution: 960 x 720
Field of View: 37°
Display Ratio: 4:3
IPD: 59 – 69mm
The Fatshark HDO FPV Goggles come with the following accessories, pretty much the same as the HD3 Core package.
Zipper carry case with updated branding
USB charging battery pack
DC DIY cable
Fatshark HDO vs. Dominator HD3
See this post for a detail comparison between the HD3 and HDO. To sum up:
The HDO is $100 more than the HD3
You get better displays in the HDO but it has a smaller FOV than the HD3
Resolution is improved significantly in the HDO, and HDMI can now support 1080p. However they have removed 3D mode in the new model
| | | |
| --- | --- | --- |
| | Fatshark HD3 Core | Fatshark HDO |
| Price | $400 | $499 |
| FOV | 42° | 37° |
| Resolution | 800×600 | 960×720 |
| Ratio | 4:3 | 4:3 |
| IPD | 59-69mm | 59-69mm |
| VRX | Modular, Not Included | Modular, Not Included |
| HD Input | 720p | 1080p |
| 3D | Yes | No |
| DVR | Yes | Yes |
| Anit-Fog Fan | Yes | Yes |
| Diopter Lens Insert | Yes | Yes |
| Audio Output | Yes | Yes |
| Weight | 186g | 186g |
New OLED Display
The biggest difference in the HDO is the OLED displays. OLED display has the following advantages:
More crisp image
More vivid colours and higher contrast ratio
Better light handling, giving pilots the ability to see better detail under challenging and changing lighting conditions
Better clarity in fast-moving images thanks to reduced artifacts from image retention
Remember how people used to complain about blurry edges and corners in some FPV goggles with older screen technology? Hopefully this will get better too in the HDO with better optics.
The latest high TV lines cameras such as the Foxeer Monster Pro, will also benefit from the higher resolution displays.
There are concern about "burn in" and life span of OLED displays. But IMO even if you use these goggles 5 hours a day they should still last years before they hit their lated lifespan. Not to mention the goggles are covered by Fatshark's warranty so if there is a problem they will repair it for you.
Leather Face Foam Padding
The goggles come with nice foam padding that wasn't included in previous models. This is great to prevent light leaks and is very comfortable to wear. It also appears to be more durable than the previous foam padding that tends to wear out frequently.
It's sticked on the goggles by velcro and replaceable.
IPD Not As Narrow As Claimed
When I measured minimum IPD it seems to be around 61-62mm range, not 59mm as claimed in the spec.
4:3 Aspect Ratio Only
I am a bit surprised that Fatshark still wants to only support 4:3 in their latest FPV Goggles, since 16:9 is the direction most new FPV cameras are taking.
But for old school pilots like me who are still rocking 4:3 FPV cameras, it's actually great news.
It's perfectly fine to use 16:9 cameras with 4:3 FPV goggle, it's just that the image might appear squashed. The level of distortion depends on the FOV and "fish eye effect" of your camera, yet it can be a matter of getting used to it if that's what you've decided to use.
There are FPV goggles that can support both 4:3 and 16:9, such as the Aomway Commander V1. But when it's in 4:3 mode, it simply chops off the sides, which makes the FOV extremely small.
For FPV Goggles manufacturers, it really is a painful compromise, and I don't blame Fatshark for supporting one or the other. However I do think that 4:3 is the better option for the HDO, because I believe the majority of pilots are still using 4:3 cameras and goggles.
Good Old Dominator Shell
Fatshark is taking the safe approach and using the same shell for the HDO as they did for the successful Dominator V3 and HD3. That's why some specs such as the IPD and weight look the same.
I personally like this old shell because it works for me in my previous goggles and I have been using it for years without any problem. At the same time I wish it was a new design to freshen up the look.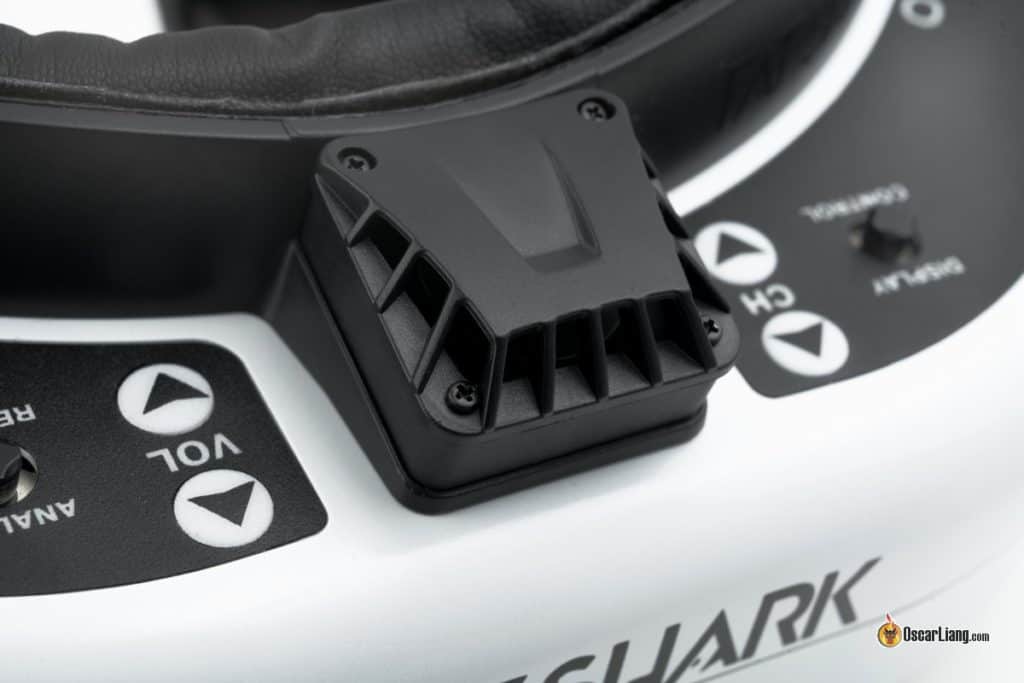 Leather Face Foam
The HDO comes with really nice leather face foam, much better and durable compared to what comes with the HD3 which you probably need to replace regularly.
DVR Module
I was hoping they would use better DVR module in the HDO, unfortunately it's still the same DVR module as the HD3. So we will still get the same bit-rate and frame dropping issue when the signal weakens.
It's not a biggie, but it can still be annoying at times.
In case you are not familiar with this problem, it's basically a bug in the existing Fatshark DVR. When you try to sync your DVR footage to your GoPro footage, they get more and more out of sync towards the end of the video. The more signal breakup you get during the flight, the worse it gets.
However we should expect the frame dropping issues get better with modern receiver modules such as the RapidFire, Clearview, Achilles, True-D and Laforge.
Another popular request is to improve the SD card slot, because it requires the users to grow a bit of finger nails to take the SD card out. As far as I can see that part didn't change.
More Powerful Module Bay
The VRX module bay has been beefed up for more power-hungry receiver modules in the future.
As the next generation receivers are getting so powerful, they can draw a lot of current, some existing FPV goggles are already struggling to meet the demand.
HDMI Auto-Switching
As a user interface improvement, the Goggles can now auto-switch between DVR, HDMI and analog feed when the HDMI cable is plugged in or remove.
Other New Features
There are many requested features to be added to Fatshark's FPV Goggles. But the HDO has been in development for over a year, so some of the feedback didn't come in in time. But I was told they will get those features integrated in future models. For example the popular DIY power button mod.
Received the HDO Goggle (23 Apr 2018)
In the box, it comes with the Goggles, a soft shell case, and a 2S 1800mAh battery. Nothing else.
I will upload some pictures later. Now let's go test it :)
Testing Image Quality (24 Apr 2018)
In the following test I will compare the image quality between the HD3 and HDO.
Here is the comparison of Dom V2 and HDO.
Some very interesting result there.
Both footage were captured directly on the FPV Goggle's screens using the same camera, under the same condition. I DID NOT changed brightness or colour in editing, they are both original footage.
However, this comparison doesn't represent the true image quality of both goggles. There are differences when looking at the screens with a camera, and with your own eyes. But this is the best method I can come up with for now.
You can still see some very noticeable differences between the newer OLED display, and older display technology.
It's pretty obvious that the OLED screen on the HDO gives more vibrant colour and more constrasty image, while the DomV2 looks more washed out. You can really tell the higher resolution and sharpness in the HDO goggle, and how much more detail you can see.
Is 37° FOV too Small? (24 Apr 2018)
I don't own the HD3 (yet), so I don't know what 42° FOV looks like. Coming from the 32° DomV2, I do notice a slight increase in screen size when trying them back to back, but the difference is not as large as I imagined.
I see a lot of people complaining about the 37° FOV in the HDO. While it's a valid point, one has to understand that bigger isn't always better.
Yes, larger FOV gives you more immersive image, but the problem with screen that is too large, is that you can get blurry edges more easily. Say if you have voltage OSD displayed at the corner, you can't read it anymore.
It has to do with every person's eyes, some are just more likely to get blurry edges than others with larger FOV goggles. Sometimes diopter inserts can help with blurry edges if you are near sighted. And the HDO seems to require higher level diopters. I use -2 on the DomV2 and all is fine but I get a bit of blur at the edges. Using -4 on the HDO gives me perfectly clean image. The optics focal length of the HDO probably is different from the previous models.
Your eyeballs also have to move around more with larger screens, probably not that great for people who fly proximity and racing.
So the 37° FOV really isn't a problem IMO.
Troubles with the Battery (25 Apr 2018)
Calibration
When I was flying with the goggles the 2nd time, the goggles suddenly turned off on me.
Upon closer investigation, it turns out the battery's internal safety circuit tripped and stopped providing power. But I didn't hear the low voltage alarm which should normally happen at 6.9V. The safety circuit must have tripped before it dropped to 6.9V, which is a bit unusual.
After discussing with Fatshark, they suggested that my battery's safety circuit probably wasn't calibrated. They told me to discharge, and fully charge the battery a couple of times more, which is necessary for calibrating the internal safety circuit inside the battery.
And I did that, now it seems to work properly. I get low voltage alarm at 6.9V, and after a couple of minutes the safety circuit trips at about 6.6V .
So make sure you discharge and charge the battery a few times before putting it to full use.
Resetting
When the battery voltage drops below a certain point, e.g. 6.6V, the safety circuit will trip. This means the battery will not give out any more power, and if you measure the connector it will read 0V.
You cannot charge the battery when this happens.
You can reset (revive) it by connecting the barrel connector to a 9V source. I also tried 7V which also seem to work (a 2S battery).
Now you can charge it as normal.
Charging
You are meant to charge it as a 2S LiPo battery, using the "Fast Mode" without connecting the balance lead. The internal circuit will balance the cells for you automatically so you don't need to worry about it.
However I can't seem to fully charge it to 4.2V, as I always get an error on my iSDT charger when it gets to around 4.1V and it stops.
I am not a big fan of the battery that comes with the HDO goggle to be honest, it just difficult to use and 1800mAh capacity is a bit small.
I prefer using a 2S 2500mAh LiPo. Check out my article about the different battery options for FPV Goggles for more ideas.
Face Foam Padding
It's very nice of Fatshark to include these nice "leather like" foam padding. But it gave me light leak in the centre and just didn't fit my face well. Everyone has a different face so it might or might not work for you.
My solution is to get the Foam pad from NewBeeDrone (buy: http://bit.ly/2IelSpF) and modify it with a pair of scissors. It now becomes super comfortable to wear, and there is zero light leak.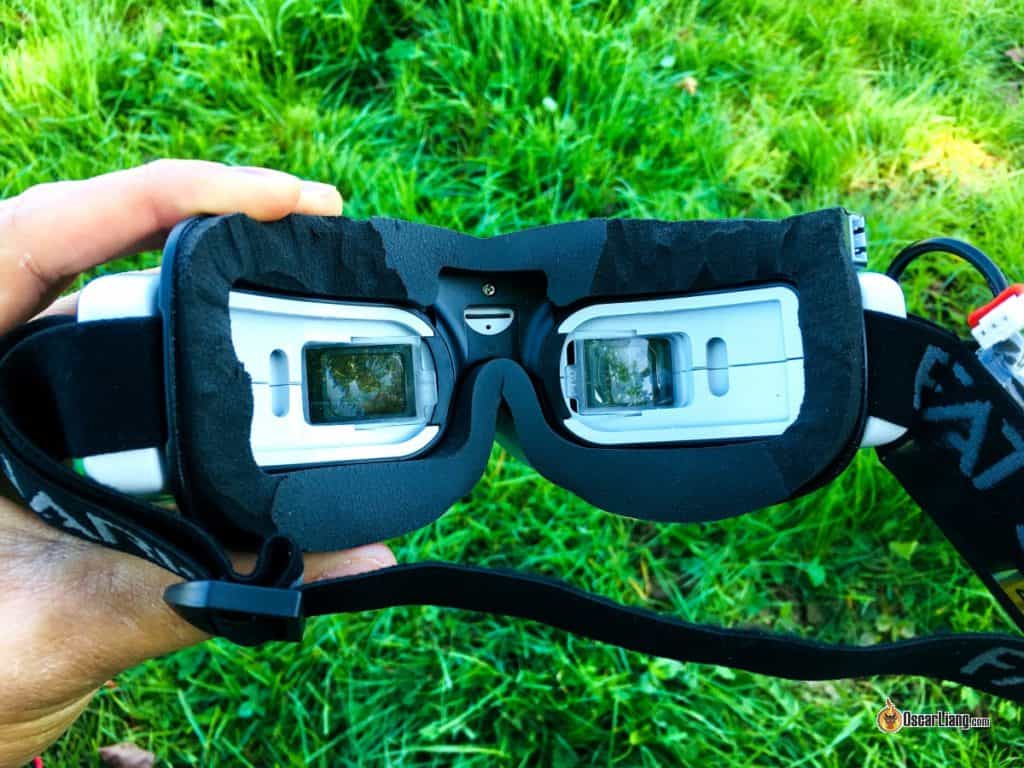 Pixelated Line
I was asked by multiple people if I was getting a pixelated line at the bottom of the screen. I didn't really noticed at the time. But when I went through all my quads, I think I saw what people mean about the pixelated line.
It didn't really happen until I was flying my BeeBrain Tiny Whoop. It rarely happens and it was quite random. But when it does, I can get rid of it by entering HDMI mode and then go back to analog mode. Very bizarre issue, but not a biggie.
After talking to Fatshark they told me they "have a fix in the work".
Update (10/May/2018): Fatshark released a fix to this issue. You need to flash the Goggles with a firmware update, following the instructions here.
HDMI Video-In Resolution
So according to the spec, the HDO supports 1080p via the HDMI port. However I couldn't get it to display 1080p from my Windows 10 gaming PC. I got an error saying "resolution exceeds the maximum bandwidth capacity". I can only display 720p, both 960×720 and 1280×720 worked.
I checked with Fatshark and they said 1080p worked for them with Apple devices, and I didn't get a solution from them.
However, they added, despite the HDO supports 1080p input, the display down-scales 1080p to 720p. That means whether you feed the HDO 1080p or 720p, it will look the same, so this really doesn't matter after all.
Conclusion
The OLED screens are an improvement from LCD in terms of image quality. The contrast is way better allowing you to see more detail in dark areas of your picture. The higher resolution also helps see objects that are far away.
For those thinking about the field of view, if you've used the Dominator V2 in the past and you like it enough, you will like the HDO even more. FOV is smaller in the HDO comparing to the HD3 (42), but I have always found them to have blurry edges. making OSD hard to read.
I do recommend the HDO after using it for a few weeks now. But if you are still undecided I strongly recommend to give them a try, borrow from a friend or people in a race. Seeing is believing :)