I reviewed the iSDT SC 620 500W battery charger, which is going to replace my good old Accucel-6. Features including XT60 power input connectors and max 20A charge current.
Some of the links on this page are affiliate links. I receive a commission (at no extra cost to you) if you make a purchase after clicking on one of these affiliate links. This helps support the free content for the community on this website. Please read our Affiliate Link Policy for more information.
Get your iSDT SC-620 LiPo Charger From BG: https://goo.gl/I38qrZ
Update (Jun 2018): The SC620 has been discontinued and replaced by a newer model iSDT Q6.
There is quite a lot of information I want to cover in this review, so please read through post carefully in case you miss something.
SC-620 Battery Charger Spec
2.4″ colour LCD screen (320×240 pixels)
Input Power: 9-30V DC, XT60 connector
Output port: 0-30V, XT60
Charge Current: 0.1-20.0A
Max Charge Power: 500W
Discharge Current: 0.1-5.0A
Max Discharge Power: 15W
USB Outout: 5V / 2.1A
Balance Port supports 2S-6S
Supported Battery: LiFe / Lilon / LiPo / LiHv(1~6S) / NiMH / Cd(1~18S) / Pb(1~12S)
Dimension: 115 x 130 x 52 mm
Weight: 289g
Support for LiHV battery is a big plus :)
The charger looks really stylish and well made, however there is absolutely nothing else that comes with the charger, no cable or any accessories except a piece of manual.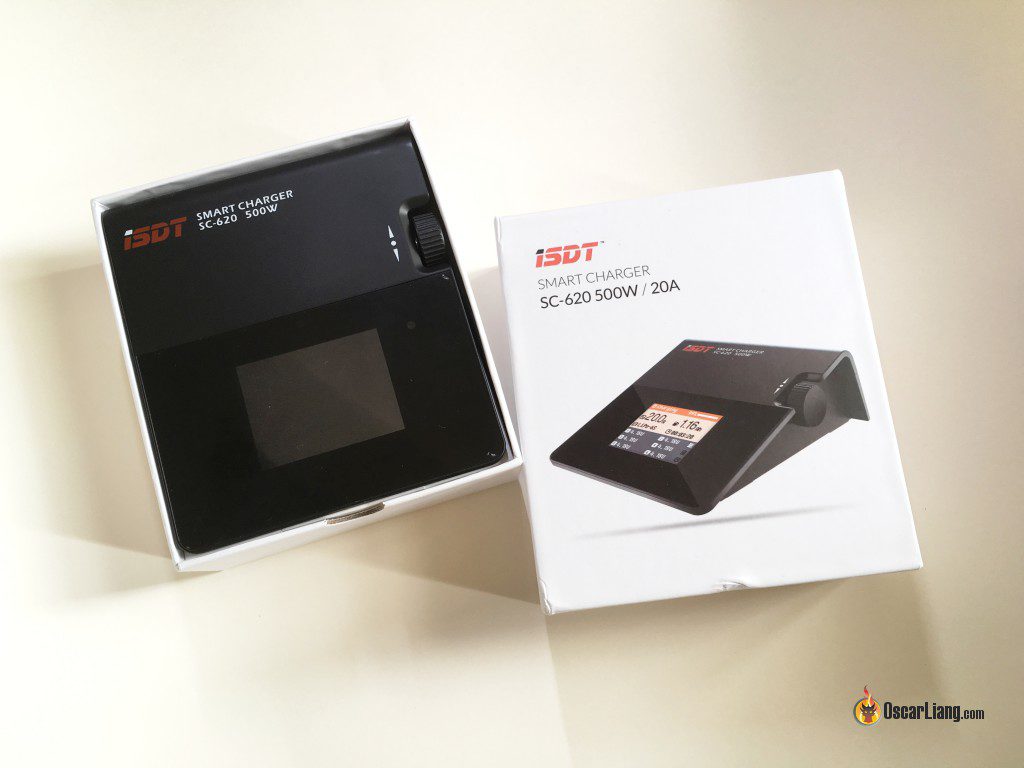 The LCD screen is really bright, visibility is great outdoor even under the sun. It has a light sensor built-in to automatically adjust screen brightness.
On the left side we have the output XT60 connector, balance port for LiPo, USB output port and LNK port for firmware update.
The charger operates with a knob button control.
It has a XT60 input connector, and the cooling fan is located on the bottom of the unit.
A Great Outdoor Battery Charging Solution
Interestingly the iSDT LiPo charger uses XT60 connectors for both input and output instead of the common banana jacks we find on most chargers. This makes it a great indoor as well as outdoor charging solution. You can use it with a large capacity LiPo to charge smaller packs.
I think it would be great to get a 4S 16000mAh pack or even a 6S 12000mAh to go with it. Assuming you have 4S 1300mAh LiPo packs, the 4S 16Ah can probably charge your battery 8 to 9 times, while the 6S 12Ah can do about 10 times. This is assuming the charging efficiency is 80%, it's not an accurate estimation, only to give you an idea.
If you decide to use LiPo battery as charger input to charge other packs, it's important to setup "Min Input Voltage" to something like 3.6V x cell count, to prevent over-discharging your Lipo. For 4S this would be 14.4V, for 6S this would be 21.6V.
Apart from charging for flying, I think it's also a great solution to bring down the voltage of any unused packs if you decide not to fly them. Just set the input voltage cut off to the the storage voltage and use the full pack to charge up some of your discharged ones.
Here I am testing the unit, charging one 4S pack from another larger 4S.
It's really light weight and compact given the rated power. If you want an even more portable solution, the SC-608 (150W) is only 110g and just twice the size of a GoPro.
iSDT LiPo Charger Feature
Basic Operation – Before Charging
Here let's go through the menu. As you power on the charger, the home screen appears. It gives you the basic detail about your battery and charger.
Short press the button will bring you to the Task Setting.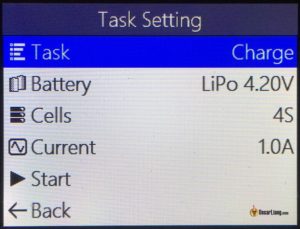 The charger does 3 main tasks:
Balance Charge
Storage Charge
Discharge
(Rumour says in future firmware updates there will be one more task – Direct LiPo charge without balance lead, which would be faster than balance charge)
And you can change battery type, cell count, and charge currents as shown in the above picture.
I noticed the max charge current is 20A doesn't matter how many cells LiPo you are charging. So the 500W charging power rating is only relevant when you are charging a 6S LiPo. For example when charging 4S LiPo the max power would only be 336W.
Storage charge puts your batteries at 3.8V per cell.
It also automatically detects the cell count from balance lead, and if you have chosen the chemistry correctly, very neat and smart.
During Charging
Once you have started charging, it monitors the charge current, how much mAh has been pumped into the pack, voltage of input power and the battery, as well as the charger's temperature.
It also measures the battery's internal resistance of each cell when charging. I found the IR values are consistent with my Turnigy power meter but a little higher. The values also tend to change slightly during the charge cycle.
System Setting
By holding the select button for more than 2 sec, you will enter the System Setting screen. Where you can set:
Max Input Power
Min Input Voltage
Backlight level
Volume
Language (Traditional Chinese, Simplified Chinese and English only)
Firmware share (I guess this is to share the charger firmware with another charger, without the need of downloading the file again)
OS Info (firmware version)
Self-testing
Further Reading: You might also want to check and calibrate the voltage reading accuracy of this charger.
Getting a Power Supply (PSU)
A frequently asked question is "what sort of power supply should I get" or "can I use my existing PSU to power it?".
You can get any power supply as long as the voltage meets the requirement, and you set up a correct maximum input power on the charger. And yes you probably canuse your existing PSU with the iSDT SC chargers.
You should get at least a 500W PSU for this charger. Smaller PSU should work too, but you won't get the full potential of this device.
Situation 1 – say you don't have a PSU and you are looking for one. If you want to charge 4S LiPo at 4A, your charger will be working at a wattage of 4S * 4.2V * 4A = 66W. Assuming the charger efficiency is 80% (a good average estimation), you should be looking for a PSU that can deliver 82.5W or larger. Also it would be safer to lower your "max input power" on your charger (in system setting).
Situation 2 – say you already have a PSU, in my case I already own a Turnigy 105W PSU for my previous charger. I might be getting 105W * 80% = 84W if I had 80% efficiency. When charging 4S LiPo, the max charging current I can set it to would be 84W/16.8V = 5A. This is what i meant you are not using the charger to it's full potential with smaller PSU (max charge current could have been 20A).
In practice the charger will do a bit better since the current can be higher when the LiPo voltage is lower. (P = V * I)
Here I added a XT60 plug to my existing 105W PSU.
You might also need to modify your parallel charging board to support XT60 connectors.
Firmware Update ( Important! )
The stock unit comes with firmware version V2.0.0.45. To fix various bugs and improve the charger's reliability and performance, it's recommended to update to the latest firmware as soon as you can. (The latest firmware to date is V2.0.3.56)
The firmware update requires a LNK port dongle, you can save money by DIY one with 4-pin 3.5mm jack and FTDI adapter. Here is my tutorial of flashing firmware on my iSDT SC620 charger.
But if you are going to buy this charger, you might as well grab the SCLinker dongle and save yourself time and trouble.
Some major bugs fixed are
Start up faster – the charger no longer goes through the self test every time you power it up (option moved to system setting)
Fixed self-reboot problem
Improve compatibility with laptop chargers
… and many more please see firmware release logs
Official Charging Board and Power Supply
iSDT also make products around these chargers such as parallel charging boards and power supply. These save you from modifying your existing PSU and para boards to add XT60.
The parallel charging board allows you to charge 4 LiPo's max at the same time. Good thing about it is it already come with XT60 connector. The power supply is rated at 160W only and it also has a XT60 output connector ready.
Overall
So far I really like this SC-620 charger. I am impressed with the user interface, mechanical design and the build quality. Very easy to use and much better than the usual 4 button design.
It doesn't come with any accessories and requires some sort of DIY for your PSU, so it might be a disappointment for some people.
The button was hard to press at first, and I had to hit it really hard to get it to work. I removed it and inserted it back again that seems to fix it.
Here is the manual for reference.
Chinese Language Only?
For those who are having language issues, please take a look at the comment, as well as this page of the forum thread:
http://intofpv.com/t-isdt-sc-608-and-sc-620-lipo-charger-firmware-update?page=2