The Runcam Sparrow 2 Pro FPV camera is basically the original Sparrow 2 with a full size M12 lens and enhanced housing for better protection. In this review we will take a close look and check out the image quality compared to the previous version.
Some of the links on this page are affiliate links. I receive a commission (at no extra cost to you) if you make a purchase after clicking on one of these affiliate links. This helps support the free content for the community on this website. Please read our Affiliate Link Policy for more information.
Buy the Sparrow 2 Pro from: Banggood | RDQ
Read about the basics of FPV Camera.
Closer Look at the Micro Sparrow 2 with M12 Lens
Spec:
Input Voltage: 5V – 36V
165° FOV (1.8mm lens), 150° FOV (2.1mm lens)
4:3 Aspect Ratio
Weight: 10.1g
Major upgrades:
Bigger M12 Lens for better image quality
Fully enclosed ABS housing for maximum physical protection against crashes
Metal lock nut
Although the camera is still 19x19mm and has the same mounting as the older version, the length and weight of the Pro version has increased significantly due to the full size lens and more beefy housing.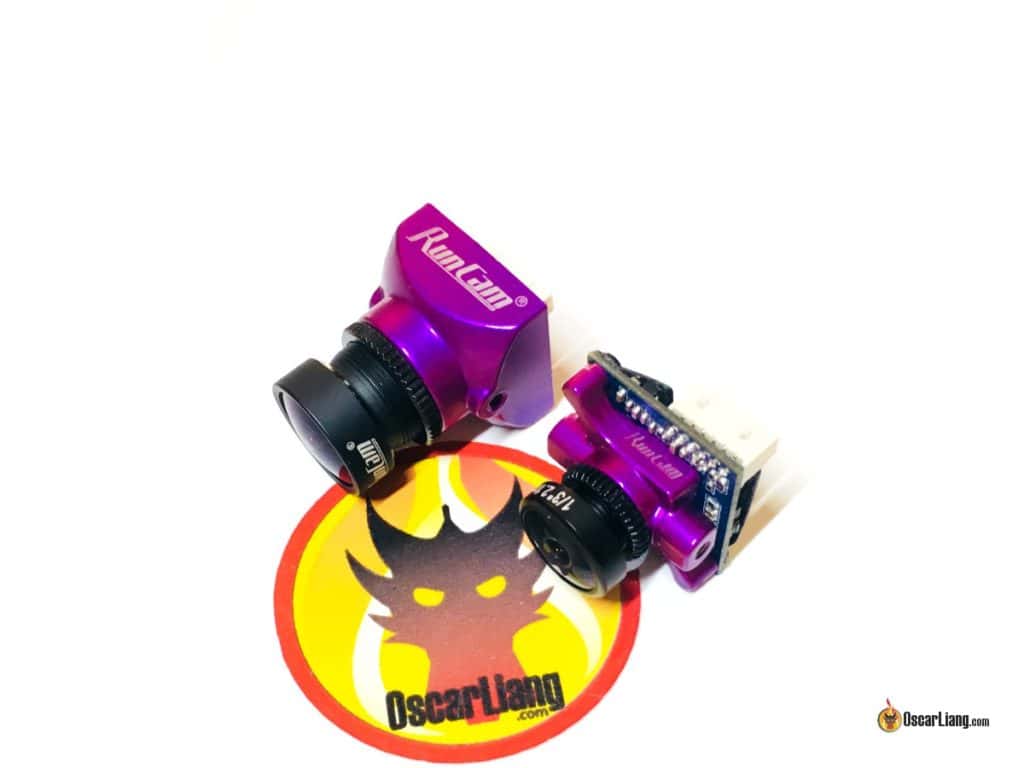 One problem with micro cameras is the fragile plastic lock nut. It's good to know that Runcam has replaced it a more durable metal lock nut.
I thought Runcam was going to replace "Menu/OSD" pin with UART (TX and RX pins) in all future cameras like they did in the Swift 3, but looks like I was wrong. You can still change camera settings using the joystick, and you can setup "camera control" via the OSD pin.
Image Quality Testing
I have tested and confirmed that the bigger M12 lens can indeed improve image quality in the Swift 3 review, so I am expecting the same here. Unfortunately the improvement wasn't as noticeable as I expected.
Check out the comparison footage here between the Sparrow 2 with M8 and M12 lenses.
It takes some effort to be able to spot the differences. At some point I was even wondering if I was looking at footage from the same camera.
But there are places where you can see the detail more clearly with the Sparrow 2 Pro FPV camera.
Colour is slightly more vibrate with the Pro.
One good thing about bigger lenses is they let in more light, hence allows you to see things in the dark (shadow detail) better.
In low light the performance is very close.
I tested the Predator V1 and V2 at the same places and time, so if you want a comparison just check out the video in that review.
My settings:
White Balance: Push
Brightness: 123
Contrast: 148
Sharpness: 70
Hue: 90
Color Gain: 137
Latency Testing
The latency is the same as the Sparrow 2 with M8 lens, at around 14-15ms. See all the FPV camera latency results here.
Conclusion
Just based on my testing, I am still happy with the original Sparrow 2 with M8 lens. It's so much lighter and smaller makes it easier to fit in most builds.
There is a small amount of improvement in terms of image quality, but not enough to convince me to switch over. But the Sparrow 2 Pro is definitely much more robust thanks to the protective casing and metal lock nut.
As far as I know the original version (M8 lens) will still be available for a long time, so you won't be missing out from either version.