The Speedybee F4 AIO flight controller is the first of its kind to have a built-in bluetooth module, which allows you to configure the quad in the field with your smartphone. in this review we will take a close look at the features and design of this board.
Some of the links on this page are affiliate links. I receive a commission (at no extra cost to you) if you make a purchase after clicking on one of these affiliate links. This helps support the free content for the community on this website. Please read our Affiliate Link Policy for more information.
Buy the Speedybee F4 AIO from: 
What's Special about the Speedybee F4 AIO FC?
This is the only FC on the market with a built-in Bluetooth module as far as I know. It enables you to configure the FC using their very own Betaflight APP for Smartphones and tablets. Does that mean no more carrying a heavy laptop to the field?!
We talked about Speedybee's Betaflight App a while ago, which basically has nearly the same capability as the desktop configurator, it even includes the CLI mode! Check out our reviews of different Betaflight APP for Smartphone if you haven't already.
I was skeptical at first about the built-in bluetooth module and the Smartphone app, "Is it really necessary? We already have Betaflight OSD and LUA script that allow us to change half of the settings in Betaflight."
After using the Speedybee FC and the Betaflight APP for a few days, it's growing on me. Not only it gives me access to all the Betaflight settings, the APP also works pretty well! The FC is ready to be connected to the phone as soon as the battery is plugged in, and the APP is pretty fast and responsive to work with.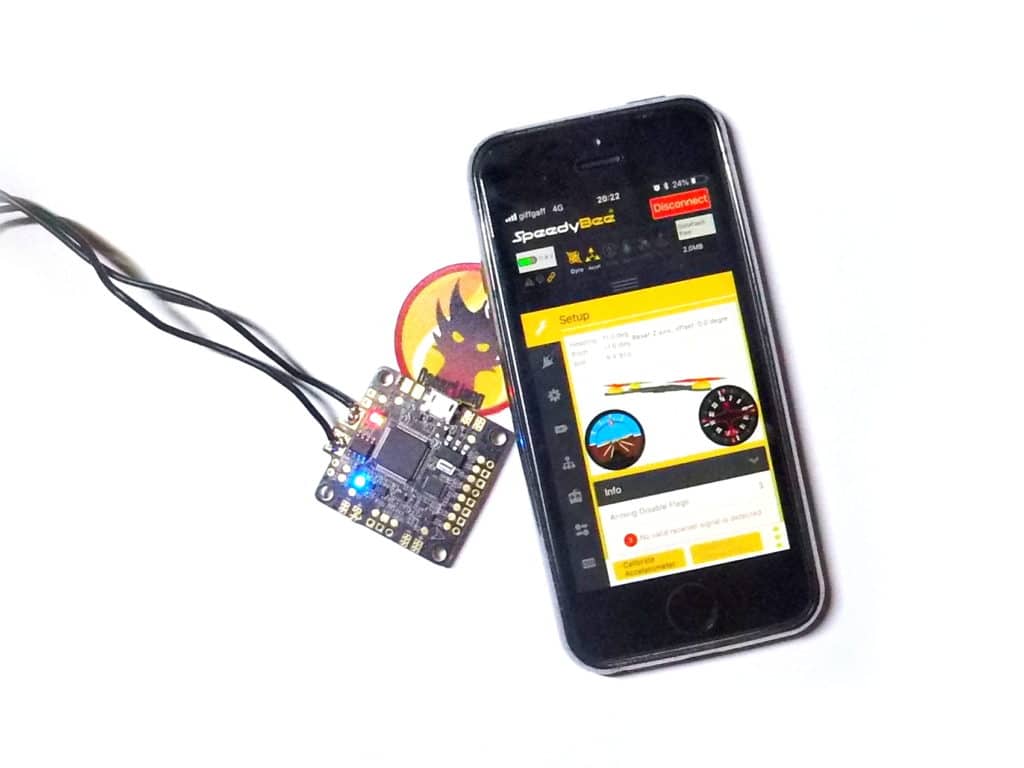 However you still need access to your computer for flashing FC firmware and configuring ESC's using BLHeli configurator. So you still need a computer at some point.
Specifications
MCU & IMU: F405, MPU6000
Support Betaflight OSD
Built-in Bluetooth module
2MB (16Mbit) onboard Flash Memory for Blackbox
Integrated Current Sensor (rated for 200A)
Support 3S to 6S LiPo Direct Input
BEC: 3.3V@1A, 4.5V@1A, Filtered 5V@3A, Filtered 9V@1A
Total 5 UART's
Extra pads: i2c, RSSI, DAC, 7 Motor Outputs
Weight: 8.8g
Dimension: 36×39.7mm
Board Layout and Design
The Speedybee F4 AIO has a MPU6000 Gyro hard mounted on the board. The gyro choice is known to be low noise but can only support up to 8KHz looptime, though that's enough for most people.
Unfortunately, there is no FC soft mounting solution provided in the kit. I recommend getting some rubber bobbins with this board. It does however come with a 470uF capacitor for filtering noise in the power.
The board design and pin layout is user friendly, not bad at all given this is Speedybee's first attempt at flight controllers. There are also some other pretty cool features too:
There are 7 motor outputs which is flexible because you can run hexacopter config or remap those pins for other things (for example camera control)
It's got DAC pin which can also be used for camera control in the future
There are i2c pins for peripherals such as GPS and external Barometer
They provided a 9V LC-filtered power for FPV transmitter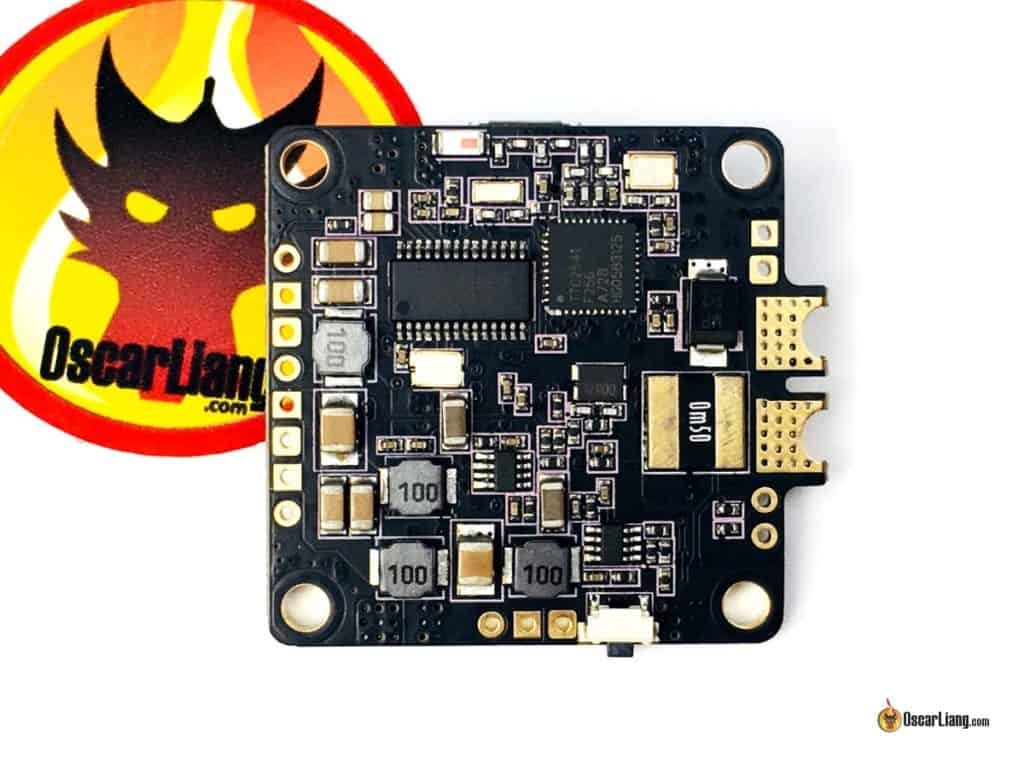 However it's a pity that they didn't provide dedicated ESC telemetry pads at the corners, which could have made wiring cleaner (if you run ESC telemetry).
There is also no ESC signal ground, though it's debatable whether it's required.
Despite having 5 UART's on this board, only 3 are in fact spare. UART2 is used for receivers where TX2 has a built-in inverter, and UART5 is reserved for the bluetooth module.
Finally, beware that this board doesn't have reverse polarity protection. As soon as you plug in your battery the wrong way round, you will damage the voltage regulator on the board and it will no longer power up.
Conclusion
The Speedybee F4 AIO flight controller caters for a very specific audience: those who use their smartphone to configure their drones frequently in the field. If you don't use Bluetooth at all, this board will still serve well given the long list of features.