Whoopee is a "Tiny Whoop" like, 3D printed micro quad frame. It's designed to fit 8.5mm motors and many Cleanflight-compatible FC. Whoopee's 3D printing files are free to download, you can also purchase it from us.
Some of the links on this page are affiliate links. I receive a commission (at no extra cost to you) if you make a purchase after clicking on one of these affiliate links. This helps support the free content for the community on this website. Please read our Affiliate Link Policy for more information.
Why Building Whoopee?
Tiny Whoop is tiny and fun to fly, but it also faces some problems:
lacking power
lacking flight time (1min?)
unable to tune PID, rate and expo
locked down to Spektrum receiver – or using its own transmitter
very fewchoices of battery and motors, and always hard to get
That's why I decided it's time to design an "Inductrix" frame for the 8.5mm motors, that also fits a Cleanflight compatible brushed FC. It gives you the flexibility in both software and hardware, while getting the advantage of a Tiny whoop.
It's not as tiny nor as light weight compared to the Tiny Whoop, but it's still tons of fun to fly.
Motor to motor distance is 10cm, and the frame weights are (weight depends on material and print settings, I am using PolyMax filament):
Main body frame – 9.3g
FC Plate – 0.9g
Camera/VTX Mount with protector- 1.1g
Whole frame assembled with zip ties is around 12.6g
Thanks to Scotty for coming up with the name "Whoopee" :) Here is a demo video I made yesterday.
Whoopee Micro Frame Closer Look
It comes with 4 parts: Main body, FC plate, camera mount and a VTX antenna protector.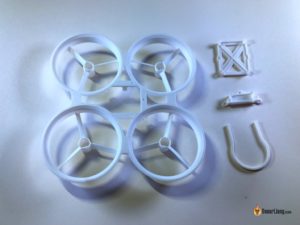 Top and bottom of the frame.
Flight Controller Mount
The FC plate has 2 holes on both sides, which can be inserted into the pillars on the main body. Then match all 4 holes at the corners, and put a zip tie through them.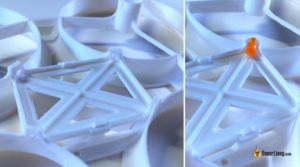 The width of the FC plate allows any FC smaller than 26mm. That means it supports the Lulfro FC, Micro Scisky (aka Quanum Pico), the new Brushed EVO F3, and the Multiflite Pico.
Motor Mounts
One problem I found with 3D printed frame is heat expansion. This is a big problem for the motor mounts. Motors sometimes could fall out because motors get very warm. My solution to that is to leave some slots  on the mount, and hold the it tightly with a ziptie and it works really well.
VTX / Camera Mount
The designed VTX mount can fit anything that is the same size as FX798T and Hyperion 25mw.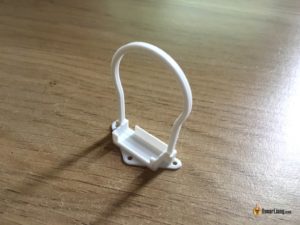 The dedicated antenna protector fits nicely into the mount, and doesn't fall out in crashes. It reduces the chances of damaging your VTX and antenna by crash impact.
The camera mount is then perfectly fixed on top of the main body with zip ties.
Zip Tie
You might be concerned by the amount of zip tie I used. Don't worry I did the math :) I chose the lightest zip tie possible (1.6mm), and each zip tie after cutting away the tail, only weights 0.035g in average. For the number of zip tie I used which is 11, the total weight is only 0.385g.
Example Build Logs
Here is an example build with Micro Scisky FC.
Here is an example build with Brushed EVO F3 FC.
How is Whoopee compared to other Ducted Micro frames?
I have seen quite a few other Ducted micro frames for 8.5mm brushed motors, but most of them are either:
too heavy
too difficult to print
not easy to setup
easy to break
doesn't allow many FC options
You should see quite clearly the differences.
Oskie VS Whoopee
The Oskie micro frame is super light weight and durable (at 6.4g), but it doesn't have any propeller protection like the Whoopee, so props do break or go missing sometimes when you crash.
The Whoopee and Oskie frames are created for different purposes. Oskie is more suited for outdoor and high speed racing, while the Whoopee is design mainly for indoor flights around lots of obstacles.
Discussion on Forum
If you have any question, ideas or comments please leave them on this forum thread.
Printing the Frame
I don't intend to get rich with this design, so I am making the print files available to everyone. Feel free to print it yourself. It's a very hard thing to print and I probably have 30% fail rate myself. I am running a Ultimaker 2+ with Cura. I tried many settings and I have good result with "Normal" printing profile (it takes almost 3 hours to print). It would be even better to go with "Fine" if you can.
Use "Support" "Everywhere", I prefer the Line type. Infill density 100%.
STL Files Download on Thingiverse
Purchasing the Frame
Availability: No Longer In Stock
If you don't have a 3D printer and want to support my design, you can purchase the frame directly from me. It's not an easy print, takes nearly 3 hours, plus another 30 mins of cleaning up manually by myself.
The frame kit includes:
15 x 1.6mm zip ties
4cm of Heatshrink tubes for the motors (1cm per motor)
2 x Double side foam tapes for FC
Whoopee Frame
Frame colour is currently black. Default VTX mount has 10 degree tilt, if you need different angle please specify (available tilt angle: 10, 15)
Dispatched every Monday/Thursday, item should arrive within 2 working days within the UK, 7 working days worldwide. Please note that if you choose no tracking shipping method, I am not responsible if the item goes lost. However we are able to provide a full refund or resend the item if tracked shipping is selected (because we are covered by the courier).