Known as the ZMR250, C250, Blackout Clone, QAV250, H250 or the Mystery 250, whatever the real name is, this Chinese made CF mini H quad frame has been mentioned everywhere. Every time when I shared photos of broken FPV250 frame photos, there would be people suggesting me to try this carbon fibre 250 frame. Since I have killed my last plastic mini quad frame, I will give this carbon fibre frame a shot!
Some of the links on this page are affiliate links. I receive a commission (at no extra cost to you) if you make a purchase after clicking on one of these affiliate links. This helps support the free content for the community on this website. Please read our Affiliate Link Policy for more information.
I recently received a carbon fibre ZMR mini quad frame, and did a short review on it.
This quadcopter build is not going to be a clean one. I am literally just moving everything from my broken FPV250 quad to this new frame, so the wires are not going to be the correct length. Some of the pictures are borrowed from my previous FPV250 build for demonstration purposes.
Are you struggling on what parts to use in your min quad? See the complete part list for 250 size mini quad.
Update 06/04/2015 – Lost in the wood
Had a blast flying in the wood. This frame survived another day :D But unfortunately not the poor props!
Mini Quad Spec
Got the stuff from Ebay. Unless the component is linked to another website.
ZMR250 H250 Carbon Fibre Frame (I bought my off eBay, but Banggood also sells them. You can also get spare arms for replacement.)
Cobra 2204 1960KV Brushless Motors
Hobbyking 12A Blue Series ESCs with SimonK Firmware
Gemfan 5030 Propellers
Naze32 with BaseFlight
Frsky DJT Transmitter and Frsky D4R-II Receiver
Turnigy 9X with er9X Firmware
SONY SUPER HAD 600TVL CCD Camera PZ0420 with 2.8mm Lens
Mobius Action Camera/ GoPro Hero3
Super Simple OSD for voltage alarm
Turnigy Nano Tech 4S Battery 1300mAh/1800mAh
Weight ~ 610g
Flight time ~ 7 minutes with 1300mah, 11 mins with 1800mah. (hover only)
ZMR250 Frame Assemble
First of all, install the 8 long standoffs (spacer) on the bottom plate.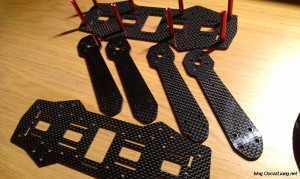 The arms are motor mounts are for 2mm screws, but the Cobra 2204 motors I have use 3mm screws, so I had to drill through the holes to make it bigger. I used a pair of scissors to do this.
Always a good idea to use washers with bolts.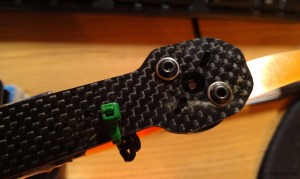 I have been hearing quite a few complaints on this thread about the arms snapped when crash. (Pictures from this thread)
I had an idea of using zip tie to hold the arms and bottom plates together through the holes (so it takes the impact and break to save the arms), but it doesn't seem to hold the arm tight enough, and it was movable. Maybe I can use two zip tie per arm. You can also use nylon nuts/bolts to replace the metal ones, so the plastic always break first when crash.
Anyway I will leave it for later, and I will use the metal screws and nuts provided in the kit for now.
Installing Electronics
I like keeping the ImmersionRC Video transmitter under the flight controller to save space.
I use nylon spacers and botls on the flight controller (Naze32). If you want to use the KK2 on this ZMR250 frame, you might need to have some kind of adapter. It's a perfect fit for the small size FC like the Naze32, Flip32 or the CC3D openPilot.
How it looks from the bottom.
ESC Preparation
This Hobbyking 12A BS ESC is the only few small ESCs that allow 4S input. With SimonK firmware flashed, it performs really well.
I flashed them with the Arduino board. I have a tutorial on how to do this.
I also removed the 5V/GND cable of the BEC. I did this to 3/4 ESCs, only 1 BEC is left to power the Naze32 Flight controller and Radio receiver.
This picture is not taken from this build, but only to show how clean the wiring is after this mod.
Power Distribution
I don't like using PDB (power distribution board), because they are just extra weight, and usually exposed. Any wet leaves get in could potentially cause short circuit.
I also added a branch for voltage OSD, and another branch for the video transmitter / Camera.
To find out what thickness wire you should be using, given the max current you might run in your system, check out this post. And learn about LiPo Parallel charging, to charge your batteries more efficiently and safely.
Motor
Continue to use the Cobra 2204 motors.
Installing the prop adapters, I use some loctite glue to make sure the screws doesn't come loose due to motor or prop vibrations.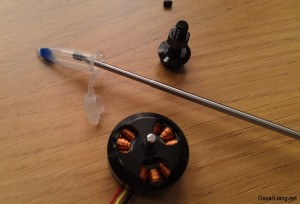 Cutting the wires of the motors and ESC's to a reasonable length, and solder them together, finished with head-shrink tubes.
Although the ImmersionRC 600mW vTX accepts 4S Lipo voltage, the CCD camera only works on 12V, so I will be using the voltage regulator for both of them. To avoid any noise from the motors/ESC's, I built a power filter for it. (The block at the tail of the quad, wrapped with transparent heat-shrink)
This frame is tiny, and i have run out of space on the bottom plate, so I am mounting the radio receiver on the top plate. I am using CPPM, so there is only one cable connection for 8 channels.
FPV Camera
I put extra washers on the top spacers, so the camera is tilted upward for better viewing angle when flying forward. I accidentally damaged the Sony FPV CCD camera, so I had to buy another one! I explained how I swapped the lens on this one here.
I wrote a detail guide on how to choose FPV camera.
Finish!
With Mobius.
With GoPro.
Calibrate the NAZE32, and PID settings
Please refer to this post on the Naze32 configurations. I have had good feedback from readers, saying it's useful to them.
When it comes to PID, it's a very subjective thing, and there is no model PID you can follow. Each DIY quadcopter will have unique PID settings. But if you are in doubt, check out my post about PID. The PID I have for this quad (as on 19/09/2014) is:
Roll – 4.2 – 0.04 – 35
Pitch – 4.6 – 0.04 – 38
Yaw – 8.5 – 0.05 – 8
Radio Receiver Antenna
Found a good way of mounting the radio receiver antenna on this frame from one of RCModelReview's youtube videos.
You need, one zip tie and a heat-shrink tube per antenna. The frsky radio receiver has two antennas (two wires), so I will be using two each.
Put cable tie through any holes you can find on the top plate, zip it like this.
Put zip tie and the antenna wire through the heat-shrink tube. Heat up the heat-shrink tube, so it holds the cable tie and antenna wire tight.
No more worries that antenna wires get sucked by propellers anymore! :D
Against the Wind! (Update 20/Sept/2014)
I am now using the GoPro Hero3 Camera instead of the Mobius Action Camera as the recording camera. The Gopro footage looks better than the Mobius, especially at extreme lighting condition, and the colour as well.
It was a bit windy and the PID was a bit too high, which resulted in some shakiness in the video, but that didn't spoil the fun. Nothing fancy, just some fast runs, and flips.
Comparing to having the Mobius, the extra weight of the Gopro changes the center of gravity (COG), which seems to change the flight characteristics. It just felt different on the stick, which is a bit weird to me. It lost a bit of agility, but the turning especially extreme curve turn, it's a lot smoother. It also flies faster without pitching forward as much. I really like it, both control wise and the video quality wise.
Hanging on the tree! (Update 27/Sept/2014)
It was a nice afternoon practice in the wood. I had quite a few crashes, but this frame is holding up pretty well. In the beginning of this video, it was a really funny crash, the quad got stuck on a swinging branch. "Quad hanging on a tree", one item checked off my task list. :-D
Mini Quad Racing in the Wood (Update 08/Oct/2014)
Another enjoyable day of flight in the wood, falling in love with racing myself around trees and branches.
The last crash in the video killed my GoPro LCD screen. It's now NOT showing anything, but the Camera is still working so shouldn't be a huge problem.
I found it gets much easier when flying in tight space, where are also full of obstacles, is to always fly forward, do not stop and nor even hesitate. You will have a 5% chance of having a good, hard crash, but you will get away from the 95% annoying minor crashes. JUST KEEP GOING! :-p
Broken Arms! (Update 12/Oct/2014)
I finally managed to break this frame. Was trying some new moves, but it didn't go as well as I hoped for. I rose to about 100 feet high, and flipped over, but somehow lost orientation and it free fell crashed into the ground.
It's a pity the crash wasn't saved on the SD card! damn!
Damaged report:
4 x props
2 x arms
1 x motor
1 x buzzer
1 x Lipo
Anyway here is the footage just before the crash, and the new moves I have been trying to learn.
https://www.youtube.com/watch?v=0HuPsEjB9pg
Revived! (Update 17/Oct/2014)
Spent an hour fixing the snapped motor wires, and replaced the two broken arms.
As good as new! So lucky I bought two spare arms with this frame!
Flying in gusty wind! (Update 27/Oct/2014)
It's been windy and wet the last few weeks, as soon as it stops raining, I went to the park flying. It's also a good chance to see how it performs under gusty weather condition. It was so windy (~17mph) it was difficult to control the quad, especially at high throttle yaw was a bit unstable, but it was totally flyable.
I think I can still increase TPA a bit, at the beginning I was flying at >80% throttle and quad was shaking a lot in the wind. In the middle I flew gently at around 60% and it was pretty smooth.
These cobra motors have survived 5 different frames in 6 months and they are getting a bit worn. Not as smooth as before and it's making some kind of bad bearing noise.
Testing HQ5040 Props (Update 29/Nov/2014)
I waited weeks for a calm sunny day like this, looking at the weather this could well be the last flight of 2014. Tested the famous HQ5040 props on this mini quad, I am quite happy with the result. Still work to do tuning PID, there are some bumpiness in the video.
Very good props, expensive but very good quality propellers. It basically trades flight time for the extra thrust and stick control responsiveness. For racing and acro, I would no doubt choose this over the Gemfan 5030. But I will probably stick with Gemfan for general flying and practising in the wood. For a full review of the HQ5040.
Flip and Roll Practice on New Props (Update 07/Dec/2014)
This is my second flight with the HQ5040 props. With the new props I put on, rate became much faster and stick became more responsive, so I have to learn it all over again. I deliberately reduced roll/pitch rate to a comfortable level, so you will notice the difference in this video compared to the last video. I will try to up rate again gradually as I feel more confident.
The crash at the beginning of this video was a weird one (and lucky one!). I punched out and it was very powerful and great, but after a few rolls, I can't seem to stabilize it. It felt like the motors or ESCs on the right side has stopped working, or not giving enough power. I tried my best to level it while trying to land it safely on bushes, and nothing was damaged.
Getting Ready for More FPV in 2015!
So that's it, I don't think I will do any more flying this year, so I spend a few hours watching through my FPV footage in 2014, and made a compilation video with some of my favourites FPV moments. Almost 50% of the footage has never been shown in my previous videos, and it was a nightmare editing them! :D
Firstly, The 2 minutes of shameful crashes :D
Not all crashes were pilot errors: 0:46 was an ESC issue, 0:59 was a Flight controller issue (rain – wet), 1:02 was a radio issue (lost signal), 1:50 was a FPV camera issue (blinded by sunlight). So far only broke 2 arms which costed me £5 to replace. Very happy with this frame :-D
Now the best FPV moments in 2014.
Unreal Scenery FPV ! (Update 13/Dec/2014)
Very lucky we have another calm sunny day here after a week of wind and rain. This is one of my most enjoyable flights and I had a great time! It was really cold (~5°), and my hands couldn't feel anything and they were shaking, which might have resulted in some bumpiness in the video.
Still working on the PID for HQ5040, but I think I am getting there now.